Here's How To Make A Whole Bowl Of Frosting For Just You In Five Minutes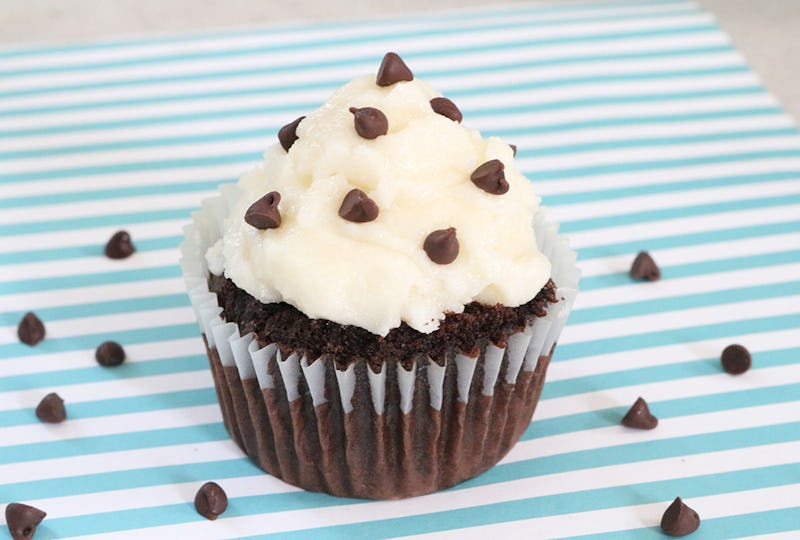 Kirsten Nunez
Frosting can seriously make or break a cupcake. It adds so much flavor and texture, and really takes the treat (which would basically just be sweetened bread without it) to the next level. In fact, frosting is so good, sometimes you kind of just want to eat it on its own — but you also don't want to make a whole batch that you won't have use for after your frosting craving is satiated. That's why I came up with this recipe for how to make frosting for one single serving — because it is not uncommon to have a hankering for something extra (extra) sweet. Granted, one might argue that there is always frosting from a can, which is fine, but making it can be just as fun as eating it. And let's be honest: A homemade frosting recipe is a different breed of delicious.
With this single serving recipe, you can nix the craving you're having for frosting, and have fun doing it. Even better, making a smaller batch gives you a chance to experiment with different flavors, because you can make a few small batches! Pumpkin spice, cinnamon, cocoa powder, lemon juice... the sky's the limit. Don't be afraid to mix and match ingredients, because you never know what you will create.
In true "single serving" fashion, you can even eat this frosting on top of a brownie recipe for one. Want a personal cookie cake? Top off a single chocolate chip cookie with this frosting. Soon enough, you will be the ruler of awesome kitchen hacks.
1/2 cup powdered sugar
1 tablespoon unsalted butter, room temperature
1/2 to 1 teaspoon milk or half & half
Dash of salt
Splash of vanilla extract
1. Using a spoon, smash the butter. It'll be easier to mix this way.
2. Add the powdered sugar and salt. Mix well, focusing on breaking up chunks of butter.
3. Add a splash of vanilla, about one-quarter teaspoon. Finally, add half a teaspoon of milk or half & half.
4. Mix well. The frosting will have a consistency similar to mashed potatoes. (It won't taste the same, though. I promise.)
Want a creamier consistency? Add another half teaspoon of milk or half & half, then stir well.
If you'd like, now is the time to add extra ingredients to make a flavored frosting. For powders, add one-quarter to one-half teaspoon. For liquid ingredients, add one teaspoon.
Looking for tasty ideas? Here are some frosting ideas to get you started:
Pumpkin Spice
This tutorial wouldn't be complete without a pumpkin spice version. Use 1/4 teaspoon pumpkin spice and mix right into the frosting. You can also combine pumpkin spice, cinnamon, nutmeg, and brown sugar for an autumn alternative.
Cocoa Powder
Nothing says "classic" like chocolate frosting. Add 1/4 teaspoon of your favorite cocoa powder. For a richer flavor, use 1/2 teaspoon.
Lemon Juice
Doesn't lemon buttercream sound amazing? Luckily, you can easily make it with 1 teaspoon of lemon juice. Something tells me this would taste delicious on a vanilla cupcake.
Coffee
Fellow caffeine addicts, this one is for you. All it takes is 1 teaspoon of coffee to turn this frosting into a luscious coffee-infused treat. Using 1/4 teaspoon of espresso powder works just as well.
Extra ingredients are totally optional — the frosting taste great as is, because what's better than a traditional buttercream frosting? Here, I used it on top of a chocolate cupcake, and topped off with mini chocolate chips, because chocolate.
To be honest, the frosting will probably be enough for two cupcakes, depending on your frosting style. But don't forget that it tastes just as great on other treats like this brownie recipe for one. You can thank me later.