This TED Talk Comedian's New Series Could Be A Major Step Forward For Representation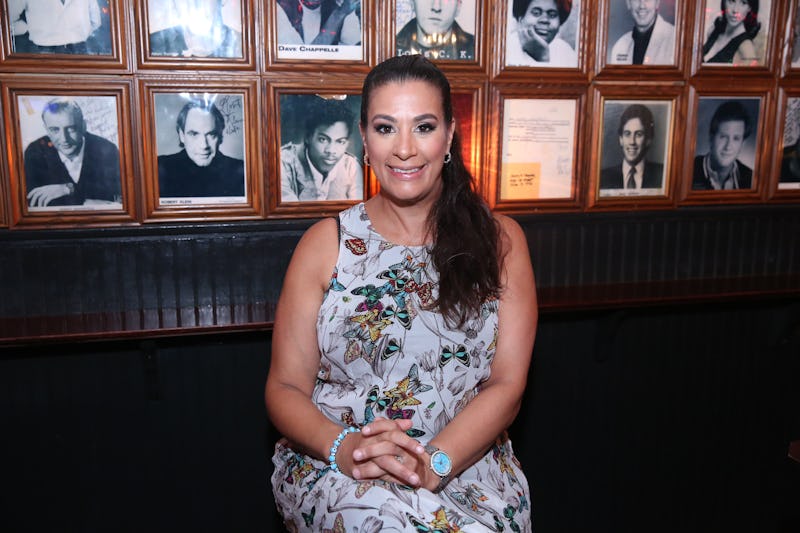 Rob Kim/Getty Images Entertainment/Getty Images
It's been a pivotal couple of years for inclusivity in television, but there's still progress to be made. Comedian Maysoon Zayid is developing a comedy series called Can-Can for ABC, and the show sounds exactly like the perspective that TV needs right now. According to Variety, the series will follow a Muslim woman who has Cerebral Palsy as she navigates her career, romantic relationships, and finding an identity separate from her opinionated parents. Zayid will write, executive produce, and star in the project, which is based on her own life experiences. If it makes it to air, the project could be a milestone for representation, as stories about women with disabilities and the Muslim-American experience rarely appear onscreen.
Zayid is best known as a comedian and disability activist. She's taken on small acting roles in the past, including a part in Adam Sandler's You Can't Mess With the Zohan, and appeared onscreen in the PBS special Stand Up: Muslim-American Comics Come of Age. However, she is possibly best known for her 2014 TED Talk titled I got 99 problems...palsy is just one, which went viral. In the talk, she conveys her unique perspective as a woman with a disability in a way that is smart and funny, and the video resonated with many people. The show will likely be an extension of this story, and it's an experience that has long been missing from TV.
Can-Can could be a major landmark for disability representation in film and television. Even though people with disabilities make up roughly 12.8 percent of the population in the United States, according to the 2016 United States Census, characters with disabilities are rare onscreen.
The unfortunate tradition of able-bodied actors playing characters with disabilities is another reason why Zayid's show will be groundbreaking. In 2016, the Ruderman Family Foundation conducted a report that found only 5 percent of characters with disabilities in TV and film are played by actors with disabilities. The foundation also surveyed hundreds of actors with disabilities, concluding that they regularly faced discrimination in auditions and many took on roles less than once a year.
In recent years, there have been several small steps toward improving disability representation onscreen. In Breaking Bad, the character Walter White Jr. has Cerebral Palsy, and is played by RJ Mitte, an actor with the same disability. In 2016, the series Speechless premiered, and the sitcom, follows a teenager named J.J. who has Cerebral Palsy, and his family as they navigate the important coming-of-age years. The show's star Micah Fowler, also has Cerebral Palsy, and the success of the series shows how overdue a show that centered on a character with a disability was. Yet, even as representation in television and film has gotten better, representation for women and people of color with disabilities is still virtually nonexistent.
Zayid's perspective is long overdue on television, and the single-camera comedy could be the series that many people have been waiting for. According to Deadline, Joanna Quraishi will also write and executive produce, along with Will & Grace star Sean Hayes and Todd Milliner under their production company Hazy Mills. If ordered to series, the show will air on ABC, which is also home to Speechless.
There are few other details known about the series, and it has yet to be officially picked up by ABC. Even though it is still in the development stages, the show is already an exciting step forward for representation, and it sounds like exactly the kind of series that the world needs right now.