Everything That Happened In 'Daredevil' Season 2, So You Can Dive Right Into Season 3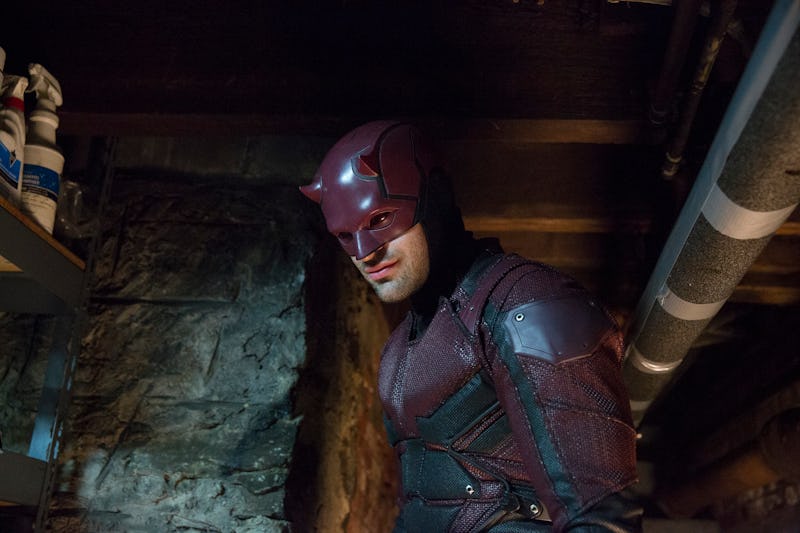 Patrick Harbron/Netflix
As the original Marvel Netflix series, Daredevil has the most history to remember. Season 3 premieres on Oct. 19 and with more than two and half years between Seasons 2 and 3, you might be in desperate need of a Daredevil Season 2 recap. Sure, Iron Fist Season 1 and The Defenders covered the Hand storyline that was introduced back in 2016's Season 2. But you should still go back to Matt Murdock's OG series to understand where he is mentally in Season 3.
Season 1 established Matt's friendships with Foggy Nelson and Karen Page, his Catholic religion, his number one enemy Kingpin, and his heightened senses that make him the superhero that he is. But in Season 2, Matt's relationships with Foggy and Karen were strained by the introduction of a person from his past — Elektra Natchios. Elektra's presence is what got Matt involved with the Hand. Besides the ancient evil organization, Matt also had the Punisher to contend with. Frank Castle's Punisher was a violent vigilante who didn't share the same views as Matt did when it comes to dispatching with criminals.
While Daredevil is currently presumed dead, Season 3 will go back to basics a bit with Matt, Foggy, and Karen fighting Kingpin. So before you launch into the next installment, here's what went down in Season 2.