J.K. Rowling Might Have Given Us A Big Clue About The Fantastic Beasts Movies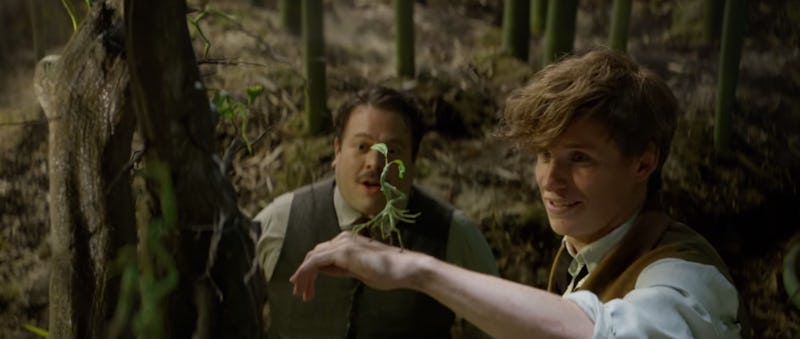 Warner Bros.
Filming is well underway on the sequel to Fantastic Beasts and Where to Find Them, and fans have been eagerly grabbing every clue that Warner Bros throws our way. So far, we know that new cast members will include Jude Law and Zoe Kravitz (who appeared only in a photograph in the first Fantastic Beasts movie). We've read the official synopsis, which confirms that the next film takes place mere months after the last one wraps up. And, most excitingly, we've learned that the next Fantastic Beasts movie takes place in Paris. But now, one eagle-eyed Reddit user may have identified the settings of every film in the Fantastic Beasts franchise.
Ever since J.K. Rowling first confirmed that the Fantastic Beasts series would span five separate movies and 19 whole years, I have been rifling through my copy of Hogwarts: A History in an attempt to figure out what the series arc might involve. But it turns out, the answer might have been right in front of my nose on Twitter all along.
As Reddit user ChumpyHP pointed out, when J.K. Rowling was asked back in October how many Fantastic Beasts movies there would be, she didn't just answer in one language: she answered in five. At the time, we all put that down to Rowling's trademark Hermione Granger-esque intelligence — but maybe she was actually giving us a clue.
J.K. Rowling gave the number of films in the Fantastic Beasts series as "Five. Cinq. Fünf. Cinco. Cinque." The first language is, of course, English — and the first Fantastic Beasts movie took place in the English-speaking city of New York. We know that the second movie will be set in Paris, and so it seems like more than just a coincidence that Rowling used French the second time she answered the question. From that, ChumpyHP has deduced that to find the rest of the fantastic beasts, the films will have to take us to Germany ("fünf" is German), Spain ("cinco" is Spanish), and Italy ("cinque" is Italian).
The final film will take place in the year Dumbledore fought Grindelwald, which we know took place somewhere in Europe. Like ... Italy, perhaps?