Photos Of This 'Game Of Thrones' Inspired Ice Hotel Will Make Your Jaw Drop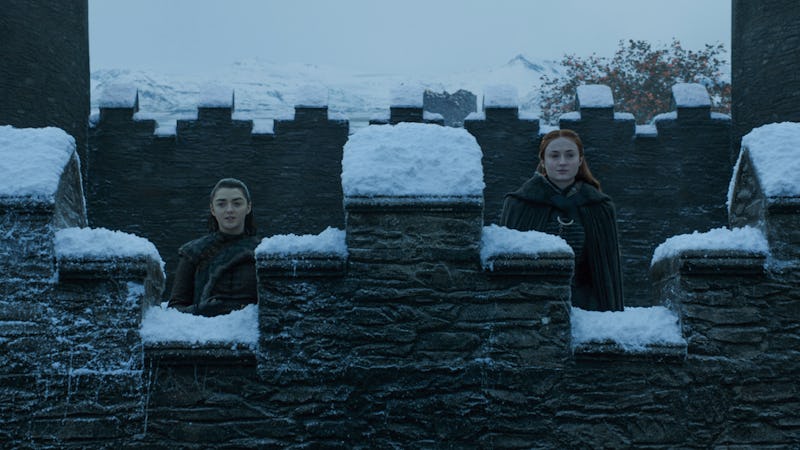 HBO
When HBO confirmed that Game of Thrones would not return until 2019, fans felt about the same way they did the first time they found out what happened to Ned Stark. Fortunately, photos of this Game of Thrones ice hotel in Finland will help fans forget that Season 8 is a long ways off.
HBO Nordic partnered with Lapland Hotels SnowVillage to create a GoT-inspired hotel for real. Oh, and they built it out of actual ice and snow. According to CondeNast Traveler, it only took one month to sculpt the masterpiece. Fans have gone crazy over the photos since the hotel first opened in December 2017. People reports that each room is "equipped with several well-known facets" of Game of Thrones, incorporating aspects from most seasons of the show. There's a spooky Hall of Faces from Braavos, leering White Walkers, a dragon, and even the Iron Throne recreated in ice.
The hotel has 24 (!) hotel rooms, which includes 10 suites. People reports that each one comes with an ice sculpture built into the wall. The walls are also made of ice. As a result, guests "have the option of sleeping under the stare of a White Walker, or under the direwolf sigil" that represents House Stark. CN Traveler assures fans worried about the chill that each guest receives "a warm sleeping bag and a morning cup of hot berry juice to get the blood flowing." Even so, it's not recommended fans spend more than one night there.
So, the Game of Thrones hotel is an actual hotel, and fans can really book stays in it through April 8. If you're just visiting the area, you can pay $18 to "walk through the village," and overnight stays begin at a mere $200. As People reported, the Game of Thrones snow village experience includes a movie theater, an "ice restaurant," and an arctic bar. Brr! In the best way, of course.
Right? Right?
People announced that professional ice sculptors from Russia, Ukraine, Poland, and Latvia constructed the Game of Thrones-inspired pop-up. But before you run and book your stay in the Scandinavian snowfest, it's important to consider one thing: It is legitimately a hotel made of ice. CN Traveler reports that the average temperature inside the Game of Thrones hotel is a balmy 23 Fahrenheit. The magazine recommends guests bring "extra blankets and an electric blanket" with them. Unless, of course, they're Starks; the noble family of Winterfell is well-adjusted to life in an ice castle.
HBO announced that the eighth and final season of Game of Thrones would not return until 2019, and they were vague about timing beyond that. 2019 could mean January 2019, just a year off from now, or December 2019, leaving essentially two full years between Season 7 and Season 8. While other prestige series (cough cough, Mad Men and Breaking Bad) have left gaps between their penultimate and final seasons, Game of Thrones fans will likely go stir-crazy if without a set premiere date to hold onto. That's just one part of why the GoT hotel in Finland is such a good call; it placates the series' rabid fanbase. It's also, of course, ingenious, unique, and astonishing to behold, even just on social media.
Reviews are pouring in to TripAdvisor, a website that functions as a Yelp for accommodations (and without the rumors of shady business practices). Folks who have visited the Snow Village or stayed overnight in the Game of Thrones hotel have mostly positive things to say about it, which is a relief. "Wrap up warm with lots of thin layers. You will get a tour of all the bedrooms and have a drink at ice bar a real amazing one off excursion," advised one guest in early January. "Snow Village is worth visiting for 1 night if you are going to Finnish Lapland! Worth dressing very warm and bringing minimal luggage (it's an ice hotel after all!)," joked a user a week earlier.
So, while a year (at least) without Game of Thrones feels a lot like the beginning of The Long Night, at least there's a Game of Thrones experience out there. You know, if you can get to that part of Finland. And are willing to stay overnight in a legitimate ice cavern. And they have availability. And you can get there before April 8.