Winter Is Here Thanks To This 'GoT' Snapchat Lens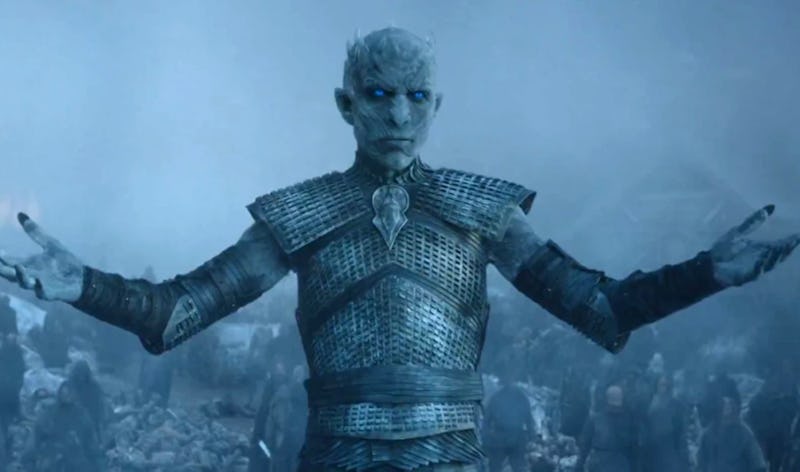 Helen Sloan/HBO
Have you ever stared at your own reflection only to wonder what you might look like if you were a White Walker (or a wight)? Have you ever considered slathering your forehead, cheeks, nose, and chin with icy blue face paint before finishing off the look with a pair of neon blue contacts? And have you ever thought you'd like to see a preview before you commit to the art project? Well, Game of Thrones and Snapchat are about to make your wilding, er, wildest wish come true. And no, you won't have to procure an obsidian dagger in order to make it happen. Thanks to the Game of Thrones Season 7 Snapchat lens, fans can now morph their faces into something only the Night King could love. Yes, just in time for next Sunday's highly anticipated premiere, there's a White Walker selfie filter available on Snapchat.
This selfie option isn't the only cool thing the lens has to offer; thanks to this lens, users can go from White Walker to White Walker adversary within a matter of seconds. For any and all GoT fans who have thought, "It'd be a hoot to try to battle a member of the Night King's army," this Snapchat filter that can make that dream a reality, too. (Well, an augmented reality. And that is most certainly for the best. Who would be stoked to duke it out with a White Walker in real life? White Walkers are the stuff of nightmares.) If you switch your phone's camera to front-facing mode, the filter will present you with the great honor of chucking a dragonglass blade at a White Walker. Check out the lens in action below.
Aim wisely. You wouldn't want to let Jon Snow down.
If you want to unlock this bone-chillingly neat GoT Season 7 Snapchat feature, you can find the access code below.
How do you say "this lens is wicked cool" in Skroth?