This 'Gilmore Girls' Season 7 Recap Will Take You Back To Your Last Trip To Stars Hollow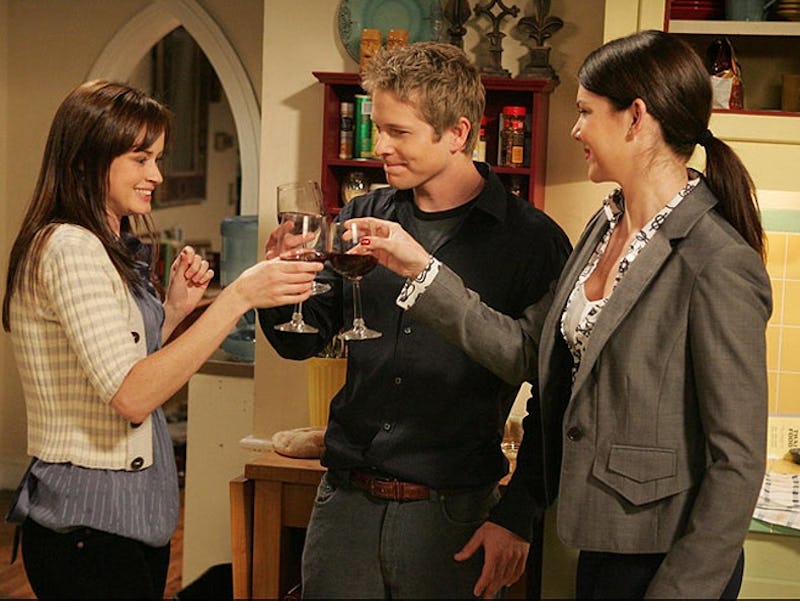 The CW
Can you believe that we are finally here? We are only days away from the long-awaited and often dreamed about Gilmore Girls revival, which hits Netflix on Friday, Nov. 25. I know that, as fans, we're excited to a level that few of us likely ever thought possible, but it is time to focus. We left Stars Hollow over nine years ago, and a lot has happened since then. That is precisely why we all need a recap of Gilmore Girls Season 7 to make sure that we can jump into the revival head first and without any hesitation.
I think a lot of fans will back me up when I say that Season 7 is a somewhat contentious moment in Gilmore Girls history. The seemingly final batch of 22 episodes had a different showrunner than the previous six seasons, causing Season 7 to be noticeably different in tone and flow. Without creators Amy Sherman-Palladino and Daniel Palladino, it just wasn't the same. Some people love Season 7 and others absolutely loathe it, but no matter what side of the debate you fall on, the revival means that you have to know what happened to Lorelai and Rory in those divisive episodes.
So, whether you don't have time to rewatch it before Nov. 25, have purposefully chosen to forget it, or just want to make sure you're totally caught up, here's what you should know about Gilmore Girls Season 7.
Luke Was Too Late
This was a tough way to start the season. We had last seen Luke and Lorelai in a bad place in the Season 6 finale, after Lorelai gave him an ultimatum and he told her he wasn't ready to get married yet. After that conversation, she showed up at Christopher's house and the season ended with Lorelai waking up in Christopher's bed. The beginning of Season 7 then broke 'shippers hearts even further, because Luke showed up at Lorelai's shortly after with his truck packed and an offer to elope. She had to reject his proposal and then blurted out that she slept with Christopher.
I don't know who was more upset, Luke, Lorelai, or viewers rooting for them to get their happy ending. One bright spot, at least for anyone staunchly against a Christopher and Lorelai reunion, was when Luke drove to Christopher's apartment, knocked on his door, and punched him in the face.
Lane Became Pregnant With Twins
Lane and Zack returned from their crappy honeymoon in Mexico and learned that their first (and only) time getting busy resulted in loin fruit (blame Lorelai for that term). If that wasn't shocking enough, Lane found out she was carrying twins.
Lorelai & Christopher Started Dating
Unfortunately, Luke punching him did not deter Christopher from dating Lorelai. Rory's parents went on quirky dates, doing things like watching Audrey Hepburn movies on the side of a barn. Because Christopher is rich now (after inheriting money from his father), it is all very showy and obnoxious. Can you tell that I was not rooting for Christopher in Season 7?
Rory Found Her Own Madeline & Louise
Rory met new friends Olivia and Lucy at an art show that she was covering for the Yale newspaper and they all quickly became close. (Lucy is played by Krysten Ritter, who is amazing.) I think these two quirky ladies came into Rory's life at the perfect time; they even helped her through a freakout when she suddenly didn't know what to do after graduating from Yale. Though neither of them have been announced, I hope they make surprise appearances in the revival, because I like to think that they became super famous artists who still kept in touch with Rory.
A Pickle Train Crashed
It crashed and it stunk up Stars Hollow. What more explanation do you need?
Christopher & Lorelai Got Married
It all started when Chris and Lorelai went to Paris to bring his daughter GiGi to see her mother, Sherry, who was living there and dating a yoga instructor. Christopher basically pressured Lorelai (who rightfully didn't want to get married without Rory there) into accepting a spontaneous proposal over dinner after he continuously talked about how rich he is now. Needless to say, it turned out to not exactly be the best decision.
Marty Came Back
Throughout Season 7, Lucy always referred to her boyfriend simply as "boyfriend" and never by his name. Well, her beau ended up being Marty (Naked Guy!) and when she introduced him to Rory, he acted like he had never met her before. It was really odd, but Rory just went along with it, and when Lucy eventually found out the truth, she and Rory had a huge blowout. In the end, Lucy dumped Marty and we never saw him again.
Luke & Anna Fought Over April
Luke's daughter, April, stayed with him for about three months while her mother, Anna, went to New Mexico to take care of her sick mother. Everything was going until Anna suddenly dropped the bomb that she wanted to move to New Mexico permanently and take April with her.
Luke decided to take Anna to court for custody and asked Lorelai to write him a character reference. Of course, she wrote a fabulous letter (which she kept secret from Christopher) and he ended up winning joint custody.
Sookie Got Pregnant (Again)
Jackson was supposed to get a vasectomy after the birth of their second child, Martha, but he lied to Sookie and actually skipped the procedure. Sookie ended up unknowingly pregnant with their third kid and eventually forgave him for lying.
Richard Had A Heart Attack
Richard started teaching a class at Yale and had a second heart attack in the same class that Rory was in. Thankfully, he recovered after open heart surgery. But while he was in the hospital, Christopher refused to answer Lorelai's phone calls or be there for her because he found the character letter that she wrote for Luke. Meanwhile, Luke showed up to the hospital twice with food and general good vibes for the family.
Christopher & Lorelai Got Divorced
Christopher proved to be insecure, possessive, and aggressive. He also just didn't fit in Stars Hollow or Lorelai's life in general. Ending this marriage was a very good decision.
Lane Had An Epic Baby Shower
The town throws Lane a baby shower at Miss Patty's that she has to enjoy from her bed, because she ends up on bed rest (as a mom of twins, I feel her on a spiritual level). Zack, Mrs. Kim, Lorelai, and Rory rolled Lane's bed through town to get her to the shower and it was ridiculously amazing.
Paris Was Still A Boss
If there weren't already enough reasons to love Paris Geller, she ends up getting into basically every Ivy League medical school and law school, including Harvard. Of course, we all remember her first time applying to Harvard for undergrad, so it was a nice turn-around because honestly, who deserves to go to Harvard more than Paris?
Rory Rejected Logan's Marriage Proposal
Logan and Rory's relationship was going great, but when he gave her an ultimatum of get engaged and move to California with him or break up, she chose the latter. This is one of those moments that made a lot of fans scratch our heads, because it didn't really need to happen. Logan and Rory could've continued their relationship at a natural pace, but instead it abruptly ended over a proposal Rory wasn't ready for.
Rory Got A Huge Job
After getting rejected for every newspaper job and internship she applied to, Rory was having a familiar post-grad crisis. Luckily, she ended up getting a job as a reporter following the campaign of a guy you may have heard of. Do you happen to know Barack Obama? Yup, she left Stars Hollow to follow and report on then-Senator Obama's presidential primary campaign.
Luke & Lorelai Reunited
The entire town got together to threw Rory a goodbye party, with Luke taking the lead and staying up all night to sew a tent and make sure rain wouldn't get in the way. It was adorable, bittersweet, and everything we needed to say goodbye. To make it even better, Luke and Lorelai kissed... and we've waited nine years to see what came out of that moment.
The Season Ended Perfectly
The last time we saw Lorelai and Rory, they were doing what they do best: talking over a cup of coffee at Luke's. For a while, it seemed like this would be the final image of Gilmore Girls, and though it was certainly fitting, I'm glad that on Nov. 25, we'll get to catch up with these beloved characters and say goodbye one more time.