How To Make A Single Piece Of Garlic Bread In 30 Minutes, Literally From Scratch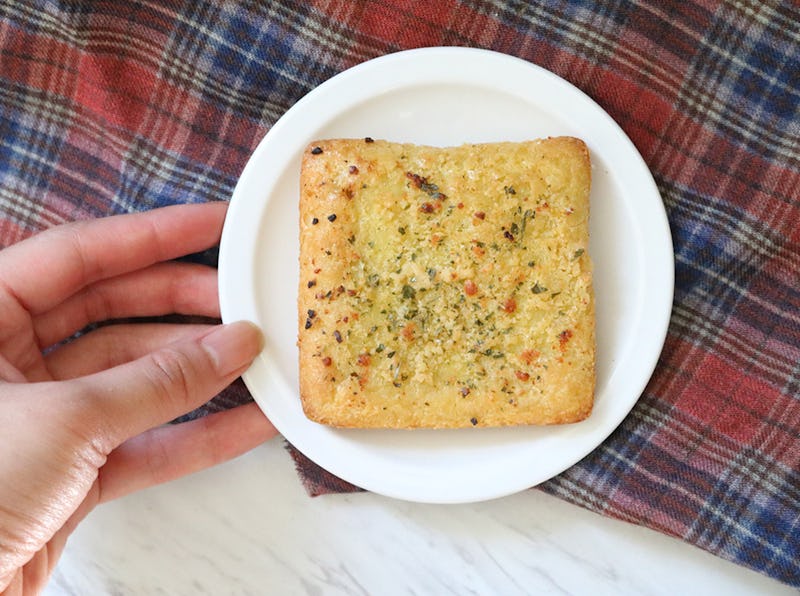 Kirsten Nunez
I think we can all agree that garlic bread deserves its own food group. But if you eat a gluten-free diet, it's easy to feel like this savory side dish is totally off-limits. This doesn't have to be the case, though. Once you learn how to make this gluten-free garlic bread recipe for one person, you can cure the craving whenever it hits.
And yes, you read that correctly. It's possible to make just enough gluten-free bread for one person — and not only that, but it's easy. Because it's only meant for a single serving, you don't need a ton of ingredients for it, and you won't have to deal with leftovers going stale if you can't eat all the garlic bread you make. It also means that you can enjoy a fresh piece of garlic bread each and every time you make it.
While you can always grab a slice of gluten-free bread and slather it with butter, garlic, and Parmesan, there is something special about homemade versions of classic foods. You can even make the bread and leave it plain for a sandwich or a tasty avocado toast. The options are endless.
Ready to make your new favorite gluten-free recipe? Here's how.
2 tablespoons oil
1 teaspoon minced garlic or garlic powder
2 tablespoons gluten-free baking flour (with xanthum gum)
1/8 teaspoon baking powder
Pinch of salt
1 tablespoon milk of choice
1 egg
1 tablespoon butter or ghee
1 teaspoon dried parsley
1 teaspoon grated or shredded Parmesan cheese (optional)
Pre-heat the oven to 350 degrees Fahrenheit.
1. Combine one tablespoon of oil with the garlic. Mix well and set aside.
2. In a bowl, combine the flour, baking powder, and salt. Remember, you only need a pinch of salt, so make sure you don't add too much.
For this recipe, I used a 1:1 gluten-free baking flour, which means it's literally created to replace all-purpose flour in recipes at the exact same measurements. However, if you decide to use something like almond flour or coconut flour, keep in mind that most gluten-free options easily soak up moisture, so you may have to add more milk to balance things out.
(Also, the gluten-free baking powder that I used already contains xanthum gum. This ingredient gives structure to baked goods, which is normally the job of gluten. If your gluten-free flour doesn't have xanthum gum, you'll need to add a very small amount. About 1/16 of a teaspoon is all it takes.)
3. In a separate bowl, combine the milk, egg, and remaining oil. Mix well until combined.
4. Grease an oven-safe container with butter or oil. For reference, this adorable little dish is 4x4 inches. You can also use a single silicone muffin cup, and slice it in half once it's baked.
5. Pour the wet ingredients over the dry ingredients, and mix. Then, pour the resulting batter into the greased dish.
6. Bake for 18 to 20 minutes, or until you can stick a toothpick in the center and it comes out clean.
You can also microwave on high for 90 seconds. If it needs more time, microwave at 30-second intervals until a toothpick comes out clean.
7. Spread butter or ghee on the bread. Drizzle the garlic oil mixture and sprinkle on parsley and Parmesan cheese, if you're using it.
8. Toast for three to five minutes, or until golden brown. You can use a toaster oven or simply pop it back into the oven.
Naturally, as with every other single serving recipe, there are tons of possible variations of this recipe.
Rosemary
Parsley might be the go-to herb of garlic bread, but dried rosemary can add tons of flavor. Don't be afraid to experiment with other herbs like oregano or basil.
Tomatoes
It's safe to say that garlic bread and tomatoes go hand in hand. Pair this recipe with a slice of fresh tomato, or garnish it with crushed cherry tomatoes. Leftover tomato sauce or marinara are perfect dips, too.
Feta And Lemon
Hear me out for a second. By adding feta cheese and a splash of lemon juice, you can give ordinary garlic bread a Mediterranean twist. Yum.
It's cool, you can thank me later.
Check out more Single Serving recipe ideas here for when your speed is less "entertaining my crew" and more "watching Netflix alone on my couch."