This 'Harry Potter' Classroom Is So Magical You'll Want To Take A Time Turner Back To Middle School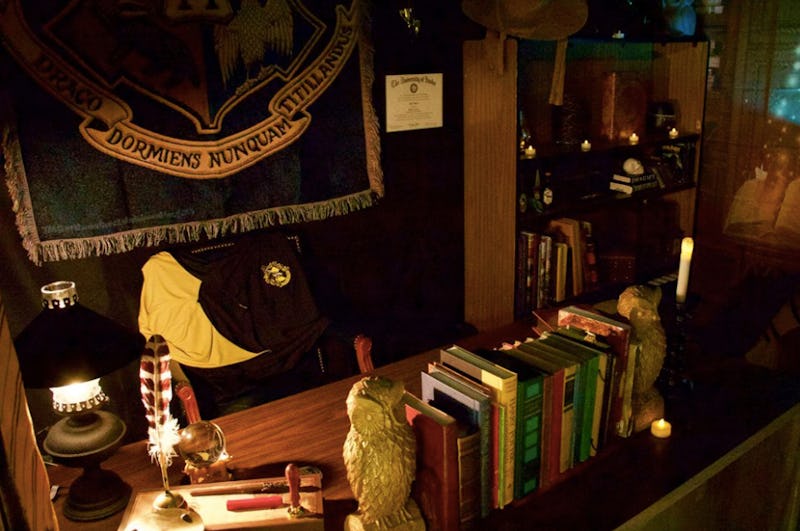 Kyle Ely/Facebook
Calling all wizards, witches, and Squibs: Nothing will make you wish for a Portkey more than this middle school teacher's Harry Potter-themed classroom in Hillsboro, Oregon. (Other items scientists should hurry up and get around to inventing: Hermione's bottomless purse, Remembralls, and self-shuffling cards.) Hogwarts may not be currently accepting students, but believe me when I say that this room is the next best thing.
Kyle Hubler, a teacher at Evergreen Middle School and hardcore Harry Potter fan, decided to start of the new school year with a surprise for his students. Over the summer, he spent five weeks (and 70 hours!) transfiguring his traditional classroom into a space lifted straight out of Hogwarts. First, students walk through Platform 9 3/4. Upon entering, they're greeted with a Wizarding wonderland, where flagstones and books line the walls and broomsticks lean against bookshelves. Naturally, there are candles galore, along with a truly astonishing amount of Harry Potter memorabilia. In the Facebook post where Hubler shared pictures and video of his classroom, the Sorting Hat can be spotted by his desk, and House banners hang on the walls. A chessboard and set of Quidditch balls rest on a table next to a life-size Pensieve. There's even a set of wands nailed to the wall.
"I got to reveal the classroom to my students yesterday and they loved it!" Hubler wrote on Facebook. "Seeing their faces light up made all the time and effort put into this totally worth it! We're going to have a fun year!"
He told ABC News that his favorite part of the big reveal was listening to the "audible gasps" when students entered his realm. Some rushed around from corner to corner to inspect the decorations. Honestly, who wouldn't do the same thing?
According to ABC News, Hubler funded the elaborate project out of his own pocket. As you can see in the post above, the result looked like a movie set, but the price tag wasn't as hefty as you might think. He estimated that he was able to keep it between $300 and $400, in part because he has been collecting Harry Potter merchandise and memorabilia since he was in middle school himself.
It wasn't only love for J.K. Rowling's masterpiece that inspired to decorate the classroom. Hubler told the Huffington Post that the series' lessons about "acceptance, loyalty, and integrity" inform his teaching today, and he wanted kids to feel excited about entering his classroom. He added that he had incorporated elements of Harry Potter in his decorations the previous year and wanted to go bigger this time. I would declare that particular mission achieved.
Hubler posted photos of his project on Sept. 9, and it proceeded to explode faster than a game of Exploding Snap in popularity. In less than two weeks, the original post has racked up nearly 19,000 shares on Facebook, thousands of people commenting to say the classroom blew their minds.
"Hope the students enjoy your classroom! I would and I'm a senior," wrote one Facebook user. I think we can all agree with that sentiment.
In separate Facebook posts, Hubler remarked that he was surprised by the amount of attention his classroom has received. However, interest in Harry Potter has waned little, if at all, since the series concluded. This year marks 20 years since the first book was released, but it's still immensely popular. Just this summer, a company released a line of Potter-inspired lingerie, and PBTeen recently debuted a line of wizardly bedroom decorations.
Clearly, Harry Potter is still going strong. Even if we can't actually attend Hogwarts, at least teachers like Hubler are helping keep the magical spirit alive. Hermione would be proud.