This Icelandair Sale Is Offering All-Inclusive Travel Packages For SO Cheap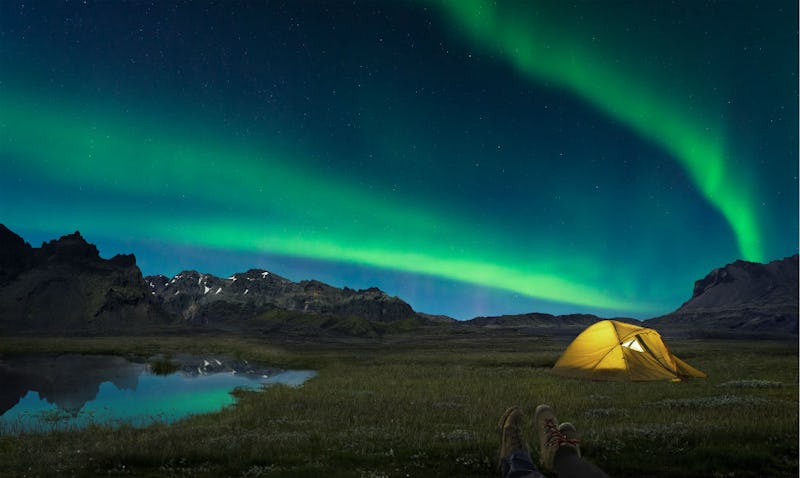 Icelandair
It's not hard to see why Iceland has become one of the trendiest vacation destinations in the past few years. There are so many reasons to visit this European country that it's hard to know where to begin. The scenery, of course, is spectacular: think glaciers, volcanos, waterfalls, a tremendous amount of land, and gorgeous hikes. The city of Reykjavik is such an interesting place to explore, with fantastic food, historical museums, some great shopping, and beautiful views. Then there's the fact that Iceland is consistently ranked as number one for gender equality, as well as one of the safest countries to visit for solo female travelers. Oh, and we can't forget one of the main reasons people flock there: the Northern Lights, which put on quite a show all winter long. And now, thanks to Icelandair, you can go to Iceland to see the Northern Lights for under $700 — tour, hotel, and flight included. I don't think I need to tell you that that's a great deal.
The Northern Lights, also known as the Aurora Borealis, are definitely a bucket list item for many travelers. According to Live Science, it's a beautiful look at "Earth's magnetic field interacting with charged particles from the sun." This description might not sound interesting, but as you may or may not know, the Northern Lights are a gorgeous display of vivid colors in the dark night sky that you won't see elsewhere. It's hard to compare them to anything, really, and getting a glimpse of them in real life is a special experience.
Doing so, though, requires you to travel outside of the United States. In the Northern Hemisphere, you can see the auroral zone along the coast of Siberia, Scandinavia, Iceland, the southern tip of Greenland, northern Canada and Alaska, and northern parts of Sweden, Norway, and Finland. In the Southern Hemisphere, they're visible from Antarctica, Tasmania, and sometimes southern Argentina or the Falklands. For U.S. travelers, many of these places are pretty far — however, Iceland is actually only less than five hours in a plane from New York!
That's exactly why you'll probably want to take advantage of the excellent travel deal happening right now from Icelandair. This week, the airline announced their Iceland Northern Lights Getaway package, which allows customers to tour two of Iceland's biggest tourist destinations for under $700. The limited-time package starts at just $649 and includes round-trip flight to Iceland, including one checked bag; three nights standard room accommodation at the hotel of your choice (CenterHotel Plaza, CenterHotel Miðgarður, Canopy Reykjavik, Hilton Reykjavik Nordica); the Northern Lights Hunt Evening Tour; and the Golden Circle District Tour.
The Golden Circle District Tour is another reason to get in on this deal. The Golden Circle refers to some of Iceland's most popular tourist spots: Þingvellir National Park, the Geysir Geothermal Area, and Gullfoss waterfall. Þingvellir National Park sits directly between the North American and Eurasian tectonic plates in a rift valley, and is the only place where you can see the Mid Atlantic Ridge. It's really beautiful to walk around, with fresh glacial lakes and waterfalls — the Geysir Geothermal Area includes two giant geysers, hot pools, clay pots, and fumaroles, and is fascinating to explore. The Gullfoss waterfall is, obviously, a beautiful waterfall that completes the tour.
Ready to book your trip? You'll want to do so ASAP: The Iceland Northern Lights Getaway Package is only available to book online through June 30, and the offer is valid for travel periods from October 1, 2018 — January 31, 2019. Included gateways are Baltimore (through December 13), Boston, Chicago, Cleveland, Dallas-Ft. Worth, Denver, New York City, Newark, Philadelphia (through December 14), Portland (through December 10), San Francisco, Seattle, and Washington DC. Blackout dates apply for November 6 — 12, 2018 and December 19, 2018 — January 9, 2019.
Oh, and if you're going to book this, you're probably better off going in December or January. While the Northern Lights are visible in October and November, the best time to see them is during the winter months. You need complete darkness to get a glimpse of them (which is why you can't see them in Iceland right now — the country can get up to 21 hours of daylight during the summer season).
If you can't go during this time, it's worth pointing out that Icelandair also offers a pretty great stopover program all the time. The Icelandair Stopover program allows you to schedule a stopover in Iceland when you use the airline to travel overseas for no extra charge. So, for example, if you're on a trip to England and have extra time, book on Icelandair, and you can schedule a night or two in Iceland to check out the sites. It's a really great way to see another country that is also affordable.
No matter when you go, I'm pretty confident everyone should experience a trip to Iceland: the people are wonderful, the food is delicious, and the views are gorgeous. In other words, this is one travel flash sale you'll definitely want to take advantage of.