How The GOP's New Health Care Plan Will Affect Your Birth Control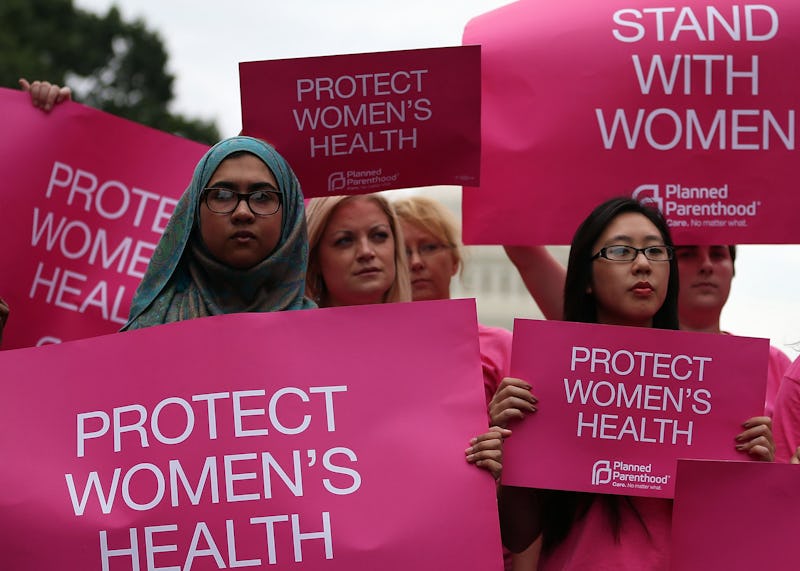 Mark Wilson/Getty Images News/Getty Images
If you were hoping that the new GOP health care bill would be a huge improvement on what can only be described as a devastating failure of a first bill, I'm sorry to disappoint you. It's true that the new bill is in large part the same language as the previous American Health Care Act (AHCA) that failed, but there are some key differences. In an attempt to pander to the House Freedom Caucus, which didn't get behind the bill last time, it seems like women's right have been sacrificed — perhaps even more than they were initially. UPDATE: The AHCA has officially passed the House with a majority of votes, 217 to 213.
We can't underestimate the importance of women's health care and our reproductive rights, especially as women so often care for others before they care for themselves. As Dr. Jennifer Wider, women's health expert and medical adviser to Cosmopolitan, tells Bustle, "All too often [women] put themselves at the bottom of the totem pole — so having men in their lives who care about them and are aware of their health needs is invaluable." Unfortunately, the men making our health care decisions don't seem to care very much about these needs at all. And they don't listen to the female legislators trying to fight for us.
Here's what you need to be aware of, because the previous threats are still there — along with a some new ones:
Defunding Planned Parenthood
The same danger to Planned Parenthood still exists. The bill would disallow Medicaid from giving funding to any health clinics that perform abortions, including Planned Parenthood — this would disproportionately affect low-income women, women of color, and vulnerable groups. In addition to providing birth control, other services such as cancer screenings, STI screenings, and more will all be lost.
States Can Opt Out Of "Essential Care"
"Essential care" is, well, exactly what it sounds like. It's coverage for certain basics — including birth control — that was covered by Obamacare. But under the new bill, states would be able to opt out of essential care, including birth control. So your birth control would no longer be protected in the same way, and any protection would depend on how your state feels about women's rights.
Changes To Pre-Existing Conditions
So this is the big new problem. Under the last bill, insurance companies were required to cover pre-existing conditions, just like they were under Affordable Care Act does. But, despite 96 percent of the population supporting that part of Obamacare, the new bill would remove that requirement — they would be able to deny coverage to those with pre-existing conditions.
So, how does this affect women, specifically? Well, here's the thing. It depends on what qualifies as a "pre-existing condition." Before Obamacare, things like having a C-section and being a domestic abuse victim were considered "pre-existing conditions" in some states. Seriously. Think about that. Women could be refused coverage for being a domestic abuse victim. Not only is it twisted, it's easy to see how women could be particularly vulnerable if this status can deny coverage to basic needs — of which birth control is only one.
Oh, And 24 Million People Will Still Probably Lose Their Insurance In The Next Nine Years
Let's not forget — it's still a repeal of Obamacare. And according to a prior independent analysis by the Congressional Budget Office, that means about 24 million more people will be uninsured by 2026. So even if we acknowledge that some insurance plans will still offer access to birth control, millions fewer women will be covered by them.
The new bill has all of the same horrible harpoons to women's rights and birth control as the last one, with the change to pre-existing conditions adding an extra blow. It's not hard to see why so many women are rushing to get the IUD since the election. Stay safe and strong, ladies.