The Steelers Had A Total 'This Is Us' Fan Moment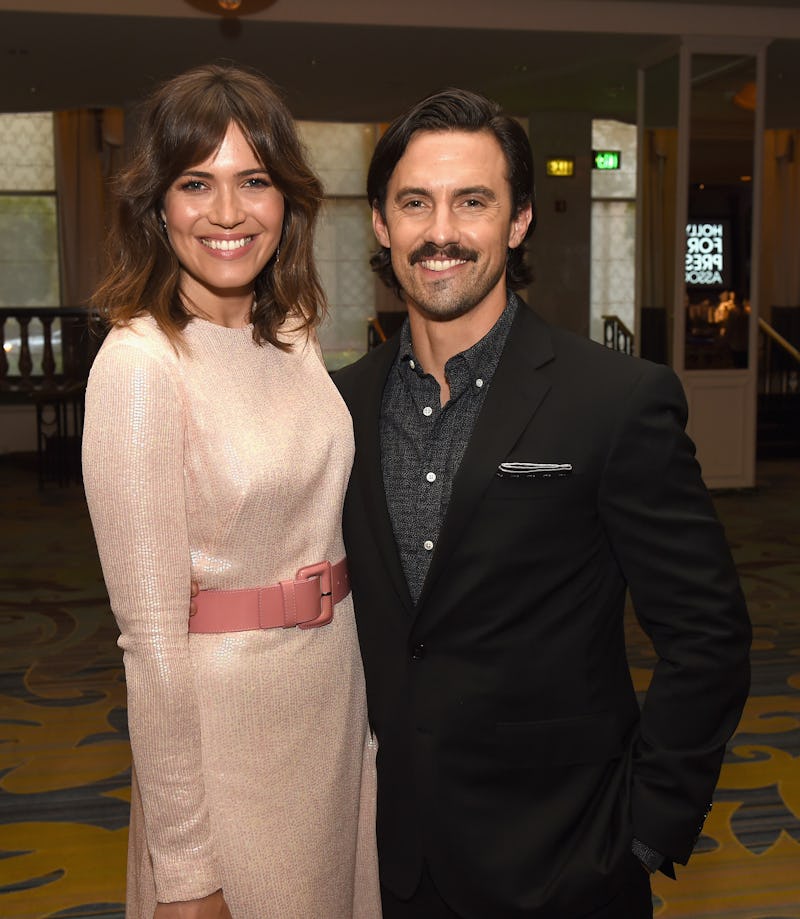 Kevin Winter/Getty Images Entertainment/Getty Images
Rebecca and Jack's football dreams just came true. Sort of. According to Entertainment Weekly, the Pittsburgh Steelers gave Mandy Moore and Milo Ventimiglia jerseys featuring their This Is Us characters' names on them, and yes, the actors appeared to be just as happy about this development as their onscreen counterparts would have been.
Every This Is Us fan knows the Pearson family is Team Steelers all the way, and after a season of receiving so much love from the NBC show, the football team decided to give a little back to the stars. Moore and Ventimiglia were invited to Heinz Field to help announce the team's day three NFL draft picks. They also got to take over the Steelers' Instagram feed, and the photos are so cute they will make you stop fretting over the state of the Pearsons' marriage for the first time since Season 1 ended.
By now the actors have perfected the art of channeling Jack and Rebecca's enthusiasm for all things Steelers, and the sheer look of joy on their faces as they hung out in the locker room with their swag is a beautiful thing. While you still have to wait until Season 2 for new episodes of This Is Us, seeing the Pearson parents spazzing out over football should make the time go by a little bit faster.
Moore's caption is so true — Rebecca and Jack definitely wouldn't have been able to stay calm if their favorite team gave them personalized jerseys. How amazing would it be to see the jerseys pop up in Season 2 though? The Pearsons would totally be the kind of family to have special jerseys made for game day. Come on, NBC, make it happen.
Even if the jerseys don't appear in Season 2, fans will have this photo to treasure forever. Ventimiglia was so excited he almost ate his gift. (Or you know, he was trying to hold his phone and got creative, but I like my first theory better.)
They even got their own cubbies. And, of course, they had to try to play it cool in the locker room.
While announcing the draft picks, Ventimiglia made a Steelers towel reference that will have This Is Us fans squealing for a reason completely unrelated to football.
Moore and Ventimiglia's posts prove once and for all that the only thing cuter than the Pearsons is there undying love for the Steelers.