This Is What Street Harassment Feels Like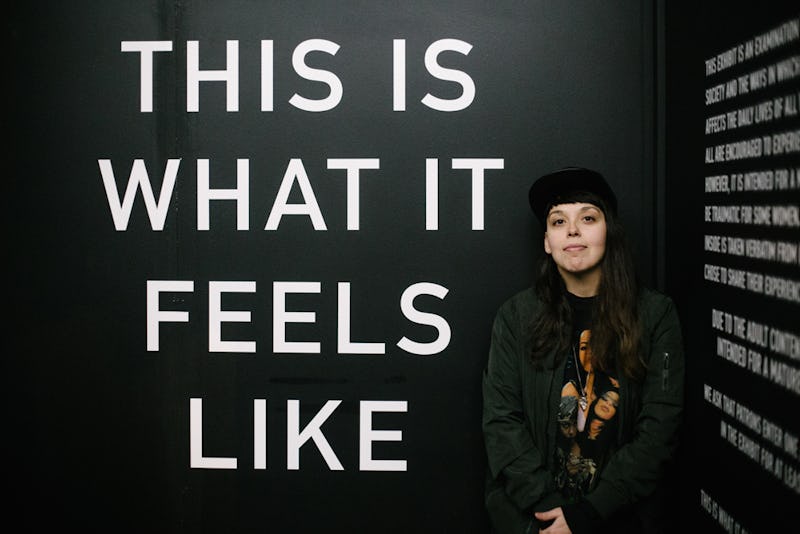 Courtesy of Terra Lopez and Samuel Ithy
Women deal with verbal harassment on a daily basis — it can happen on their commute, heading to the store for a carton of milk, or going out for the evening. A powerful art installation, "THIS IS WHAT IT FEELS LIKE" is hoping to turn the tables on this one-sided unwanted attention by giving men a chance to experience catcalling firsthand. "I was at my partner's book club one night and the women there started talking about what life is like for them just walking down the street and it was overwhelming to hear all of their stories and also how frightened some of them were to just walk in their neighborhood," creator Terra Lopez tells Bustle in an email about the genesis of the project. "It made me so angry. I've experienced plenty of catcalling during my life as well and there have been so many times where I worried about my safety."
That's where "THIS IS WHAT IT FEELS LIKE" comes in. Lopez, a musician and lead singer of the band Rituals of Mine, launched the project as a way to educate men and help them re-examine their views concerning harassment and abuse. Lopez, who watched her mother endure years of domestic abuse, knew she wanted to work to change these behaviors and, in turn, fight the all too common feelings of helplessness and hopelessness that so many women experience.
The aptly-titled exhibit, which opened on Feb. 3 at the gallery ArtStreet in Sacramento, Calif., is largely audio-based. Participants walk one by one down a dark hallway while ambient street noises play in the background. After donning a pair of headphones, voices of men fill the tight space. The recordings are all based on real instances of harassment, and range from the annoying to the upsetting and from the degrading to the flat-out paralyzing. The looping verbal abuse escalates until the listener has no choice but to leave the exhibit.
The catcalls featured in the exhibit were taken verbatim from 100 brave women who shared their stories with Lopez. The audio ranges from "How are you sweetie?" and "Lemme see you smile" to aggressive threats such as "I'm gonna f*** you." While the experience of the installation isn't pleasant, a sign at the entrance requests that viewers remain in the exhibit for at least one minute to truly experience its intended affect. Despite the short duration, Lopez hopes the experience stays with the participants long after they leave. "I hope that it makes them question their own actions and how we as society treat women," she says.
A Hollaback! survey published in 2015 found that 84 percent of women worldwide experience street harassment before they turn 17. It's facts like this that "THIS IS WHAT IT FEELS LIKE" hopes to address.
The piece has already produced some intense reactions from male visitors. "So far I have seen men come out of the exhibit in tears," Lopez tells Bustle. "I've had men come up to me thanking me for this truth, I've had men walk out looking stunned and in a daze, but most of all, I've had men come out and tell me that they will no longer allow their friends or themselves to say such things to women." While the experience has been overwhelming for female viewers as well, for many it's a representation of something all too familiar. "I have had women come out of the exhibit looking devastated," Lopez adds. "Some women have said that it's too real and that they don't want to experience that, but most women have just shrugged their shoulders and said 'Yeah, that is what it feels like. Welcome to my life.'"
Lopez is currently working to expand the project in order to continue to shift perceptions and our actions towards women. She hopes to in order to bring it to other cities and states and educate where needed. "I want this exhibit everywhere for everyone to experience," Lopez adds.
"THIS IS WHAT IT FEELS LIKE" runs through Feb. 25 at ArtStreet in Sacramento, Calif. Follow @thisiswhatitfeelslikeproject and @terralopez on Instagram for more updates and news.