Justin Bieber's Latest Instagram With Hailey Baldwin Revealed His Sweet Nickname For Her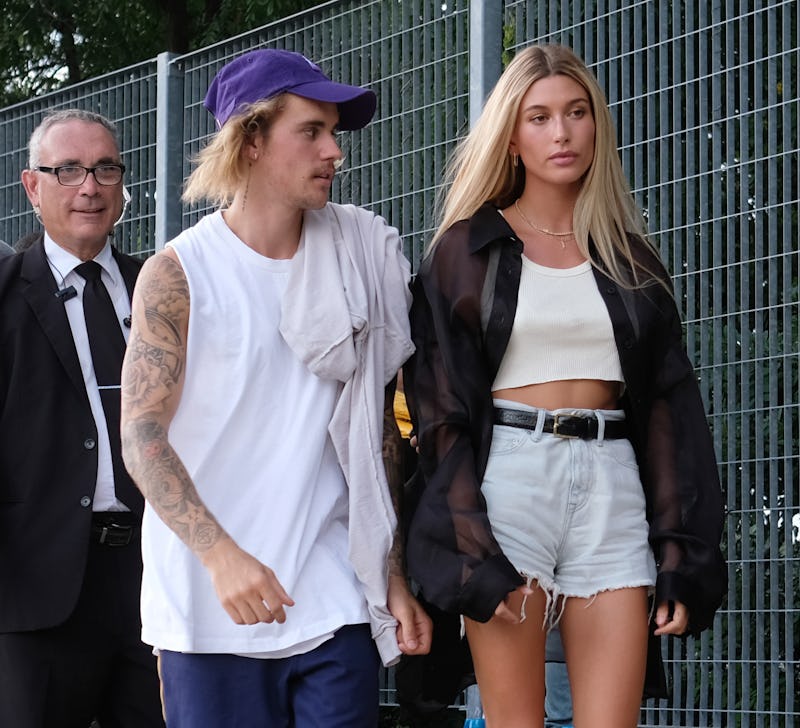 Nicholas Hunt/Getty Images Entertainment/Getty Images
Justin Bieber and Hailey Baldwin may or may not have gotten married on the down-low back in September, depending on the validity of some source-fueled reports from TMZ and People that cropped up at the time. But regardless of their nuptial status, Justin Bieber's latest Instagram photo with Hailey Baldwin — which he shared to the social platform late Friday night, Nov. 9 — makes one thing pretty clear: These two are very much in love. And, to some extent, at least, it seems they're quite proud to share that love with the likes of the internet. Mushy, affectionate pet names, and all.
"Hunny buns punkin," Bieber wrote, ostensibly addressing Baldwin (otherwise known as his "hunny buns punkin," apparently) in the new IG post's caption. And, for those already getting googly-eyed over Bieber's totally sweet nickname for his lady: You might want to hold onto those inevitable cries of adoration for another minute yet. Because, if you thought the post's caption was worth swooning over, just wait 'til you catch a glimpse of its accompanying snapshot. The seemingly candid — here's hoping! — black-and-white photo sees Bieber and Baldwin kissing while Baldwin's arms are slung tightly around her man's neck.
Everybody still breathing out there? (Also, can anyone spot Bieber's supposed eyebrow tattoo meant to honor his fiancée? Or is it "wife" now?) Since he first gifted social media with the intimate couple's shot Friday night, Bieber's post has gleaned upwards of 5.7 million likes on Instagram — the most of any photo posted to the musician's IG account since his baby sister was born in mid-August. That doesn't feel like a coincidence, especially given that Bieber's last IG photo with Baldwin (prior to this latest smooching pic, of course) was shared to the platform some 24 hours before that, on Aug. 15.
Interestingly enough, Friday night's photo actually marked the couple's highly anticipated return to Instagram (as a couple, that is) after what's been a largely unexplained, several-month hiatus. In pretty stark contrast to Baldwin and Bieber's lusty summer of love — as chronicled by both halves of the couple via social media, following their July engagement — the past two months or so have seen considerably less Baldwin-Bieber PDA floating around the social platform.
That said, it doesn't look like the pair's choice to lay low about their romance on IG was indicative of the stability, or strength, of Baldwin and Bieber's relationship. Judging by the couple's new smooching pic (not to mention that ridiculously sweet caption, come on), it seems pretty obvious that their whirlwind romance is still going strong. That could have something to do with those marriage rumors that made headlines back in September. The first of which, from TMZ, claimed Baldwin and Bieber obtained a marriage license. The second, from People, claimed the couple had already wed in secret at a courthouse on Sept. 13.
Neither Baldwin nor Bieber has yet to comment on those marriage rumors publicly, though Baldwin reportedly tweeted that "she's not married yet," in response to the September reports, before later deleting the tweet. So, while it seems the jury is still very much out on this whole "Did Justin and Hailey get married" question, at least fans have one more Bieber-Baldwin picture to ogle over in the meantime.