This Khloé Kardashian Pregnancy Clue Is So Subtle You Literally Have To Zoom In To See It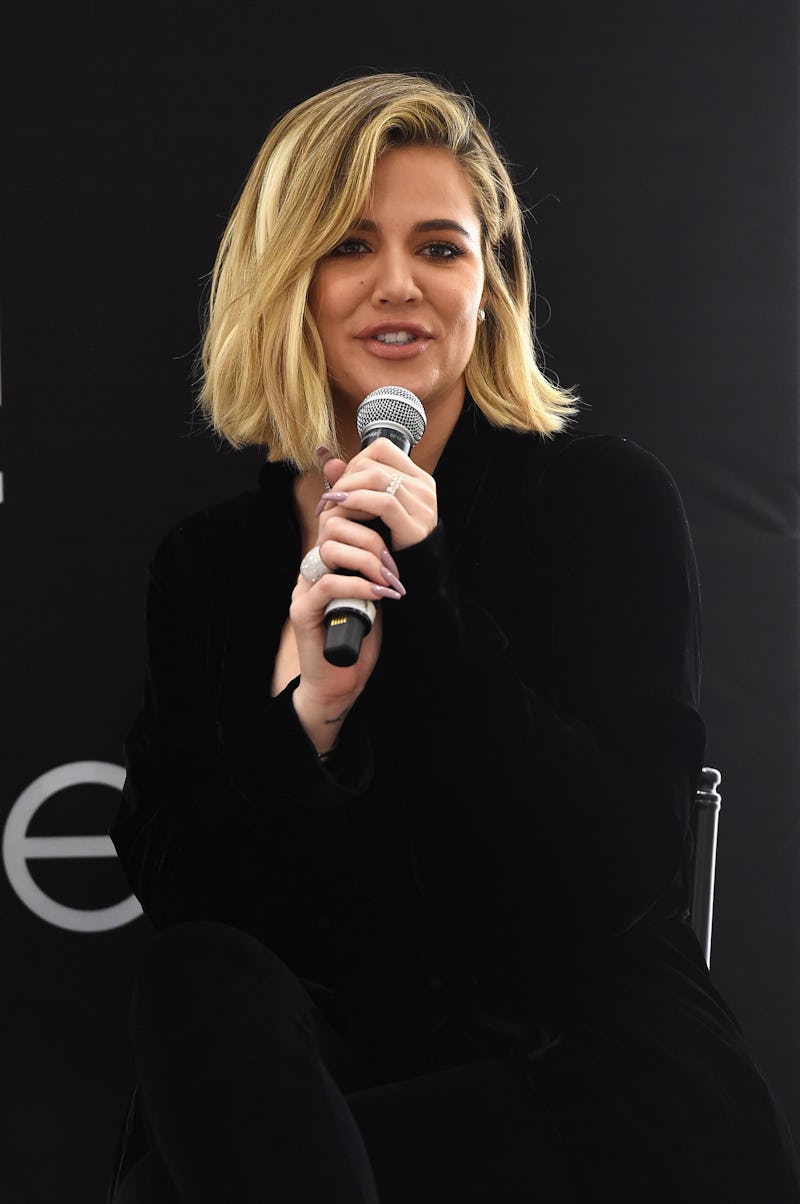 Jamie McCarthy/Getty Images Entertainment/Getty Images
Although she has yet to officially confirm anything, there is yet another Khloé Kardashian pregnancy clue making the rounds that has fans convinced she's with child. It was first reported that Kardashian and boyfriend Tristan Thompson were expecting a child by Us Weekly in late September, however neither the reality star nor Thompson, who plays in the NBA for the Cleveland Cavaliers, have confirmed or denied that they are expecting.
On Sunday, Dec. 17, the Keeping Up with the Kardashian star and Good American co-founder reportedly shared a photo to Snapchat promoting her signature sunglasses from DIFF Eyewear. Pretty standard for a member of the Kardashian Jenner family, right? Well, as Cosmopolitan points out, when you zoom in on the reflection in her sunglasses you'll see something that is a pretty strong indication that Kardashian is expecting — a U-shaped pillow, commonly used by pregnant women.
Now, whether Kardashian intentionally dropped the clue or not remains unknown, but as Cosmopolitan reports, when you zoom in on the pic it definitely looks like there's a white pregnancy pillow in the reflection of her sunglasses. For those who are not familiar, U-shaped pillows are designed to "follow the natural shape" of an expecting mother to provide comfort and help with correct posture. At least, according to this listing on Amazon that is.
Sure, it's a teeny, tiny, so subtle it's easy to miss pregnancy hint, but it is undeniably a clue. And in 2017 screen shots live forever, so there's no way for Kardashian to erase the image from the internet.
But remember, Kardashian isn't the only one in her family who is reportedly expecting. Her sisters Kim Kardashian and Kylie Jenner are also both reportedly expecting, though Jenner (like Kardashian) has not yet publicly commented on the pregnancy reports. That said, if Jenner is pregnant, it's possible that the pillow is hers.
Kim, however, has confirmed that she and her husband Kanye West are expecting a child via surrogacy, so the pillow is unlikely to belong to the surrogate if it was at Kardashian's house. During an appearance on The Ellen DeGeneres Show, Kim spoke about her surrogate's pregnancy, but refused to comment on whether or not either of her sisters were expecting. "We just decided there's so much that goes on that we respect each other's right to speak for ourselves," Kim explained. "So I will speak about myself, and hopefully, they can come on and address whatever rumors you might have."
The pillow picture definitely isn't the first time fans have thought Kardashian hinted that she is pregnant on social media. For Halloween, she and Thompson attended fellow player LeBron James' party dressed as Khal Drago and Daenerys Targaryen. In one of the snaps Kardashian shared of the party she referred to Tristan as "daddy," which some fans assumed was confirmation that they are expecting.
It's worth noting that "daddy" could just be a nickname that Kardashian has for Thompson, and as followers of Kardashian have noticed, that wasn't the first time she used the word "dad" when referring to him. Back in June, she shared a picture of Polaroids of herself and Thompson with the caption "mom and dad." Again, it's possible this was a hint from when she first became pregnant, or it could just be a silly caption.
It's been reported that Kardashian does intend to confirm her pregnancy in the near future, and many have suspected that she'll do so in an episode of KUWTK. In fact, a lot of people suspect that there's a scene shown in a trailer for the second half of the season, which begins on Sunday, Jan. 7, of what could be the moment when Kardashian makes the announcement to her friends and family. In the clip we see a gathering that included Kardashian's friends Malika and Khadijah Haqq, and what appears to be Thompson's mother gasping after hearing some sort of revelation. We won't know for sure until the episode airs, but based on the family's history of using their show to make major announcements, it certainly wouldn't be surprising if Kardashian confirmed her pregnancy in an upcoming episode of KUWTK.