You Can Buy A Light Up Rosé Fountain & It's Actually Super Affordable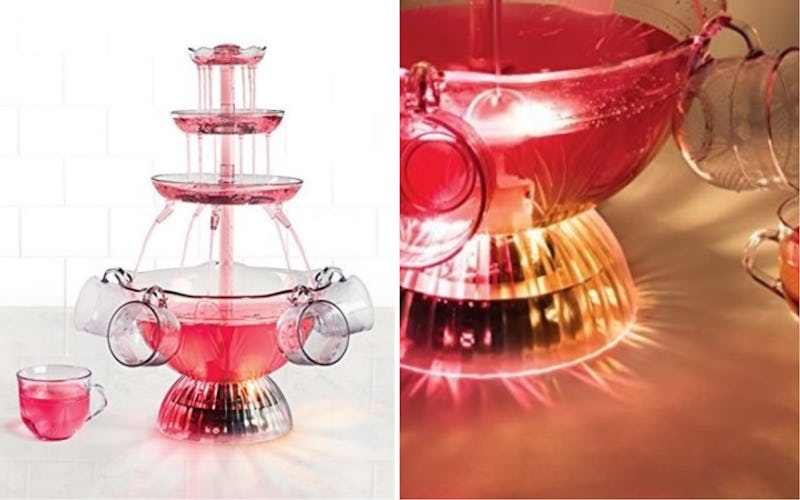 Walmart
June is one of the most popular months of the year for weddings. It makes sense if you think about it; few things are quite as charming as a summer soirée. Picture it: the flowers in a garden are in full bloom. The scene is decorated with pastel streamers and balloons. You sit at a rustic picnic table decorated with tea lights while you snack on salad and crostini. In the middle of the setup is a fountain But not just any fountain. Atop a central table, waiting for you to come grab a cup, sits a rose wine fountain.
The good news is, if you can dream it, you can do it. This Lighted Party Fountain from Nostalgia cascades an entire gallon of liquid through its three tiers of crystalline plastic. You don't even need to use a ladle to snag some sweet rosé from this beauty, its five built-in extension spouts act like water fountains — sophisticated, alcohol-spouting water fountains. Plus, it comes with five matching cups, ready and waiting to catch your drink for dinner.
Aside from an overall appearance of a fancy fountain you might find at a luxury hotel, one extra special feature of Nostalgia's Lighted Party Fountain is its LED base. Never again will you have to worry about illuminating your party's drink station, as the pink and gold glow emitted will allow you to keep poppin' bottles into the night.
Something this great just *has* to break the bank, right? No, actually. You can make this fountain yours for as low as $18.50 at Walmart. With customers' reviews averaging four and a half out of five stars, you can be sure you're getting more than your money's worth. One customer lauds the product, saying they are, "Very impressed with this! I bought it to use at a baby shower and it was a big hit, have used like 3 times now with a variety of punches, perfect every time!"
Rosé is perhaps the most popular imbibe of 2018. Between its millennial pink hue and delicate, fruity taste, the wine appeals to casual brunchers and sommeliers alike. Some people are pretty obsessed with it. In fact, if you wanted to, it wouldn't be too difficult to fashion an entire event around the beverage. Aside from its original form, there are countless reinventions of the spirit you'd never think to create.
First off, who says rosé is just for drinking? People have created tons of inventive food from the wine.
Brooklyn-based cook Grant Melton aded the pink drink to a classic pasta dish to create Rosé Alfredo. The recipe, available on Melton's website, calls for a cup of rosé to be added to the sauce composed primarily of butter and parmesan. The finished product tastes like the Italian staple, but has a subtle pink hue thanks to the wine. For dessert, you can snag rosé strawberries and cream cookie dough from the cookie dough shop, DŌ. The flavor is made with Summer Water rosé, a viral brand of wine that has attracted a waiting list that extends to almost 350 people. Bustle described the dessert as "very balanced," possessing "the distinct dryness of rosé in the batter and just enough of the strawberry filling on top." But, don't expect to snag some in the store, as DŌ's rosé dough was a limited offering last week.
At the end of the day, though, the only kind of rosé that will work in your fountain is the kind you can drink. Pasta and cookie dough are delicious, but dense. The best kind of rosé is classic rosé, especially if you want drinking it out of a three-tiered fountain — which, of course you do.