This Mac And Cheese Recipe For One Is Exactly What You Want For Dinner Tonight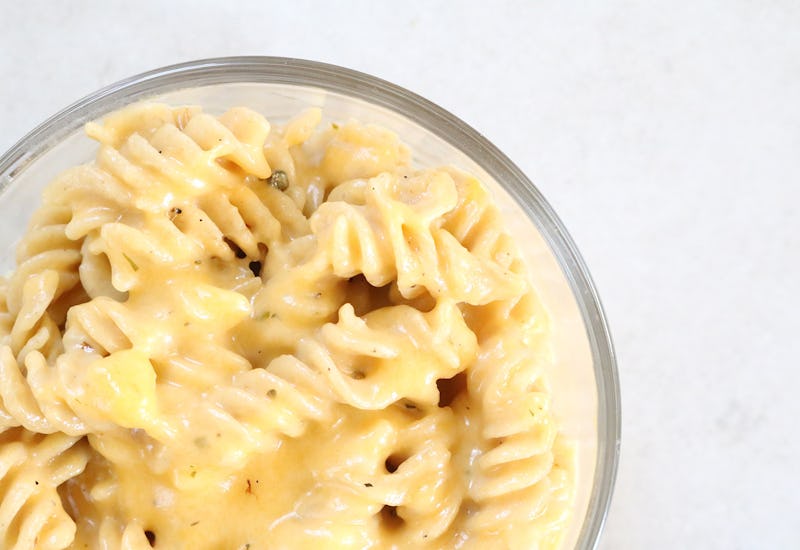 Kirsten Nunez
Sure, you like to cook, but sometimes you want to bake just a single cupcake or whip up fajitas for one. Bustle's new series, Single Serving, dishes up your favorite recipes in the perfect portions for when your speed is less "entertaining my crew" and more "watching Netflix alone on my couch."
Nothing beats mac and cheese — unless of course it's mac and cheese made from scratch. And now, thanks to this single-serving macaroni and cheese recipe for one, you can have a homemade batch of the good stuff all to yourself within minutes. See? Not all things in life have to be hard.
Besides, if you are like me and live alone, there is no reason for you to cook enough to feed an entire family. Unfortunately, most recipes are designed for multiple servings, and while I am all about eating leftovers, there is something so delectable about a fresh bowl of homemade macaroni and cheese. Otherwise, this recipe is super handy when I am just trying to use up the last of the cheese and vegetables in my kitchen.
It also beats making boxed macaroni and cheese. To be honest, powdered cheese kind of terrifies me, so I definitely love this one-person alternative starring ingredients you can actually pronounce. Plus, every time you try this recipe, you can make it a little bit different depending on the types of pasta, cheese, milk, and add-ins you use. If you are not picky, experiment your little heart out. You can even make it dairy-free with vegan cheese recipes.
1 cup dry uncooked pasta
Just under 1/2 cup milk
1 tablespoon butter
1-2 cups shredded cheese *
1 teaspoon of flour (optional, if needed)
Spices and pepper of your choice
Any other mix-ins you're in the mood for (black beans, chopped veggies, or buffalo sauce are all great options).
* If we're being honest, most people are obviously going to go for two cups of shredded cheese. However, if you don't have much on hand, one cup works just fine. I used 1 & 1/2 cups and was happy with the outcome.
1. Cook and drain the pasta according to the package's directions. Depending on the type of pasta you're using, one cup of dry pasta will yield roughly two cups of cooked pasta. If you end up with more than two cups, consider adding a bit more cheese, butter, and milk.
2. Over low heat, add the milk and butter. Mix until everything is combined and melted. Keep a close watch, because you don't want it to start bubbling or boiling.
3. Add the beloved cheese. Continue mixing until melted.
4. Optional: If the sauce is too thin for your liking, slowly add sprinkles of flour and continue mixing. Keep in mind that macaroni and cheese thickens up over time anyway. If you do use flour, don't add too much, as it will take away from the cheesy flavor. How upsetting would that be?
5. Add your favorite spices. Nothing beats a sprinkle of black pepper, but I personally love throwing in some oregano and paprika as well.
At this point, you can also add extra ingredients, if you have them. This quick recipe is especially perfect for those leftover veggies. I've made this with ingredients like spinach, cauliflower, and bell peppers.
Looking for an extra kick of protein? Bring in black beans or shredded turkey. Again, it's a great way to use up those leftovers.
You can also consider adding an extra sauce for more flavor. Salsa is amazing on macaroni and cheese, but you can also add a dollop of BBQ or buffalo sauce. Mix well to evenly disperse the sauce, and you've got yourself a masterpiece.
Then, get ready to dig in.
Life is beautiful, you guys.