This Miley Cyrus & Liam Hemsworth Update Involves Some Eyebrow-Raising Nicknames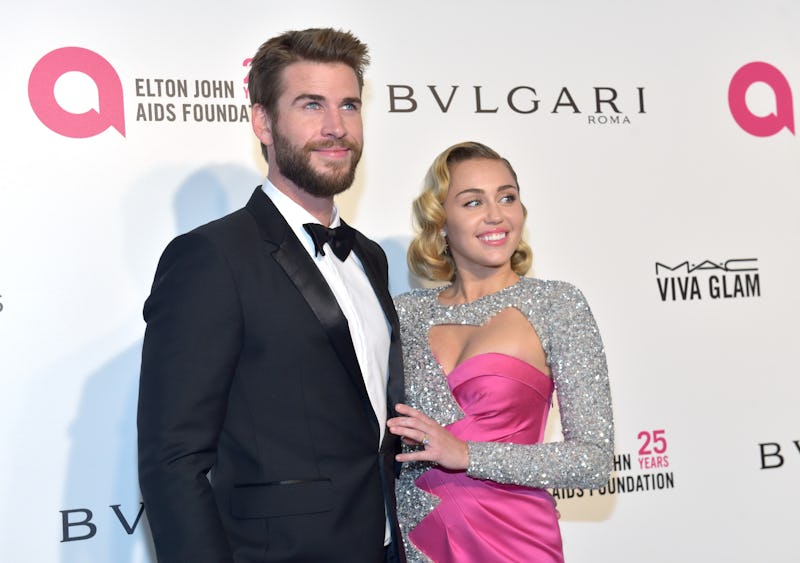 Rodin Eckenroth/Getty Images Entertainment/Getty Images
Miley Cyrus and Liam Hemsworth have been going strong for quite a while. But what exactly does their relationship status entail? Well, as ELLE noted, a new update on Miley Cyrus and Liam Hemsworth's relationship may clarify things once and for all.
According to a report from Entertainment Tonight, Cyrus and Hemsworth are basically "husband and wife." Although, it's not quite what you think. A source told ET that while the couple is doing super well, they're not officially married just yet. "Miley and Liam are totally in love, and are so happy living together," the source claimed, "They are not married but often laugh at the idea that people believe they are secretly wed. They refer to each other as husband and wife all the time and their friends laugh."
However, they're apparently not counting out getting married sometime in the future. The source went on to note, "They do talk about a wedding and kids all the time, but they are in no rush." So, just in case you were confused about Cyrus and Hemsworth's relationship status, let this clear things up for you. They may not be married right now (despite referring to each other as husband and wife), but there could be wedding bells in their future.
This latest update about the couple shouldn't come as too much of a surprise, considering a recent TMZ report about their relationship. In August, the publication reported that Cyrus and Hemsworth don't have any plans to get married anytime soon. But, there's a good reason behind the move. According to sources close to the pair, the engaged couple are happy with where their relationship is at the moment.
As for their engagement, they reportedly view that as a symbol of their commitment to one another. A source told TMZ, "They're both super chill and grounded. They're perfect for each other." If they're committed to one another and they don't have a desire to rush into a marriage, it really doesn't matter whether they head down the aisle or not.
This clarification came hot on the heels of some rumors about Cyrus and Hemsworth possibly exchanging vows. In January, NW Magazine claimed that the pair had gotten married (per The Sun), which led to plenty of speculation into what their true relationship status was. But, as The Sun reported in June, Cyrus clarified things for herself way back in 2017 anyway. She told the publication, "I don't envision marriage. I'm 24. I hope I get to live a little bit more. I have too much living to do [before I get married]."
Cyrus and Hemsworth, who first met during the filming of The Last Song in 2009, got engaged in October 2016. Their engagement followed their reconciliation after they originally split in 2013 (which occurred after they first got engaged in June 2012, per People).
It's clear that they've been through their fair share of ups and downs ever since their first meeting almost a decade ago. And if they're happy with where their relationship is at the moment, then it doesn't matter whether they're officially "husband" and "wife" or not, because obviously their happiness is what's most important.