Urban Outfitters Is Selling Teensy Millennial Pink Christmas Trees For Your Desk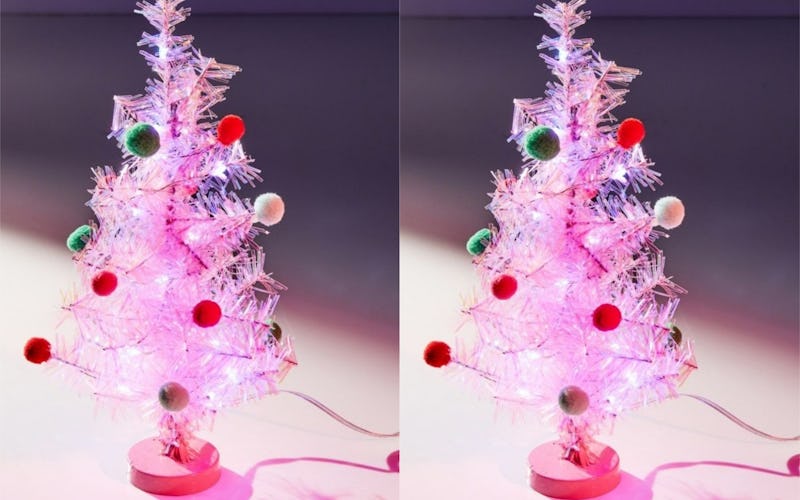 Urban Outfitters
In the noble quest to make sure everything in our lives is a shade of millennial pink, this time of year requires some additional and valiant efforts. Autumn hits, and suddenly we're bombarded by orange tones. Bleck. Then the winter holidays show up and it appears everything we once loved is now red, green, silver, and gold. Don't be derailed by the holidays, fellow pinkies. Everything you own can still be pink, including an adorable millennial pink mini Christmas tree for your work desk, because clearly we need to bring our pink and festive lifestyles into the workplace. And even if you don't typically decorate your desk for the holidays, you now have an excuse to start — because, hello, it's 2018 and we're basically living in a present-day dystopian future and literally everyone could use a tiny, light-up millennial pink Christmas tree on their desk to brighten their day amidst dark-ass times. Right? Right.
So yeah, it's nice to bring a little bit of holiday cheer into the office, but no one wants to be that person who lugs in boxes of dusty holiday junk to clutter up their desk with. That's why this tiny baby tree, with it's USB port powered lights, is the perfect clean n' simple addition to your work desk. The tree, which is available for $18 from Urban Outfitters, is made of shimmering blush-pink tinsel. And as you can clearly see, it is oh-so-cute. Standing only nine inches tall with a sturdy round base to prop it up, it's very much miniature, dainty, and highly portable. That means you can drag it along with you and your laptop into office meeting rooms (I'm certain your colleagues will appreciate this effort), or even bust it out at your local Starbucks during your remote workdays when a public cafe table is your temporary desk. Spread the holiday love!
And of course, like any other respectable Christmas tree, your new millennial pink desk mate lights up with a string of teeny bulbs. The lil' sparkly lights are powered via USB port, so you can plug this baby directly into your laptop and watch it shine. I guarantee you've never plugged anything cuter than this into any of your devices.
And considering it's now officially dark out by 5 p.m. (DST problems...), we're all back to the ol' "get off work only to discover it's already pitch dark outside" grind, which can be depressing as heck. The bright side? Earlier sunsets mean you'll get to actually enjoy the soft, light-up glow of your new desk tree — and it'll certainly serve as a fun lil' mood booster on those days when the quad-shot peppermint mocha never quite kicked in. I MEAN JUST LOOK AT THAT BEAUTIFULLY SOFT MILLENNIAL PINK GLOW.
As you can see, the mini tree also come pre-decorated with teeny-weeny pompoms — but that doesn't mean you can't add more ornaments of your own! In typical millennial fashion, might I suggest you consider adding this rosé wine glass ornament to your cart before checkout? Relative to the tree, this otherwise miniature glass of rosé will be giant — but hey, giant glasses of rosé might just be your thing. Who am I to judge?
Also, if it turns out you love your millennial pink mini-tree sooooo much that you suddenly hate every other Christmas tree simply for not being pink, you can, in fact, invest in a full-sized millennial pink Christmas tree for your home. I know, it's really cute. Thank me later. (I actually have a medium sized pink tree and it's literally the best thing ever — major life upgrade!!!!) You can follow that purchase up by marathon-buying this entire collection of millennial pink holiday decorations and then officially live inside a fluffy pink winter wonderland for the remainder of the season. Bless.
Back when I worked in an office, all I had on my desk for the holidays was a super sad Charlie Brown tree, some half-eaten bags of pretzels, and a Twin Peaks DVD propped against the tree that a coworker gifted me. Needless to say, this collectively wasn't exactly the image of holiday inspiration I probably needed. That said, I'm stoked on this epic desk tree upgrade that will dose me with some much-needed holiday cheer and simultaneously feed into my addiction to all things pink. Bring on the holidaze.