This New Disney Clothing Line Is Inspired By The Theme Parks Themselves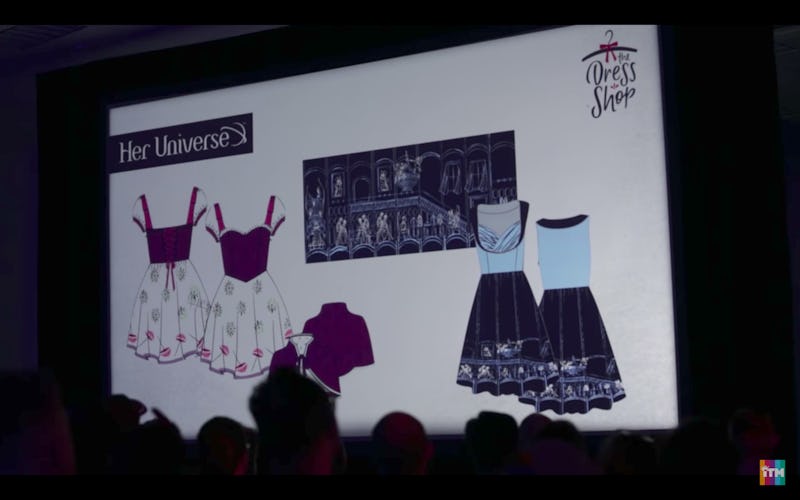 InsidetheMagic/YouTube
Have you heard of Dapper Day? It's when fans flock to the park wearing "dapper" midcentury homages to their favorite characters and movies — and now, with the retro Disneyland-inspired dresses coming to Her Universe... well, Disney has just made it that much more easy for you to participate.
Helmed by Ashley Eckstein, Her Universe is a favorited destination for pop culture-inspired fashion — you probably saw their rad Wonder Woman collaboration with Torrid, or their Star Wars collection with Hot Topic. Their latest collection, which debuted to oohs and ahhs at D23, will take inspiration from the Disneyland Park itself — and it's complete with dresses modeled after the Mad Tea Party, the Haunted Mansion, Frontier Land, and Fantasy Land, with more to come.
The Mad Tea Party and Haunted Mansion collections (which were announced earlier this year at the Star Wars celebration) will be available starting in the fall, while the rest of the Magic Kingdom-inspired lines will follow, starting with Frontier Land. All of the new dresses feature art by Ashley Taylor — perhaps best exemplified by the very cool sketches of the Disneyland, Disneyworld, and Paris Disney versions of the Haunted Mansion on the "Around the World" dress.
For now, the collection will be sold at the Disney World-only store, The Dress Shop on Cherry Tree Lane — but hopefully they'll become more widely available soon!
The various collections all had distinct personalities, with the Frontier Land collection taking on a more rustic vibe with its tie-waist separates. The Fantasy Land dress, which drew literal gasps from the audience, had a much more princess-y feel, rendered in pale pink and purple, with lace-up details reminiscent of Rapunzel's signature gown.
All in all, the new dresses are a lot of fun to look at, especially if you can't get enough of that polished retro look (with a fun pop culture twist, that is).
"Being a fan is, as we all know, a lifestyle," said Eckstein as she introduced her concept art, "And so it's not just a costume, you want to incorporate your fandom in your everyday life."
Looks like her new dresses are a great way to start!