This North Carolina Midterm Race Update Will Have You On The Edge Of Your Seat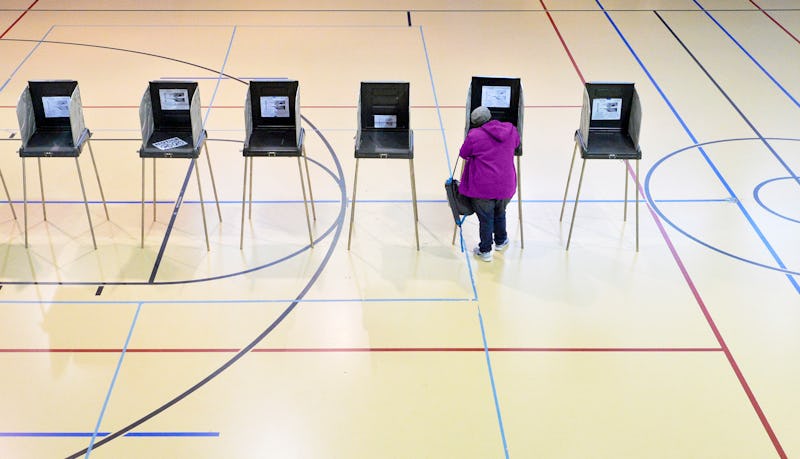 Sara D. Davis/Getty Images News/Getty Images
With allegations of voter fraud still unresolved post-election, there's one House race that just seems to be getting more and more fraught. An update on the North Carolina midterm race for its 9th District came on Thursday when the Democratic candidate, Dan McCready, withdrew his concession.
McCready, who trails the Republican candidate Mark Harris by 905 votes in a district in which upward of 280,000 people cast ballots, released a video on Twitter to announce his decision. "Last week we began to learn about shameful criminal activity, bankrolled by opponent, to take away North Carolinians' very right to vote," the businessman and veteran said. "I didn't serve overseas in the Marine Corps just to come back home and watch politicians and career criminals attack our democracy."
The "criminal activity" McCready referenced has to do with multiple reports of absentee ballot harvesting across the 9th District's Bladen County. Multiple Bladen County residents spoke to The Washington Post earlier this week about people first urging them to request mail-in ballots, and then coming to collect their absentee ballots with the promise of turning them in (according to state law, absentee ballots must be mailed or dropped off by a close family member).
Numbers show that the county went disproportionately for Harris among absentee voters despite having a significant Democratic population. Bladen was also the only 9th District county Harris won among absentee voters. On top of that, Bladen and nearby Robeson County reported unusually high numbers of unreturned ballots, disproportionately from black and Native American voters.
The North Carolina State Board of Elections and Ethics voted last week against certifying the election in favor of Harris while it investigates the allegations. As of yet, nothing has been proven, but the Associated Press reports that the board will hold a hearing on the issue on Dec. 21. If there is evidence of wrongdoing, or if the allegations can't otherwise be cleared up, it's possible that the state will have to hold a new election between Harris and McCready.
"Make no mistake, I support any efforts to investigate allegations of... voter fraud, as long as it is fair and focuses on all political parties. But to date, there is absolutely no public evidence that there are enough ballots in question to affect the outcome of this race," Harris said in a statement last Friday. "Accordingly, the Board should act immediately to certify the race while continuing to conduct their investigation. Anything else is a disservice to the people of the Ninth District."
But despite calls from Republicans to quickly certify the results, on Thursday Harris and his party seemed to backtrack a bit, announcing they would be open to a redo. "If they can state there was a substantial likelihood that the race could have been altered, then we would not oppose a new election," party Executive Director Dallas Woodhouse told The New York Times.
There is an even more severe outcome than redoing Harris' and McCready's election — the House of Representatives could simply refuse to seat Harris. "The House still retains the right to decide who is seated," Rep. Nancy Pelosi said to reporters on Thursday. "Any member-elect can object to the seating and swearing-in of another member-elect. We'll see how that goes."
If that happens, the process will start again from the initial primary phase before moving to a new run-off election. "This is bigger than that one seat. This is about undermining the integrity of our elections," Pelosi added. "What was done there was so remarkable, in that that person, those entities, got away with that."