This One Tweet Shows The Sexist Double Standard For How People Respond To Sexual Assault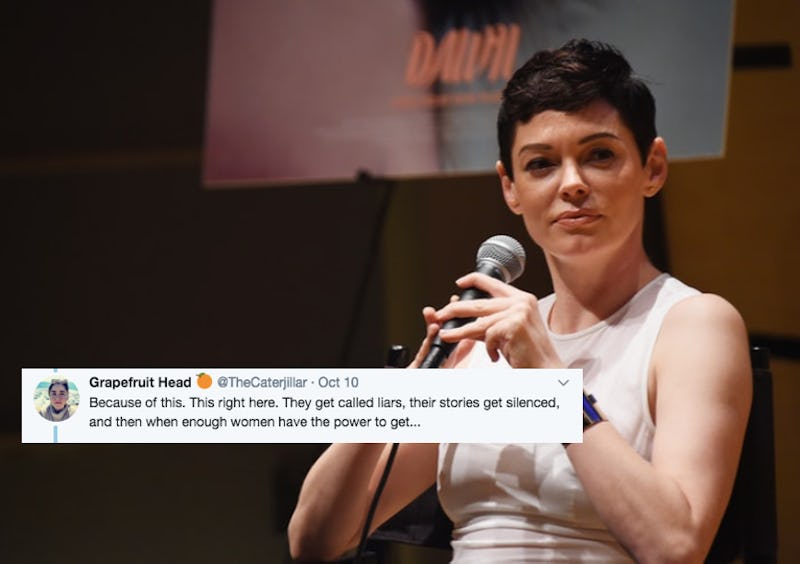 Michael Loccisano/Getty Images Entertainment/Getty Images
Unless you don't have access to the internet, or have tuned out the conversation for your own self-care, you have probably been following the Harvey Weinstein scandal, in which a number of women in Hollywood have come forward to allege that Weinstein sexually harassed or assaulted them. Though there has been a barrage of varying responses, many people have been blaming his victims for staying silent, while simultaneously lauding famous men who have simply denounced Weinstein's alleged actions after the accusations were made public. A Twitter user with the handle @OhNoSheTwitnt, summed up hypocrisy in these responses perfectly in a Tweet that demonstrates the sexist double standard for how people speak out about sexual assault.
The OG Tweet has been retweeted over 10,000 times, received over 28,000 likes, and already garnered over 400 responses from survivors, women, and critics alike. It reads: "Men are being applauded for denouncing sexual assault now, while women are being demonized for not reporting it sooner."
One sexual assault and domestic violence survivor responded, saying, "This is why we survivors/victims don't report our assault sooner, in fear of being demonized for it." Survivors often face this kind of backlash for not speaking out sooner, with little to no thought actually given as to why many do not report or come forward sooner. Sexual assault, in part, is rooted in power dynamics, and many times, perpetrators are in a position to impact the survivor's life if they choose speak out — as was the case with Harvey Weinstein and his accusers. "All of these women [Weinstein allegedly assaulted] faced real fear that speaking up would jeopardize their careers," Lucia Peters wrote for Bustle. "Either they would lose what they had fought hard to win, or they would be scuttled before they even began. In either case, there was an extreme power imbalance at play."
While survivors like actress Rose McGowan have been criticized for their silence (though McGowan originally disclosed her assault in October 2016, and was unable to name Weinstein because she had reportedly reached a confidential settlement with him), actors like Ben Affleck and Matt Damon have been roundly applauded for their denouncement of Weinstein. Ironically (in the worst way), soon after Affleck posted his statement, McGowan said Affleck already knew about the Weinstein since the 1990s, and actress Hilarie Burton claimed that Affleck groped her on the set of TRL in 2003. Affleck later apologized in a Tweet.
Why do we see this dichotomy when we compare the responses to men who denounce sexual assault, to the responses to sexual assault survivors themselves? The simplified answer is rape culture. There is a pervasive (and roundly incorrect) belief in our culture that women who are sexually assaulted, harassed, or abused must take partial responsibility for their trauma. From the infamous Brock Turner lawsuit, where the unnamed victim was blamed for her assault because she was drunk at the time, to the all too common question of what a victim was wearing when they were assaulted — victim blaming is a common behavior sexual assault survivors encounter if they choose to come forward about their assault.
Interestingly, another Twitter user specifically pointed out the hypocrisy in the way social media users have responded to famous chef Anthony Bourdain and his girlfriend Asia Argento, an accomplished actress, model, and director who was one of Weinstein's alleged victims. "If [Anthony] Bourdain werent personally invested, we wouldn't hear a goddamn word from him," tweeted Christan Marashio, in response to @OhNoSheTwitnt. Bourdain has received overwhelming praise for his take-no-prisoner Tweets directed at Weinstein ,and fellow famous men who knew about Weinstein's alleged harassment, while Argento — who shared her sexual assault in The New Yorker article that came out a few days after the New York Times' — has received only a mere fraction of the support her boyfriend has been given. In Bourdain's defense, he seems to be aware of this double standard: He shared a Tweet saying, "I see a lot more people praising @Bourdain when they should be rallying behind @AsiaArgento — bet he thinks so too." On Thursday morning, Bourdain also added, "All the ugly stories about Weinstein were ignored [and] suppressed until a few, heroic women came forward and went on record. They were vilified."
Let's get one thing straight: men should not be praised for simply denouncing sexual assault against women when it's a trending topic on social media — just as white people do not deserve praise for, you know, not being racist. Sexual violence in America has reached epidemic proportions, affects everyone across the gender spectrum, and frankly, deserves to be a conversation whether or not it's provoked by a high-profile story like Weinstein's. Sexual assault survivors deserve better support, kindness, and compassionate responses when they choose to come forward — not a sexist double standard.
If you or someone you know has been sexually assaulted, call the National Sexual Assault Telephone Hotline at 800-656-HOPE (4673) or visit online.rainn.org.