A Complete Timeline Of Owen & Amelia's Relationship On 'Grey's Anatomy'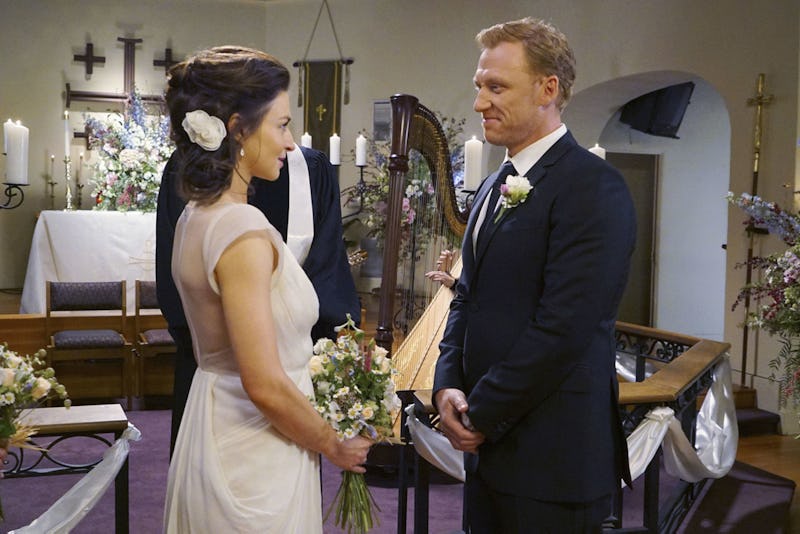 ABC
In order to sustain a long-running show like ABC's popular medical soap, every relationship is going to need its fair share of ups and downs along the way. Fans might need a full timeline of Owen and Amelia's relationship on Grey's Anatomy in order to make sense of the tangled web this on-again-off-again couple has weaved for themselves over the years — especially in light of Teddy Altman's resurgence in their lives. With Season 15's fifth episode, "Everyday Angel," looking to focus on Teddy and the ticking time bomb she's keeping secret from Owen and Amelia, it's time to refresh your memory on how the complicated love triangle got to this point.
Both Owen and Amelia came into their relationship with plenty of baggage. Of course, Dr. Hunt had been a regular on Grey's since Season 5, when the army doctor first came to Seattle Grace and stole Cristina Yang's heart... along with the icicle lodged in her belly. That relationship went through its own series of ups and downs before Cristina left for Switzerland at the end of Season 10. And although Amelia is newer to Grey's than Owen, she has her own sordid history that fans of Private Practice will know well.
Here are the major milestones the couple has been through since they first met five long years ago:
Season 10, Episode 21: "Change Of Heart"
Although she had visited the hospital a couple times before, this late season 10 episode marked Amelia's official arrival in Seattle and the beginning of her tenure on Grey's. (This'll make you feel old: back then, Cristina was still on the show and Derek was still alive.)
Season 11, Episode 7: "Could We Start Again, Please?"
Early in Season 11, Owen — and the entire hospital staff — learned of Amelia's history with addiction thanks to a loud-mouthed patient who knew Dr. Shepherd from her days in Narcotics Anonymous. Fortunately, she ended up bonding with Owen over this thanks to his own traumatic experiences with PTSD.
Season 11, Episode 12: "The Great Pretender"
After half a season of budding attraction, the future couple finally consummated their flirtation with a kiss.
Season 11, Episode 18: "When I Grow Up"
It only took six episodes from first kiss to the big "L" word, with Amelia confiding in her big brother Derek that she thinks she's falling in love with the trauma surgeon.
Season 11, Episode 22/23: "She's Leaving Home"
Derek's death was traumatic for everyone — including viewers — and in this two-hour post-death special, Amelia very nearly relapsed in her grief for her dead brother, but luckily Owen was there to talk her out of taking the drugs.
Season 12, Episode 8: "Things We Lost In The Fire"
Amelia wasn't so lucky in her second brush with relapse, though. Hurt by Owen's refusal to open up with her about his complicated relationship with Grey Sloan newcomer Nathan Riggs, the neurosurgeon gave into temptation when Riggs (unknowingly) offered Amelia a drink.
Season 12, Episode 10: "All I Want Is You"
Fortunately, Amelia quickly sobered up again and Owen finally opened up to her, revealing the truth about what happened to his sister Megan, leading to the couple bonding more than ever.
Season 12, Episode 24: "Family Affair"
Another half season later, the couple was so in love that they decided to quickly tie the knot. Only one episode after Amelia proposed to Owen, the couple got married in the Season 12 finale. (Not without some last-minute jitters, natch.)
Season 13, Episode 5: "Both Sides Now"
Shortly after their marriage, the couple decides to fulfill Owen's lifelong dream of having children. (Remember, Cristina's choice to not have children was the reason for the dissolution of his first marriage.) Early in Season 13, Amelia thinks she's pregnant; in fact, she tells pretty much everyone before she takes a pregnancy test and finds out she is in fact not pregnant.
Season 13, Episode 7: "Why Try To Change Me Now"
Shaken by her brush with motherhood, Amelia comes to realize that she actually doesn't want another child — still traumatized by the death of her first child, who was born without a brain after she conceived him while on drugs. In this episode, she breaks the hard news to Owen.
Season 13, Episode 9: "You Haven't Done Nothin'"
Realizing that staying with Owen will prevent him from fulfilling his dream of becoming a father, Amelia makes the hard choice to leave the man she just married. She moves out and hides at Stephanie's place, leaving a note for a distressed Owen to find.
Season 14, Episode 2: "Get Off On The Pain"
Despite not having really been a couple in over half a season, Amelia and Owen were thrown for yet another loop when she learned early in Season 14 that she actually had a large tumor in her brain.
Season 14, Episode 5: "Danger Zone"
Although Amelia's tumor is successfully removed, the couple is unable to reconcile which of her actions and feelings were triggered by the cyst in her brain, and officially (and finally) decide to call it quits and get divorced soon after.
Season 14, Episode 14: "Games People Play"
Their separation didn't last long; despite the divorce, Amelia and Owen started sleeping together again just nine episodes later, unable to resist the attraction they still felt (but determined to try to keep it casual between them emotionally).
Season 14, Episode 17: "One Day Like This"
At Amelia's urging, Owen flies to Germany to confess his long-simmering feelings for Teddy. Initially thrilled, Teddy sleeps with him — but then kicks him out when she learns that he had slept with Amelia the night before and was only there on his ex's advice.
Season 14, Episode 21: "Bad Reputation"
Owen finally decides not to wait for marriage to have a baby, and applies to be a foster father to an infant boy named Leo. One episode later, Amelia decides to sponsor the boy's young mother, Betty, and the four begin living together as a makeshift family.
Season 15, Episode 1: "With A Wonder And A Wild Desire"
After making their modern family work for a while, Amelia finally confesses to Owen in the Season 15 premiere that she still has feelings for him. Of course, this confession was perfectly timed with the arrival of Teddy in Seattle, now pregnant with Owen's baby after their one night stand.
How will this messy love triangle play out? Will Owen end up with Amelia or Teddy? Hopefully "Everyday Angel" will provide some resolution to this complicated relationship.