This 'Grey's Anatomy' Theory Suggests The Father Of Teddy's Baby May Not Be Who You Think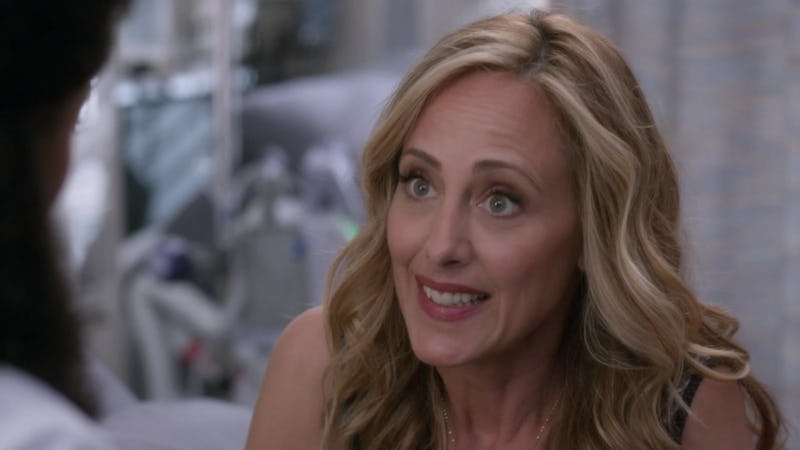 ABC
Grey's Anatomy's Dr. Teddy Altman returned to Seattle last season carrying way more than just her luggage. After the cardiothoracic surgeon (played by Kim Raver) revealed her pregnancy, viewers naturally wondered who might be the father of Teddy's baby on Grey's Anatomy. Fast-forwarding to the Sept. 27 Season 15 two-hour premiere, it seems clear that Dr. Owen Hunt (Kevin McKidd) is the dad, but since pretty much anything can happen in the Grey's universe, some fans have been reticent to accept that conclusion — and created some theories of their own.
Before bolting from Seattle Grace as fast as she could — and swiftly rejecting an interim Chief of Surgery job offer — Teddy asked to consult with Grey Sloan Memorial's head of cardio for a painful, self-diagnosed blood clot in her leg. While waiting in an exam room, she discovers the department head is Meredith Grey's half sister Dr. Maggie Pierce (Kelly McCreary). A dismayed Teddy reveals she's "11 weeks pregnant" and nervously cites patient confidentiality laws to make sure Maggie doesn't spill her "life-altering secret."
During the exam, Teddy emotionally laments, "This is so not me. I don't cry. Hormones are in control now. And I don't get pregnant by accident, I'm careful. But a man I loved came to Germany, and it was so hard to resist ... and I wasn't careful."
As fans likely recall, Owen traveled to Germany last season in an attempt to act on a long-brewing romantic connection with Teddy. After the pair slept together, Teddy decided that Owen's complicated relationship with his ex-wife Dr. Amelia Shepherd (who actually urged the trauma surgeon to go be with Teddy in the first place) was too much to handle. So Owen left Germany and returned to Seattle, where he began the process of adopting the son of a drug addict teen mom and began casually reconnecting with Amelia (played by Caterina Scorsone).
Of course, Maggie blurted out the same thing the rest of Grey's viewers were probably thinking: "Oh my god, Owen went to Germany." After some anxious investigation into what exactly Maggie's relationship was to Owen (and some comical debate on her relation to Amelia), Teddy heavily implied — but never explicitly confirmed — that Owen is the baby's father.
Owen's paternity would make sense time-wise. One Reddit sleuth estimated that three months passed between the time Teddy and Owen slept together in Germany and the Grey's Season 14 finale when Teddy returned to Seattle. And given that the Season 15 premiere picked up with a few of the docs battling hangovers from Alex and Jo's wedding, it's safe to assume that the plot is picking up almost exactly where last season wrapped.
Another Reddit user was skeptical that Teddy could have even naturally conceived a child with Owen. "Did Teddy go to some fertility specialist in Europe and do IVF or some kind of implantation?" the fan posted, estimating that Teddy could be about 50 years old, given her seniority in earlier seasons. For all viewers know, the father also could be some unknown character who Teddy met in Germany, given that details of her time abroad weren't revealed in the show.
While the paternity hasn't been definitively confirmed, what is certain, however, is that the pregnancy will provide a healthy dose of drama at Grey Sloan Memorial this season. Teddy's abrupt decision to leave Seattle came when she arrived at Owen's front door, presumably to share the happy news, and Betty, the recovering teen mom Owen and Amelia took in (played by Peyton Kennedy) opened the door and dropped the bomb that Owen has a baby — all unbeknownst to both Owen and Amelia, of course.
Only complicating matters, throughout the course of the two premiere episodes, Amelia decides she wants to ditch their no-strings-attached status and go all-in with Owen again and confesses her feelings. By the end of the two hours, Owen also concludes he wants "the strings" with Amelia and to move ahead with a serious relationship. What could possibly go wrong?
While the actors have only been able to guess how Owen and Amelia will react to the pregnancy, Raver thinks that the new love triangle will be "different than we've seen in the past." In an interview with The Hollywood Reporter last month, she said:
"We're in 2018 and I pitched, if we can, not having woman pitted against woman. Amelia and Teddy definitely have what they want, but maybe there's a different way for us to approach it. And the writers seem very interested in that and we're hopefully going to head in that direction. I think that will open up a very different storyline."
Grey's fans will certainly have much more to unpack as Teddy's pregnancy story unfolds this season.