This Photo Of Eric & Lara Trump In Pennsylvania Shows They're Campaigning Too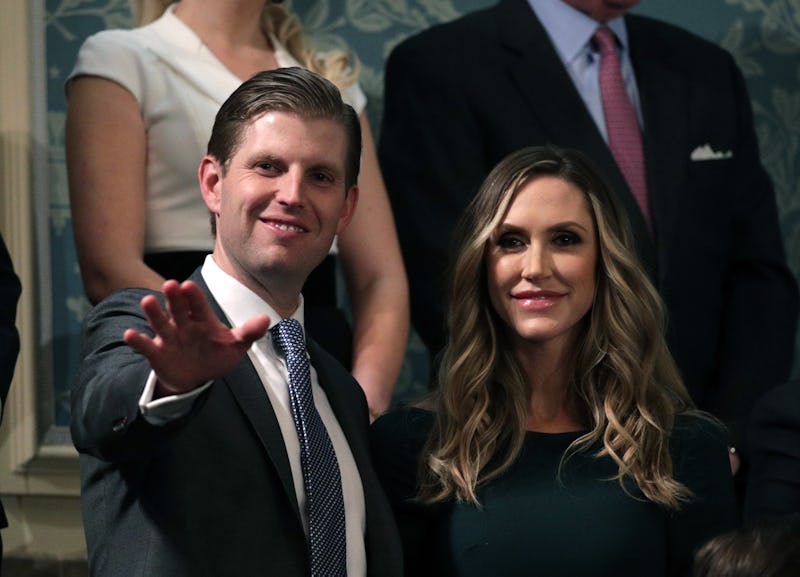 Alex Wong/Getty Images News/Getty Images
Election season is upon us, and with the midterms just over four weeks away, the Trump family is hitting the campaign trail in support of Republican candidates. A recently tweeted photo of Eric and Lara Trump show they're campaigning, too. While President Donald Trump was in Minnesota for one of his "Make America Great Again" rallies, Eric and his wife were in Pennsylvania, supporting Representative Lou Barletta.
Barletta, a Republican representing the 11th district of Pennsylvania, is up for reelection this November.
"Lara and I loved spending the day in Pennsylvania campaigning for @RepLouBarletta for Senate!" Eric tweeted Thursday. "He is an incredible guy & a great friend - we desperately need him fighting alongside @realDonaldTrump in #WashingtonDC!"
Before visiting Barletta, Eric and Lara were on the California campaign trail. The San Diego Union-Tribune reported last month that the couple stopped in La Jolla for a private fundraiser luncheon.
"They are here to support our entire local Republican ticket," Tony Kravarik, head of the San Diego County GOP, told the Union-Tribune. "And to excite and thank grassroots Republicans."
Also while in the state, Eric endorsed Diane Harkey, the Republican candidate for California's 49th congressional district.
"It really was a packed house with @EricTrump yesterday!" Harkey tweeted, sharing a photo of a full campaign office. "Lots of energy in the room to help us win in November!"
On his own Twitter, Eric shared an image of him speaking next to Lara, captioned, "Great to be in #Carlsbad #California stumping for @Diane_Harkey for Congress #CA49! Working hard to #MAGA."
This year's November elections have been particularly notable due to the political controversy surrounding Trump's Supreme Court nominee, Brett Kavanaugh. The judge has been accused of sexual assault by multiple women, but he denies all claims.
These midterms will give Democrats a chance to reclaim Congress and put a stopper in Trump's conservative policies. As of now, Republicans have just a two-seat majority over Democrats in the Senate. In the House, Democrats need to gain at least 23 seats to win a majority, as CNBC reports.
Whichever party controls Congress will have greater control to influence the president's moves on health care, foreign policy, and the Supreme Court nomination. And the significance of this isn't lost on voters. According to a poll by SurveyMonkey/theSkimm/Hive, around 62 percent of Americans believe this year's midterms are the most crucial of their life thus far. This is especially true for older Americans. Of those aged 65 and up who were surveyed, 74 percent say these midterms are more important than any other in their lifetime.
Thus, Donald Trump's middle son has taken to the campaign trail with his wife to fight for the Republican status quo, appearing at fundraising events and speaking in support of candidates. And campaigning really is a family affair — just before their stops in California, Eric and Lara celebrated their baby boy's first birthday.
While raising his son, campaigning, and supporting his father at the United Nations, Eric also remains executive vice president of the Trump Organization.