This 'Pretty Little Liars' Prediction Is Heartbreaking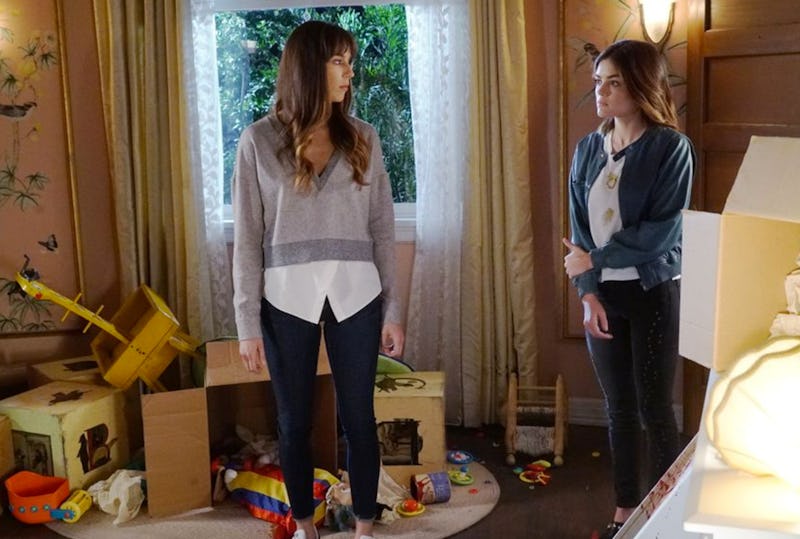 Ron Tom/Freeform
Hello, my Pretty Little Pod Listeners. I am pleased to report there is a new episode of Taking This One to the Grave, Bustle's Pretty Little Liars podcast. If you've already watched this week's PLL, you'll definitely want to check out this podcast episode. And if you haven't watched Season 7 Episode 16, "The Glove That Rocks the Cradle," fair warning: Spoilers abound. Especially regarding a shocking PLL death theory.
On this week's ep of Taking This One to the Grave, Bustle editors Sam Rullo and Christine DiStasio, along with Romper editor Allison Piwowarski attempt to come to terms with what might be Aria's most shocking ensemble to date: the infamous black hoodie. Aria really went full henchman this week, and she had the missing earring to prove it. So, where does Ms. Montgomery go from here? The pod explores possible outcomes for the Liar's new, uh, side gig.
In addition to Aria's A-lliance shift, there's also plenty of Haleb talk, some speculation about what Lucas is up to, and a death prediction. The death prediction is devastating. While I get where Sam, Christine, and Allison are coming from, I really, really hope this death prediction is not correct. No, I won't tell you which beloved character these three think might die before the series takes its final bow later on this year, but you can skip ahead to the 32-minute mark to have your mind blown. (Hint: It isn't one of the core four.)
As upsetting as it is, there's definitely enough support that a certain Rosewood regular may not make it past the finale. Listen to the pod yourself and let their heartbreaking theory knock you right out of your chair.