This Reported Campus Sexual Assault Rule Change Has Advocates Seriously Worried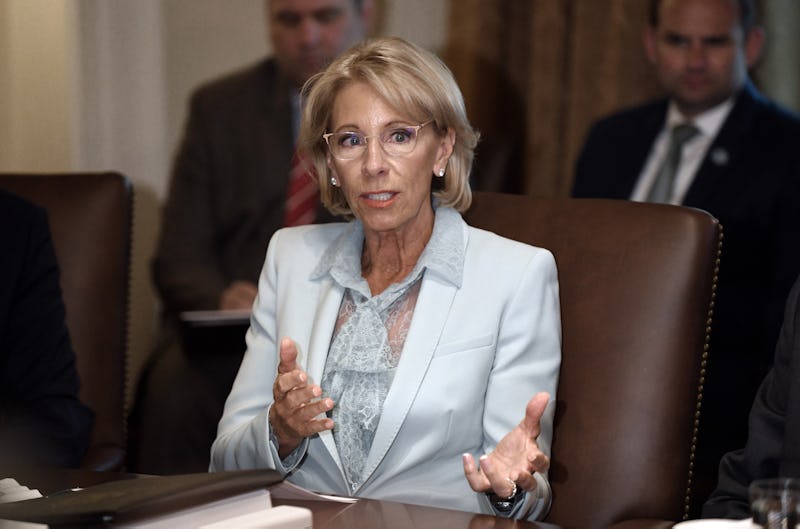 Pool/Getty Images News/Getty Images
According to the Wall Street Journal, a new proposal by the Education Department could require campus sexual assault survivors to be cross-examined by their alleged abusers. The new proposal concerns Title IX, the 1972 law that prohibits gender discrimination in public schools, and if implemented, would create new guidelines for determining which schools are eligible for public funds.
When contacted by Bustle, the Education Department wouldn't comment on the specifics of the Journal's report, but did confirm that the agency is drafting new rules regarding campus sexual assault.
"The Department is in the process of developing an NPRM to clarify schools' obligations under Title IX in redressing sex discrimination, including complaints of sexual harassment, and the procedures by which they must do so," a spokesperson for the agency tells Bustle. "The Department is in the midst of a deliberative process prior to publishing the NPRM, and has not yet finalized a proposed rule. The Department will not comment on any news reports about purported drafts of internal privileged and deliberative documents."
An NPRM, or notice or proposed rule-making, is part of the process by which federal agencies implement new regulations. After finalizing a new proposed regulation, agencies must publish in the Federal Register an NPRM that details the changes, and allow the public to review and comment on it before making the changes official. The Journal reports that Education Secretary Betsy DeVos is likely to publish the new proposal some time in November, at which point it will be subject to public comment for 30 days before taking effect.
According to the Journal, earlier drafts of the proposal would have have given campuses the option of letting students cross-examine their accusers. The most recent version, however, requires that campuses provide this option to alleged abusers. In the version of the rule obtained by the Journal, schools would have the option of filtering cross-examination questions through a neutral third party and seating the students in question in separate rooms during questioning. It's unclear, though, if accusers would have any say in whether these steps are taken.
Survivors' advocacy groups criticized the reported proposal, with a spokesperson for End Sexual Violence says that "campus misconduct proceedings are not the same as criminal proceedings."
"This flies in the face of everything we've worked for to encourage survivors to come forward and work toward preventing sexual violence," Terry Poore of End Sexual Violence tells Bustle. "A fair process is good for everyone, but allowing accused students to directly question victims does not move us in that direction."
Jess Davidson, executive director of End Rape on Campus, tells Bustle that the reported new rules will "undoubtedly make schools more dangerous for survivors."
"Forcing survivors to go through a process that is not made for them, and is designed to benefit their assailant, mirrors what happened to Dr. Christine Blasey Ford this fall," Davidson says in a statement. "She bared her soul with poise and bravery, yet an institution that was determined to protect her assailant failed her. Under this policy, colleges will do the same to millions of survivors in schools everywhere. There's no way of hiding it; this is just another action this administration is taking in a series of calculated moves to silence survivors."
The proposal is said to include several other changes aimed at giving protections to students who are accused of sexual assault. Under the new rules, schools would only have to adjudicate assaults alleged to have taken place on campuses, and the definition of "sexual assault" would be narrowed as well. However, the proposal will not redefine "gender" as being an attribute permanently tied to one's birth gender, as some administration officials had reportedly wanted, according to the Journal.
The New York Times reported in September that, according to an internal study by the Department of Education, earlier versions of DeVos' proposal would dramatically decrease the number of sexual assault investigations on college campuses.