Oscar Isaac & Gwendoline Christie's New 'Star Wars' TV Series Sounds Like A Must-Watch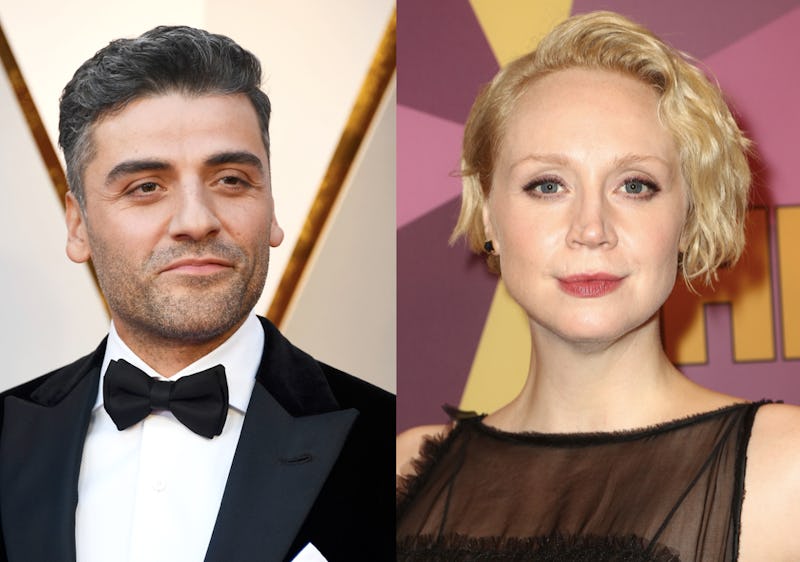 Frazer Harrison/Getty Images Entertainment/Getty Images; Frederick M. Brown/Getty Images Entertainment/Getty Images
Details of the newest Star Wars series have been announced. It's officially titled Star Wars Resistance, and this new Star Wars animated series just added fan-favorite characters you probably didn't see coming. According to ScreenCrush, Star Wars Resistance will lead into The Force Awakens, and that means Poe Dameron, Captain Phasma, and more will all be major characters. More than that, the actors who played them in the Star Wars movie will actually lend their voices to the animated series. That's right: Poe Dameron is now your cartoon boyfriend, too. And fans get justice for Captain Phasma's abbreviated story arc — finally.
ScreenCrush reported that Star Wars Resistance will be an "anime-inspired" series with an incredible voice cast, including Donald Faison (Turk from Scrubs and a known Star Wars obsessive), Jim Rash (Dean Pelton from Community, and an Oscar winner for The Descendants screenplay), and Bobby Moynihan from Saturday Night Live.
Here's how the studio describes it, per the Star Wars website:
"Production has begun on 'Star Wars Resistance,' an exciting new animated adventure series about Kazuda Xiono, a young pilot recruited by the Resistance and tasked with a top-secret mission to spy on the growing threat of the First Order. It will premiere this fall on Disney Channel in the U.S. and, thereafter, on Disney XD and around the world. Featuring the high-flying adventure that audiences of all ages have come to expect from Star Wars, 'Star Wars Resistance' will feature the beloved droid BB-8 alongside ace pilots, colorful new characters and appearances by fan favorites, including Poe Dameron and Captain Phasma, voiced by actors Oscar Isaac and Gwendoline Christie, respectively."
Yes, that's right: BB-8 will be on the new Star Wars animated series too. It's happy-dance time.
Series creator Dave Filoni previously worked on Star Wars Rebels, and has reportedly been developing the idea for Star Wars Resistance for some time. Filoni expressed the following in a press release on the official Star Wars website:
"The idea for 'Star Wars Resistance' came out of my interest in World War II aircraft and fighter pilots. My grandfather was a pilot and my uncle flew and restored planes, so that's been a big influence on me. There's a long history of high-speed racing in Star Wars, and I think we've captured that sense of excitement in an anime-inspired style, which is something the entire team has been wanting to do for a long time."
Pod racing, fighter pilots, Poe Dameron, Phasma, BB-8, celebrity voices, and a prequel to the events of The Force Awakens? Yes, please. Think of all the time it could fill in for audiences; all the directions it could go in. Will fans finally see the rise of the First Order? How well-established a pilot is Poe at this point? Is it basically Star Wars: Flight School? There are so many incredible ways they could take this series in. Making Star Wars Resistance a predecessor to The Force Awakens is the coolest possible idea.
Now, while this is exciting news on its own, don't forget that there's also a live-action Star Wars television series in development. That's the one helmed by veteran director Jon Favreau, and is expected to land on the Disney streaming service sometime in 2019. The live-action Star Wars TV show does not have a name yet, and will be the first of its kind. You get a Star Wars show to be excited about. You get a Star Wars show to stan. Everybody gets a Star Wars TV series to mark their calendars for.
While the live-action Star Wars series is designed to premiere on a Disney exclusive streaming service, Star Wars Resistance will be much more widely accessible. As stated above, it will premiere on Disney Channel sometime in Fall 2018. After that, it will also be made available on Disney affiliate Disney XD, and move to international markets thereafter. Apart from Poe Dameron and Captain Phasma, it's not yet known which existing (human) characters from the Star Wars canon will make an appearance. Fingers crossed for some even more familiar faces — and voices, too.