This Video Of A Taylor Swift Christmas Lights Show Will Make Your Holiday Way Brighter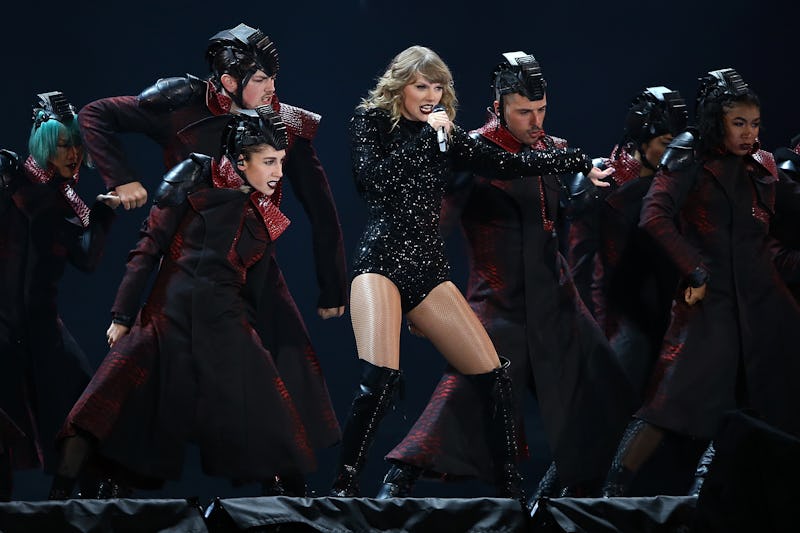 Paul Kane/Getty Images Entertainment/Getty Images
One committed Swiftie is all it takes to bring Christmas cheer like people have never seen before. A die-hard Taylor Swift fan created a "Ready For It" Christmas lights show and it is truly the holiday gift that Swifties, the internet, and the universe didn't even know they needed. Taylor Swift fan or not, it's hard to deny this lights show is anything less than epic.
Twitter user @coverboiiii A.K.A. "Tay Stans Only" posted two versions of the video which have received about 92,000 views combined on Twitter since the first was posted on Nov. 15. The original video was captioned, "Just because I'm a die hard @taylorswift13 @taylornation13 fan, I had to program my Christmas light show to ...Ready for it? Enjoy!" Clearly @coverboiiii didn't realize how captivated the web would be by his creation, and posted another video of the show on Nov. 25, captioned, "Didn't know this would take off! Here's a better version!"
The internet has seen its share of dazzling lights shows, but this one is exceptionally wild. For one, it's intricately (and perfectly) timed to Swift's "...Ready For It?" from her 2017 album Reputation. It does things people probably didn't even know lights could do at once. The video has already gotten attention from ABC and Fox News (who've tweeted at the creator, asking to use the video).
Deemed a "Reputation paradise" by one Twitter user, people watching are flat-out captivated by the show.
Someone name this brilliant man head of the Swifties, stat.
The video may even be as big of a spectacle as Taylor Swift's fiery "I Did Something Bad" performance at the 2018 American Music Awards in October, which was her most recent televised show. The biting performance included tons of dancers donned in all-black outfits, multiple bursts of fire, and the massive Karyn-the-snake prop from Swift's Reputation Stadium Tour which overlooked the entire stage.
With 113.3 million Instagram followers, 83 million Twitter followers, and a massive Tumblr account, Swift has yet to respond to the fan devotion displayed in this lights show. She has, however, made time to give a rare shoutout to her new actor boyfriend Joe Alwyn in an Instagram post. Over the weekend, Swift posted a snippet of Alwyn's new film The Favourite (also starring Emma Stone) with the message, "The Favourite is absolutely phenomenal, and it opens in NY and LA tomorrow— Swipe to see cities and dates! @thefavouritemovie @joe.alwyn @nicholashoult."
Meanwhile, Swift has been finishing up her Reputation Tour since first hitting the road in May. Her last show was in Tokyo, Japan on Nov. 21 and she closed it out with an emotional speech to fans. "I'm so lucky you care about anything I create, whether it be music or a stage show," she said, playing a few notes while sitting behind a piano. "Thank you for coming tonight. Thank you for coming to be a part of my life. I love you."
Now that she might have some more free time, someone needs to get this lights show in front of her ASAP.