Time's Up Demands Better Trans Representation In Hollywood With A Devastating Open Letter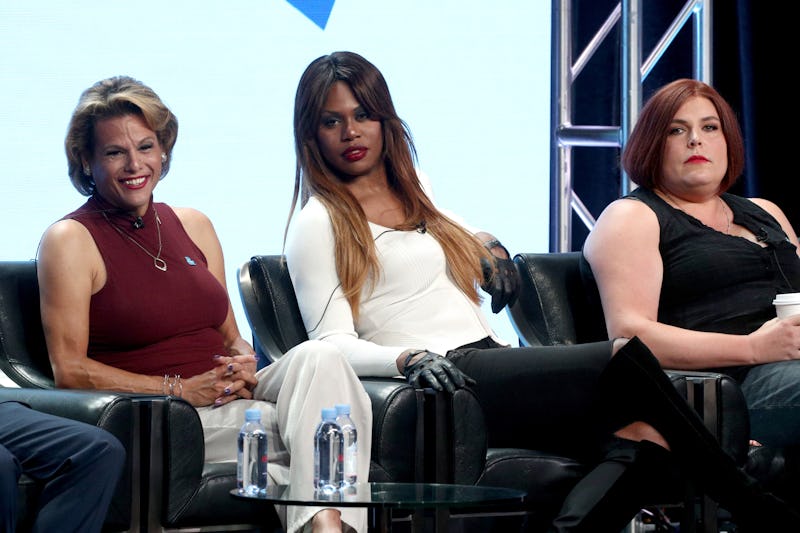 Frederick M. Brown/Getty Images Entertainment/Getty Images
When the Time's Up movement released its mission statement on Jan. 1, it served as a glimmer of hope in the wake of the #MeToo movement's troubling revelations. The letter, backed by female influencers like Reese Witherspoon and Shonda Rhimes, implored Hollywood to improve its representation of women. Now, the Time's Up initiative has teamed up with GLAAD and released a new statement about transgender representation in Hollywood, titled "TRANSform Hollywood." Time's Up released the letter regarding transgender visibility through a subgroup within the organization called 5050by2020, which Transparent creator Jill Soloway co-created.
The letter, which was published on the 5050by2020 website and reprinted in Variety, is signed by nonprofit organizations including GLAAD and ACLU, in addition to important Hollywood agencies and production companies like CAA, ICM, Ryan Murphy Productions, and Apatow Productions. The letter's main focus regards the necessity for Hollywood to improve its diversity of stories shared in film, especially regarding those of the transgender community. The letter states, "In the US, 80 percent of people say they don't know a trans person in their family, workplace, or school. That's where Hollywood comes in. Hollywood tells the stories that help people understand how to feel about themselves and how to feel about people around them who are different."
The letter not only argues that increased representation of transgender characters is needed to help educate audiences, but also that the kind of representation already in Hollywood must improve. The letter states, "As trans people, we have grown up watching stories told about us by people who haven't done their homework when it comes to the trans community." This criticism is especially timely, as recent casting controversies involving cisgender actors playing transgender characters have recently shaken Hollywood. Jeffrey Tambor just ended a four season run playing Maura Pfefferman on Transparent while Scarlett Johansson dropped out of a movie in which she was set to star as a transgender character after receiving massive backlash. The letter continues:
"We have been portrayed almost exclusively as tragic victims, psychotic killers, and one-dimensional stereotypes. We have been confused with drag queens, seen our history erased in historical films, and been ridiculed for gender expressions that don't conform to social norms."
The site also points out the homogenous nature of Hollywood executives who are in charge of choosing what stories to tell and how to tell them, noting that the majority of those in power are men. Based on a study by USC's Annenberg Inclusion Intiative, the site spotlights various graphs reveal the gender inequalities that exist among Hollywood's decision-makers. "81 percent of board members in Hollywood are men," one graph says, and another reveals that "94 percent of Hollywood film executives are white." In addition to revealing these embarrassing statistics, the USC study also states that no transgender characters appeared in the top 100 films from 2017, and out of the top 400 popular films that came out between 2014 to 2017, only one transgender character had appeared.
But the letter doesn't just point out how big of a problem Hollywood's lack of representation of transgender characters is. The "TRANSform Hollywood" letter also prescribes a set of actions that people in the entertainment industry can take to help effect change, like getting transgender creators involved in a project during early development and not casting cis-gender actors to play trans characters.
The Time's Up movement, though it began with an emphasis on protecting women in Hollywood, should include all under-represented groups in addition to women. And it's exciting to see the organization grow, and hopefully lead to some real change in how popular films represent transgender characters and stories.