This Tom Tom Update Is The MAJOR Clue That 'Vanderpump Rules' Fans Have Been Waiting For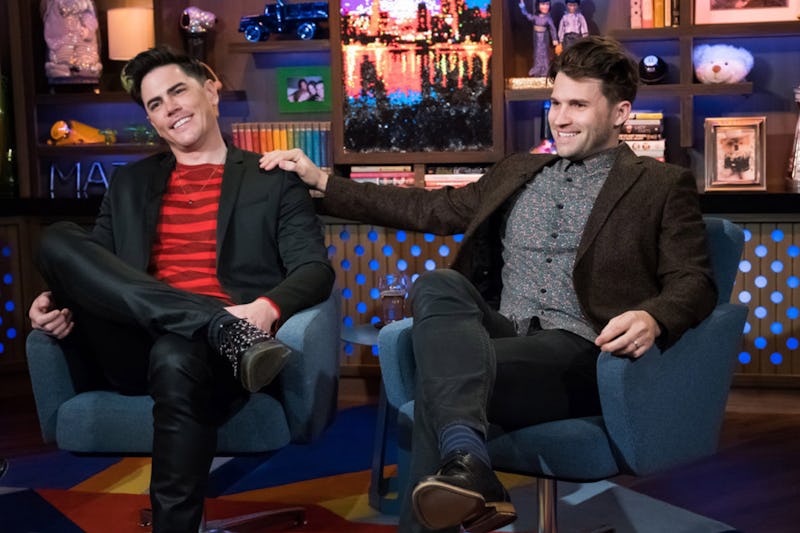 Charles Sykes/Bravo
It's been 22 days since Tom Tom hosted its soft opening, and the official opening date remains a mystery. And so we Vanderpump Rules fiends will do the only thing we can do: tether ourselves to any and all Tom Tom updates that might contain a clue about when Lisa Vanderpump, Ken Todd, Tom Schwartz, and Tom Sandoval's West Hollywood bar will open to the public. The updates do not always pan out (see: Sandoval's Instagram post where he suggested Tom Tom would open on or around July 25), but we must not give up. We must not quit poring over the Pump Rules stars' social media accounts for hints. We must not delete our "Tom Tom opening day" Google alerts. And we must not stop looking at Tom Tom's Yelp page.
As I scanned the bar's Yelp page on Thursday, Aug. 2, a message that shines like a light fixture designed by Nick Alain stopped me in my Sexy Unique Tracks. Sitting at the top of the Yelp page like a carnation pink beacon of hope, the message reads, "Tom Tom is temporarily closed. Scheduled to reopen on August 5, 2018." (Bustle reached out to a rep for Tom Tom, but has not heard back.)
Uh, what? What does that mean? How long has that been there? Did… did Yelp provide the answer to the question that has taunted Pump fiends for what feels like an eternity? Will the Tom Tom grand opening really take place on Sunday? Or is this a tentative date that is subject to change? Is Aug. 5 really the big day, or are we making a Tom Tom clue mountain out of a Sexy Unique Molehill?
Of course, this Yelp note doesn't confirm anything. It's just, uh, rather curious. For all we know, the Tom Tom opening date may still be up in the air. When Reality Blurb asked Sandoval about Tom Tom at least week's The Row premiere, he said,
"We don't have an official date yet, it's going to be about a week and a half to two weeks. It could a little bit sooner, I'm not sure yet because obviously with opening a place, you have to arrange things and get things ready to go… Fire department, everything has to be up to code."
And when Jax shared a pic he snapped while hanging out in the to-be-opened establishment over the weekend, he wrote, "p.s. we don't know when it's going to open so hope that saves the question I know that's coming."
The bar's Instagram account, however, seems to have a better idea as to when opening day is supposed to go down. In a post that went up earlier this week, the Tom Tom IG account teased,
"Our bar is almost open! Who is ready to walk through our doors next week?! #OpeningSoon #TomTom"
The Toms don't know. Jax doesn't know. Whoever runs Tom Tom's IG seems to know but will not spill the beans. And Yelp might know and might've spilled the beans and Tom Tom might open on Aug. 5? Or maybe not. But hey, at least we don't have to wait too long to find out if that really is Tom Tom's opening date: On Sunday, the truth will come out.