This One Tweet About Bill Cosby's Guilty Verdict Will Floor You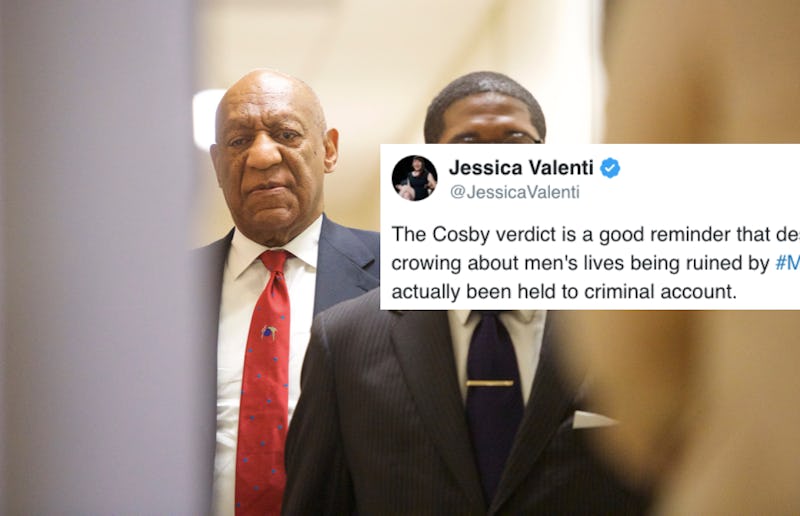 Mark Makela/Getty Images Entertainment/Getty Images
On Thursday, after hours of deliberation, a jury found Bill Cosby guilty on three counts of aggravated indecent assault against Andrea Constant in 2004. The verdict marks a significant win for the more than 50 women who have accused the disgraced comedian of sexual assault, but this one tweet by Jessica Valenti about Cosby's guilty verdict makes an incisive point about male power in the #MeToo era.
"The Cosby verdict is a good reminder that despite all the crowing about men's lives being ruined by #MeToo, only one has actually been held to criminal account," Valenti tweeted shortly after the news broke.
Cosby's case is seen as the first major celebrity sexual assault trial in the era of the #MeToo movement that was sparked by the Harvey Weinstein scandal. Since then, scores of women — and men — have come forward accusing powerful men in their industries of sexual misconduct.
Suddenly, men who were once considered untouchable were dropped by corporations they founded or led, and shunned by their many of their peers. Weinstein was unceremoniously ditched by the company he help create. Several TV networks dropped their association with Louis CK, and the release of his highly-anticipated movie was canceled entirely. Matt Lauer and Charlie Rose, TV anchors who were once beloved and respected by audiences, were let go.
At one point, it seemed as though a new round of sexual harassment and assault allegations were coming out against different men every week. Finally, women and men who publicly accused powerful industry titans of sexual misconduct were being heard — and more often than not, people believed the accusers.
No culture shift comes without backlash, and #MeToo faced plenty of condemnation. Part of the criticism to #MeToo centered on it "ruining" the lives or careers of artists and leaders who were giants in their respective industries. President Donald Trump, who himself has denied accusations of sexual impropriety from more than a dozen women, lamented that lives were "being shattered and destroyed by a mere allegation."
But Valenti's tweet is a biting reminder that while many are denouncing #MeToo for besmirching powerful men's names and putting them out of jobs, Cosby has emerged as the only prominent figure who, as of the Thursday verdict, will face criminal repercussions for his actions.
Cosby's guilty verdict was a hard-fought one. His first trial in 2017 ended with a deadlocked jury. This retrial in Morristown, Pennsylvania, was heard by a jury of five women and seven men. He was found guilty on all three counts of aggravated indecent assault against Constand: penetration with lack of consent, penetration while unconscious, and penetration after administering an intoxicant.
Cosby's lawyer, Thomas Mesereau, declared after the verdict that "the fight is not over" and said that they plan to appeal. Cosby, who turns 81 this July, faces up to 30 years in prison.
While the public accusations against Cosby preceded #MeToo, the juxtaposition of the first trial's deadlocked jury and the guilty verdict on Thursday spoke to the power of a society that believes the word of accusers over a powerful man.
Lili Bernard, one of Cosby's accusers who attended the retrial's proceedings and was present when the guilty verdict was announced, hailed the jury's decision in an emotional a press conference outside the court.
"Today, this jury has shown what the #MeToo movement is saying is that women are worthy are being believed," she told reporters. "This is a victory not just for Andrea Constand, whom I consider to be a Joan of Arc in the war on rape. ... It is a victory for the 62 of us publicly known Cosby survivors... It is also a victory for womanhood, and it is a victory for all sexual assault survivors, female and male."