This Unique New Year's Eve Playlist Will Ring The New Year In Right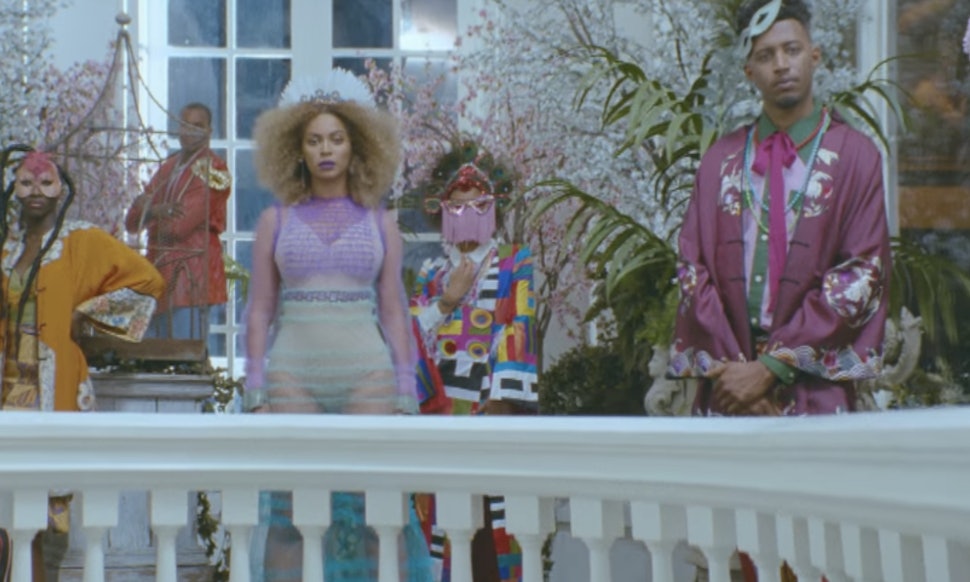 beyonceVEVO/Youtube
If there is one universal truth about New Year's Eve parties, it is this: without good music, the party is ruined. Therefore, your New Year's Eve playlist must be perfect. You don't want to fill up your Spotify playlist with too much of one artist — there is such a thing as too much Beyoncé, guys — but you also don't want to feature an array of songs that don't mix well together. Putting together a solid playlist requires a refined touch, a finger on the pulse of the hottest music, and the ability to mesh different genres together without swerving to far outside of the party zone.
Whether you're planning on ringing in 2017 with tons of confetti and champagne with your friends, or your going to keep it low-key with your sweetheart and some classy appetizers, you want to make sure you feature any or all of the following songs on your playlist. They've been curated to provide maximum dance potential, allow for plenty of romantic mingling, and finish off on a high note — just as you should finish off this rollercoaster of a year that is 2016.
So what are you waiting for? Put these songs on your playlist and don't forget to turn the volume all the way up.
Beyoncé, "Formation"
beyonceVEVO on YouTube
The good vibes begin here.
Calvin Harris feat. Rihanna, "This Is What You Came For"
CalvinHarrisVEVO on YouTube
You came to party, so make sure you start the party properly with this awesome Calvin Harris hit.
Drake, "Child's Play"
UlasTuneVEVO on YouTube
What is a party without Drake?
Kanye West, "Famous"
Mehrab Ahmed BD on YouTube
No words needed, other than the following: This. Song. Rules.
The Weeknd, "Starboy"
TheWeekndVEVO on YouTube
Because everyone deserves to feel like a star on New Year's Eve.
Flume, "Never Be Like You"
FlumeVEVO on YouTube
Give everyone at the party a chance to take a dance break but still feel groovy with this Flume tune.
Kanye West, "Fade"
KanyeWestVEVO on YouTube
2016 was a heck of a year for Kanye West and "Fade" was a definite high point. Make sure to turn this one up to 11.
Ariana Grande, "Side To Side"
ArianaGrandeVevo on YouTube
There's nothing quite like the stylings of Grande and Minaj.
Sia, "Cheap Thrills"
SiaVEVO on YouTube
This song totally dominated 2016 and it should dominate your New Year's bash, too.
Prince, "1999"
Alexander Von Chavoni on YouTube
This Prince jam is perfect to pour one out to and party like it's 2017.
David Bowie, "Let's Dance"
emimusic on YouTube
Make sure to put on your dancing shoes and remember one of the greats in style.
ZAYN, "PILLOWTALK"
ZaynVEVO on YouTube
Turn the lights down low and snuggle next to your sweetie when this jam comes on. Even parties need their chill moments.
Chance The Rapper, "All We Got"
Flawless Media on YouTube
No party is complete without Chicago's finest wunderkind.
Frank Ocean, "Nikes"
Make sure to download this song before you pop it on since "Nikes" still eludes Youtube. It's a total 2016 hit that you can chill out to in between hors d'oeuvres.
Lady Gaga, "A-YO"
LadyGagaVEVO on YouTube
Be young, be wild, be free. Do as Gaga would do and live in the moment.
Fifth Harmony feat. Ty Dolla $ign, "Work From Home"
FifthHarmonyVEVO on YouTube
Another song for your squad to sway to while you send secret glances to your New Year's Eve crush from across the room.
Hailee Steinfeld, "Starving"
HaileeSteinfeldVEVO on YouTube
What's a party without Hailee Steinfeld? This mid-tempo dance tune with let you sway to beat without spilling your champagne.
Britney Spears feat. Tinashe, "Slumber Party"
BritneySpearsVEVO on YouTube
Just in case you happen to find a little romance on the dance floor, pop this song on and heat things up.
MØ, "Final Song"
MOMOMOYOUTHVEVO on YouTube
End the night of a high note with this exuberant anthem about never letting the fun die down.