What It Looks Like Being Caught Inside Hurricane Harvey Will Absolutely Terrify You — VIDEO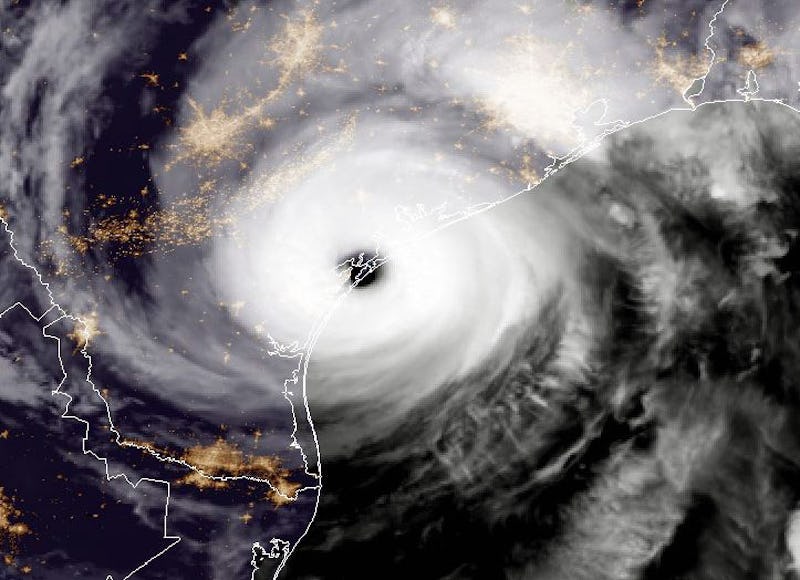 Handout/Getty Images News/Getty Images
Hurricane Harvey battered Texas' Gulf Coast Friday night, and cameras were rolling during the most intense parts of the storm. One news crew caught some scary footage right at the peak of the hurricane, which shows just how powerful this storm really was. This video of Hurricane Harvey's eye wall is terrifying, but the storm no longer has that level of intensity now.
The video was taken in Rockport, Texas, where the very epicenter of the hurricane hit on Friday. The force of the winds almost blows away the two cars in the frame, and trees can be seen bent and breaking. The eyewall is the vertical wall of clouds that surrounds the center, or the eye, of the hurricane, the point around which the entire storm rotates. It's typically where the strongest winds and heaviest rains of the hurricane are found, and since this was filmed right when the storm made landfall, the footage in the video could show the most powerful part of the entire hurricane.
The National Hurricane Center has already downgraded Harvey to a tropical storm, so it's very unlikely that the storm is as intense as it was in the video again. However, it could still do significant damage across the Texas coastal region over the next few days. The hurricane is projected to move northeast along the coastline, picking up water and fueling itself as it heads toward the Houston area. The Bay City is especially prone to floods, which often create millions in property damage and claim lives.
The storm has claimed at least one life, in the same town where the video was filmed. Rockport mayor C.J. Wax confirmed that a man died in his home Friday night while trapped inside by a fire that started at the height of the hurricane. 10 other injuries occurred in Rockport due to collapsed roofs. Nearby Port Aransas suffered severe damage as well, including broken power lines and destroyed homes.
Harvey is the most powerful storm to hit the United States since Wilma in 2005, and it's already shown it. The videos taken from inside the storm are especially troubling because they may be more common in coming years — scientists predict that stronger hurricanes like Harvey could be imminent due to higher water temperatures in the tropics. Depending on where you live, a Harvey-strength storm could be headed to your hometown soon, so be sure to stay informed about all the best precautions to take.