Sarah Huckabee Sanders Told Women To Ask Men For Jewelry & It Was Sooo Awkward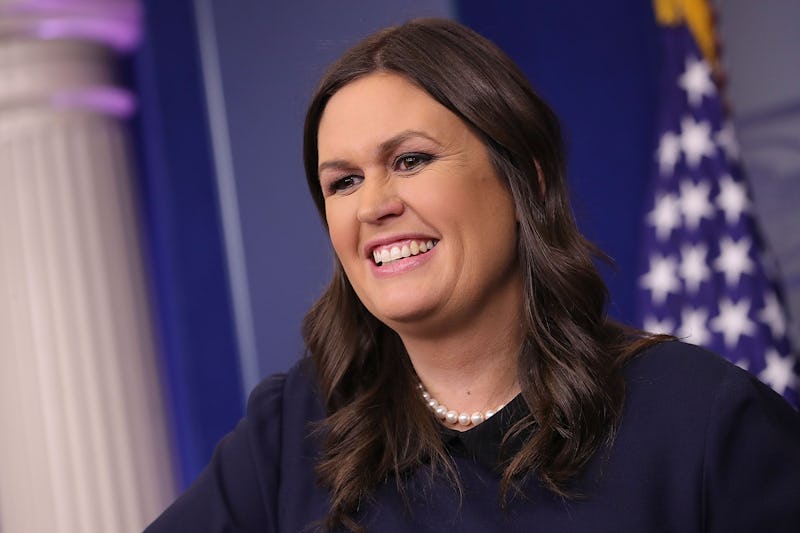 Chip Somodevilla/Getty Images News/Getty Images
Typically, a forum on encouraging women's contributions focuses on discussing possible gender policies that could uplift women's position in society. But at the White House's women empowerment event on Tuesday, things took an awkward turn as Press Secretary Sarah Huckabee Sanders told women to get jewelry through their husbands and boyfriends.
To be fair, Sanders was joking. At the event, "A Conversation With The Women of America," the press secretary moderated a panel among business-owning women, White House advisor Ivanka Trump, and Transportation Secretary Elaine Chao. Sanders gave the microphone to a panel member in the front row, who introduced herself as a businesswoman dealing with jewelry-making.
"I'm Sharon LeVell and I'm a jewelry store of over 20 years in the Atlanta area," LeVell said. "So I'm ecstatic about the tax reform bill."
As people laughed and nodded approvingly, Sanders said, "Give your husbands, your boyfriends [LeVell's] contact information. She'd be happy to help them later." Ivanka Trump also joked, "I'm going to have to send some people your way. My secret skill [is] matchmaking." Bustle has reached out to the White House for comment and will update accordingly.
Then the owner of the jewelry shop revealed the name of her establishment, Dunwoody Diamonds, to the applause of the crowd.
In addition to Sanders jokingly suggesting the panel members to request their husbands and boyfriends to shower them with jewelry, the press secretary also made an indirect complaint against news media figures for their regular questions at press briefings. Sanders said:
Do we have a question for Secretary Chao? I'll mix it up since we're walking down the line. Plus, it's really fun to get to be in charge of the panel because I'm used to having questions shouted at me. So I'm kind of getting into this so we may go a little long [because] this is fun.
Later on, the president delivered a speech at the women empowerment forum. Initially, it seemed as if Trump would focus on discussing what his administration was doing to empower women in the United States but his speech ended up covering other topics. For instance, he brought up the unemployment rate for African Americans in the country.
Then he got into the "massive" tax cuts he was pleased by. "You've seen what's happening. I have to tell you that [the tax cuts] were far beyond our expectations," he said.
After talking about tax cuts at the women's empowerment forum for a few minutes, Trump went on to two different topics: how he won the November 2016 electoral college and drug abuse in the United States. In spite of his glowing remarks on the subject of his victory in 2016, Trump had different different views back in 2012. That's when Trump criticized the electoral college and said, "The electoral college is a disaster for a democracy."
While talking about drug abuse in the country, Trump referred to unnamed countries where "very tough measures" are presumably taken to address the issue. Domestically, the president said the administration was working on fixing drug addiction. "We have a tremendous [and] massive drug problem and drug population. We have [drug] dealers all over the country and we are hitting them hard. The dealers. The dealers are being hit hard," he said. "The tougher we get, the better it's going to be. The faster [drug abuse] is going to go away."
So that was the White House's women empowerment forum. Between the first daughter joking about her "secret" skill at matchmaking, Sanders telling women to get jewelry through their partners, and the president making a strange speech, the event appeared to have shed more light on other topics.