Here's What Joe Biden Thinks Of All Those Memes About His Bromance With Obama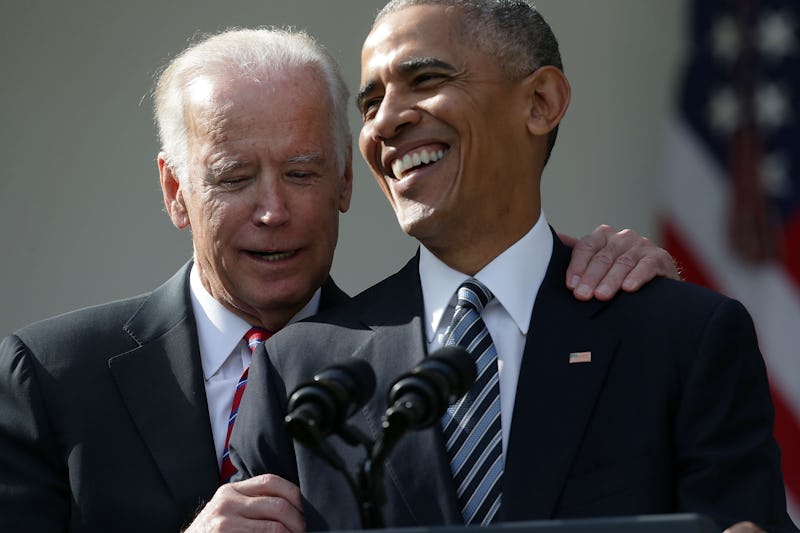 Alex Wong/Getty Images News/Getty Images
At a rally on Monday in Florida, former Vice President Joe Biden said those Obama-Biden bromance memes are pretty much an accurate portrayal of their friendship. "All those memes? All those memes are basically true," Biden told the crowd, gathered to support Tallahassee Mayor Andrew Gillum's gubernatorial race.
But Biden wanted to make sure everyone understood the origins of the friendship bracelets. "Except I want to make it clear: Barack did the first friendship bracelet, not me," Biden said to the audience.
The former veep first shared photos of the matching friendship bracelets on Obama's 55th birthday in August 2016. But the matching bracelets first came from a viral video Obama made for BuzzFeed in June 2016 about things that are harder to do than registering to vote.
The Monday rally is one of a number of campaign stops that Biden is making in Florida to support Democratic candidates, particularly Gillum, who could be the first Democratic governor of Florida since 1999. Gillum would also be Florida's first black governor, according to The New York Times.
In his Florida appearances, Biden is leveraging his popularity in an important midterm for Democrats, particularly as he weighs a potential third presidential run in 2020. In August, a poll from Politico/Morning Consult found that Biden would lead President Donald Trump by seven points in a hypothetical election.
While Biden is supporting down-ballot Democrats like a good party elder, he hasn't made a decision about mounting his own campaign. Biden said he'll have to decide soon after the November primaries. "I know I have to make up my mind and I have to do it by January," Biden said back in July, according to USA Today. Until then, Biden has been traveled to numerous states, but as Politico pointed out, notably not early campaign states of New Hampshire or Iowa.
Still, Biden remained an early favorite for the Democratic nomination. In June, Harvard CAPS/Harris poll found that Biden was the clear winner at 32 percent of polled Democrats, while former party nominee Hillary Clinton finished with 18 percent. (Vermont Sen. Bernie Sanders earned 16 percent in the poll.)
A third Biden presidential campaign wouldn't come without its complications. In the era of the #MeToo movement, Biden's baggage is decidedly his role during the Senate confirmation hearings for Supreme Court Justice Clarence Thomas. In September, a report by The New York Times said that Biden has "privately" described Anita Hill's decision to hold him responsible for how she was treated while testifying about Thomas as "unfair."
At an event at Colgate University in March 2017, Biden discussed his regret about not running for president in 2016 against Trump. "I had planned on running for president and although it would have been a very difficult primary, I think I could have won," Biden said, according to Variety.
He chose not to run in the wake of the death of his son Beau Biden in 2015. "I thought I could have won," Biden added.
The former Delaware senator said he was "the best qualified" to president — a phrase used over and over to describe Clinton's candidacy.
"I had a lot of data and I was fairly confident that if I were the Democratic Party's nominee, I had a better than even chance of being president, but do I regret not being president? Yes. I was the best qualified," Biden said, according to Variety.