Christine Blasey Ford Is Still Getting Threats For Accusing Brett Kavanaugh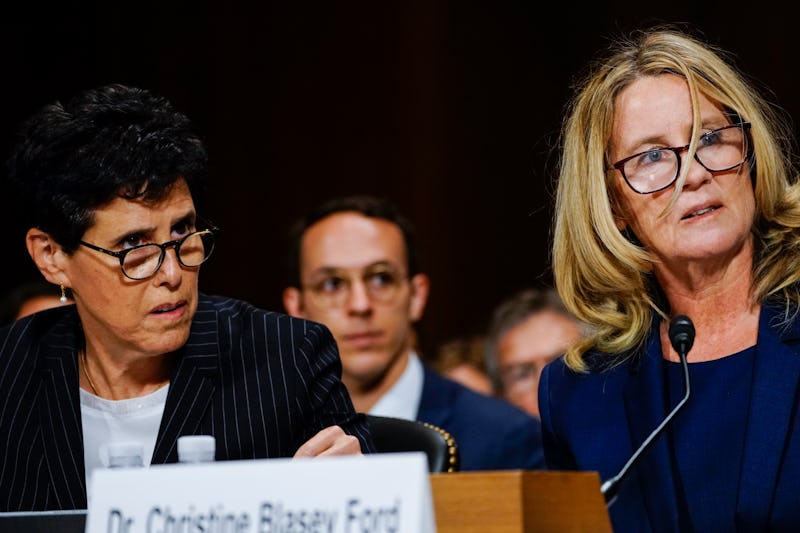 Pool/Getty Images News/Getty Images
Even as President Donald Trump celebrates the investiture of Supreme Court Justice Brett Kavanaugh, the first woman to publicly accuse Kavanaugh of sexual assault has been unable to safely resume her daily routines. Christine Blasey Ford continues to face threats and harassment, her lawyers told NPR, and has even had to pay for a private security detail. Bustle has reached out to Ford's lawyers for comment.
Ever since Ford first went public with her allegation against Kavanaugh back in September — an allegation that Kavanaugh "categorically" denied — she has reportedly received numerous calls and death threats. According to a GoFundMe page for Ford that was launched last month in order to help cover "the costs for security, housing, transportation and other related expenses," Ford and her family have had to move four times.
NPR reported that Ford has also been unable to resume her work as a professor at Palo Alto University. When Ford testified before the Senate Judiciary Committee in September, she told committee members that her personal contact information had been posted online, resulting in additional threats. In a statement to NPR, Ford's lawyers — Debra Katz, Lisa Banks, and Michael Bromwich — made it clear that Ford simply wants to live her life in safety.
"Justice Kavanaugh ascended to the Supreme Court, but the threats to Dr. Ford continue," Ford's laywers said. "Dr. Ford's current focus is solely on recovering from the experience and returning to her job responsibilities — not on writing a book."
In an interview with The Washington Post that was published in September — before Kavanaugh was confirmed — Ford alleged that Kavanaugh had sexually assaulted her at a party back in the 1980s, when they were both high school students. Kavanaugh subsequently denied this on multiple occasions, saying that he "did not do this back in high school or at any time." He was subsequently confirmed to the Supreme Court and privately received the judicial oath from Chief Justice John Roberts last month, per CNN.
On Thursday, Kavanaugh repeated this oath again in the presence of Trump and other officials. This investiture, according to CNN, was largely ceremonial, but it was another chance for Trump to celebrate his success in obtaining a conservative majority on the bench. While Kavanaugh and Trump are commemorating this occasion, however, Ford still requires protection after doing what she believed to be her "civic duty," her lawyers told NPR.
"Dr. Ford and her family have tremendous gratitude for the generous crowdfunded contributions they have received," Katz, Banks, and Bromwich said in a statement. "These funds have been used exclusively for necessary costs of physical security and housing occasioned by coming forward about her sexual assault by Brett Kavanaugh."
Any unused funds from the GoFundMe campaigns launched to help Ford will go toward supporting "organizations that support trauma survivors," her lawyers said, though they did not specify which organizations would receive donations. Ford began to receive threats even before she first testified before the committee, and according NPR's report, she continues to face similar degrees of harassment now.