T.I. Responds To Rob Kardashian's Claims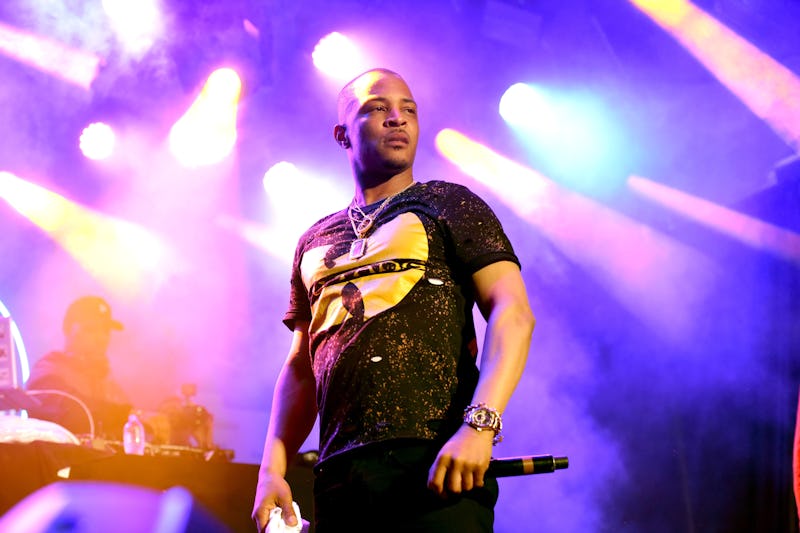 Vivien Killilea/Getty Images Entertainment/Getty Images
Earlier this week, Rob Kardashian made another feud with Blac Chyna public. He posted a series of now-deleted nude photos of his former fiancé to Instagram and Twitter as well as cheating allegations in the captions. Kardashian then claimed that rapper T.I. and his ex-wife, Tameka "Tiny" Harris, had a threesome with Chyna. A few days later, T.I. responded to the Kardashian's claims and pretty much spoke for all of us. (Bustle reached out to reps for Tiny, and Chyna regarding the alleged comment and Kardashian's claims, but has not yet received a response.)
TMZ interviewed T.I. just outside of LAX over weekend and, when asked about Rob's claims, the 36-year-old rapper responded by saying, "Don't tell women's business." He added:
"That's bad. That's very, very bad. Poor character. Flawed, you know what I mean? If a woman trusted you and confided in you with secrets and stuff like that, you don't ever let that — you don't do that. Secrets are sacred, you don't do that. That's a whole other level of f*ckboy sh*t right there."
Blac Chyna's lawyer told ABC News in a statement "We are considering all legal options and recourses at this time." Bustle has reached out to Kardashian for comment, but did not yet receive a response.
After Rob's social media tirade caught the attention of T.I., the rapper commented on an Instagram photo posted by Baller Alert, criticizing him for making yet another rift with Chyna public. He wrote:
"Why bring ya business to IG tho? Look, You got worked bro….but at least keep it to yourself, you letting the world know you a duck. I mean a BIG DUCK, a mighty duck, Ronald McDonald the Duck, Scrooge McDuck, Howard the Druck, Huey Dewy & Lewie… save the #DuckTales Just hold this L, kiss ya kid & cut ya losses& move on… u got no moves bro."
According to Urban Dictionary, a "duck" is "a gullible or easily fooled person; an easy target for any kind of trickery." This prompted Rob to claim that T.I. and Tiny once paid Chyna to have a threesome with them.
T.I.'s remarks to TMZ literally took the words right out of all of our mouths: Everything that Blac Chyna does is Blac Chyna's personal business. Whatever happened in their relationship behind closed doors should remain private.