Tiffany Haddish Re-Wore THAT Dress To The MTV Movie & TV Awards & Twitter Is Obsessed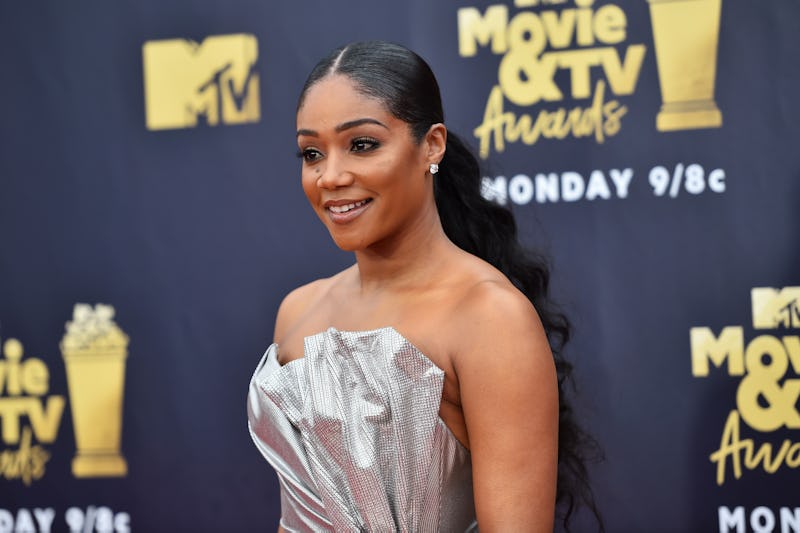 Alberto E. Rodriguez/Getty Images Entertainment/Getty Images
In case you were somehow not already obsessed, Tiffany Haddish offered up yet another reason to adore her on Monday night. Tiffany Haddish's dress at the MTV Movie & TV Awards was the same one she's rocked multiple times before, during her night hosting Saturday Night Live this past season, and while presenting at the 2018 Oscars. Fans were in love with the star's choice to re-wear the outfit, and didn't hesitate to share their appreciation for Haddish on Twitter during the show, as evidenced by the tweets below.
The gorgeous white dress first made an appearance when Haddish was doing press for her smash hit film Girls Trip, according to her Saturday Night Live monologue, and she clearly has absolutely no qualms about re-wearing it. Despite the protests of her team, who told her it was taboo to wear a dress in public that she'd already worn, Haddish made it clear in her SNL monologue that she wasn't going to pay any attention to that worn old fashion rule.
"I don't give a dang about no taboo. I spent a lot of money on this dress," she said on SNL, adding that she's going to wear the dress to an all-black attire party, or her wedding, or even someone else's wedding. "This dress cost more than my mortgage. It's a Alexander McQueen, OK? This is a $4,000 dress, I'll wear this dress multiple times."
And wear it multiple times, she did. Haddish appeared on SNL's Weekend Update later that very same night just to give audiences another glimpse of the dress, and it was hilarious. "I feel like if I pay good money for something, I wear it when I want, however many times I want, as long as I Febreze it," she said in her initial monologue. Haddish then donned the gown again when presenting best documentary short at the 2018 Academy Awards, according to Elle magazine, and even wore Ugg boots with it. She truly is living her best life.
The reappearance of the Alexander McQueen dress was only one aspect of Haddish's MTV Movie & TV Awards hosting stint that fans were quick to praise. Throughout the night, Haddish did everything from deliver a rap number, spoof Cardi B's SNL pregnancy reveal, and appear in silly, edited versions of some of the year's biggest films, like Star Wars: The Last Jedi and Black Panther, never failing to deliver a laugh. She also helmed a delightfully ridiculous satire of A Quiet Place, and playfully bantered with members of the audience like Michael B. Jordan and the kids from Stranger Things.
Haddish also wore a few more notable outfits, one of which she claimed to steal from Jennifer Lopez, and one that was a very obvious (and very cute) homage to Audrey Hepburn's Breakfast at Tiffany's character. And as if hosting wasn't impressive enough, she was also a winner of an award herself. Haddish took home the award for Best Comedic Performance for Girls Trip, and was also nominated for an award for Best Scene Stealer, though Riverdale's Madelaine Petsch ended up nabbing that title.
Haddish seems to have all the skills the perfect awards show host should possess. She was always quickly and seamlessly moving things along while absolutely nailing some sketches in between awards, but she was never overbearing or too present onstage like some hosts can tend to be. She was, in short, a treat. Can she host the Oscars, too? Maybe the Grammys? Maybe all of them? Wherever Haddish does appear next, it feels safe to say the trusty Alexander McQueen dress might continue to tag along, too.