Tig Notaro Seemingly Referenced Louis CK's Alleged Misconduct Many Times — You Just Weren't Listening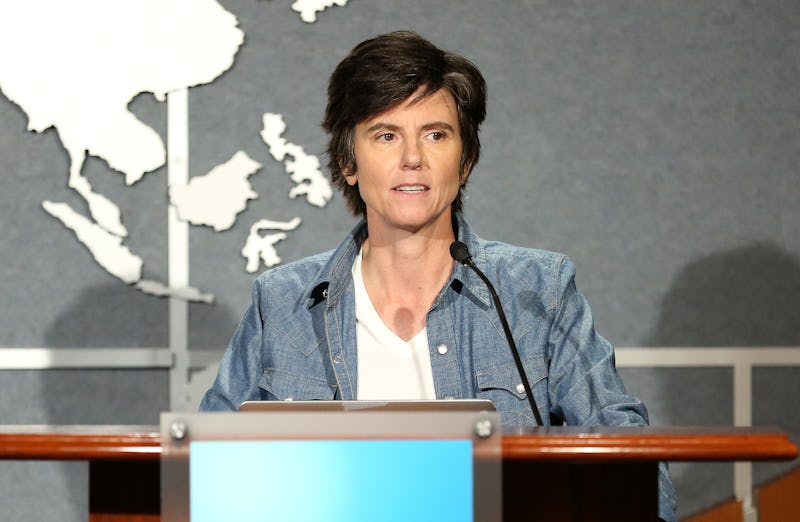 Monica Schipper/Getty Images Entertainment/Getty Images
On Thursday, Nov. 9, a report was published in the New York Times, detailing five women's accusations of sexual misconduct from Louis C.K. But this isn't entirely new news, as rumors surrounding the comedian allegedly masturbating in front of women have been circulating for quite some time. In fact, stand-up comedian Tig Notaro has called out Louis C.K. several times, or at least alluded to his alleged actions, way ahead of the Times report. (As far as the allegations detailed in the Times, C.K.'s publicist told the publication, "Louis is not going to answer any questions." Bustle also reached out to his rep, but did not receive an immediate response.)
UPDATE: On Friday, Nov. 10, Louis C.K. released a statement to Bustle through his rep, admitting his wrongdoing. He said of the accusations, "These stories are true." You can read the statement in its entirety here.
EARLIER: In case you're not as familiar with Notaro, she's behind the Amazon series One Mississippi. That same series has C.K. listed as an executive producer, and the two of them worked together in the past. However, she told the Times, she feels "trapped" by being connected to him. She said, "Sadly, I've come to learn that Louis C.K.'s victims are not only real, but many are actual friends of mine within the comedy community."
She also told the publication that she was supporting those who were courageous "to speak up against such a powerful figure... as well as the multitude of women still out there, not quite ready to share their nightmares." While she was much more direct in her recent statements to the Times, this isn't the only instance where she made her feelings about C.K. known. Here's a look back at her history of speaking out.
This 2016 Interview
As this YouTube clip suggests, the person she's referencing as a "weirdo" could be C.K. She's talking about her Amazon show, but says,
There's certain personalities and politics that pop up, where I'm just like, "Are you kidding me?" I want to make a good show, and I want to do my best in everything that I do.
Notaro then pauses and admits she's being "cryptic." She then says, "I don't want anything so bad that I'm going to bend to weirdos."
Clown Sketch Similarities
Earlier this year, Louis C.K. appeared on SNL, where he participated in a sketch about a guy hiring his own clown. However, Notaro called him out for seemingly copying her short film called Clown Service. According to the Entertainment Weekly, Notaro released a statement about the similarities. Here's an excerpt:
It has been impossible for me to ignore the cacophony of voices reaching out personally and publicly about the potential plagiarizing of my film Clown Service (a film that I screened at Largo in Los Angeles for over a year and it premiered at Vulture's Comedy Festival in NYC as well as numerous film festivals around the country and I am currently screening on my national tour).
While I don't know how all this actually happened, I did find it extremely disappointing.
She also made sure to clarify, "Louis C.K. and I have not communicated in any way for nearly a year and a half."
An Interview Distancing Herself From Him
In August, Notaro distanced herself from C.K. during an interview with The Daily Beast. Ahead of One Mississippi Season 2's release, she said he had "nothing to do with the show" any more, despite his executive producer credit. She elaborated:
It's frustrating, because he has nothing to do with the show. But I don't waste my time on him or what anyone thinks. His name is on it. But we are writing the show, the writers' room.
She also claimed the pair don't talk after "an incident." And when it comes to topics like sexual assault and allegations tied to the subject, Notaro added, "I think it's important to take care of that, to handle that, because it's serious to be assaulted. It's serious to be harassed. It's serious, it's serious, it's serious." (According to the Times, C.K. previously said of the misconduct allegations, "If you actually participate in a rumor, you make it bigger and you make it real." He also claimed, "No. They're rumors, that's all that is.")
Speaking of covering these topics on her show, Notaro also told the Daily Beast, "We of course want to create comedy, but we also really, really feel like we have the opportunity to do something with One Mississippi, because it does not stop." This segues into the next item on the list.
A Season 2 Episode Of One Mississippi
In Notaro's show, there's a Season 2 episode of One Mississippi where a woman sits in a meeting at the radio show where she works and her male colleague masturbates under his desk in front of her. He even appears to finish, reaching for a tissue while the woman looks visibly uncomfortable. While Vanity Fair notes the similarities between the scene and the C.K. rumors that were known at the time, Notaro did tell the publication, "I really shouldn't say anything more about him."
Back in September, Notaro did, however, tell The Hollywood Reporter, of the episode, "We wanted to show that you can be assaulted without even being touched." Given the nature of allegations circulating, that's a pertinent message to keep in mind.
If you or someone you know has been sexually assaulted, call the National Sexual Assault Telephone Hotline at 800-656-HOPE (4673) or visit online.rainn.org.