'Tiger King's Joe Exotic Is In Coronavirus Isolation In A Texas Prison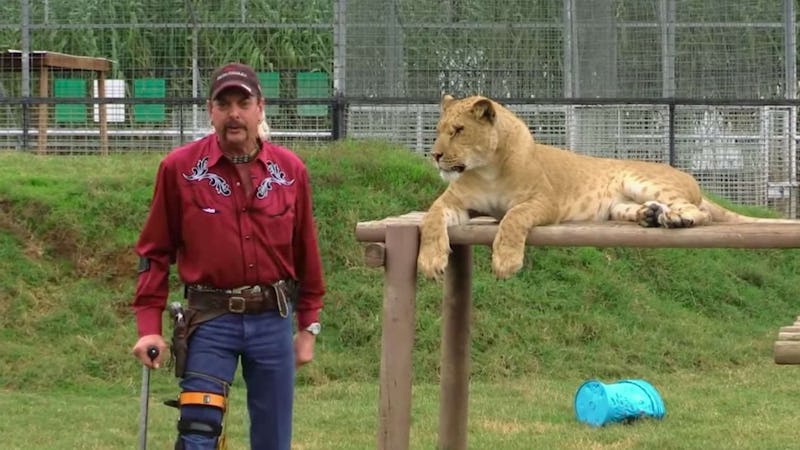 Netflix
Throughout the past few weeks, a number of high-profile people have been forced to enter COVID-19 isolation, including Tom and Rita Hanks, Idris Elba, and Princes Charles, but news that Tiger King's Joe Exotic is in coronavirus isolation is latest story to grab headlines. According to reports, Exotic (born Joe Maldonado-Passage) was transferred to COVID-19 isolation this week in the Federal Medical Center Forth Worth in Texas.
It is not confirmed at this point whether Exotic himself has tested positive for COVID-19, but, according to his husband Dillon Passage, other inmates in the prison were he was previously located have done.
"We speak like three to five times every day, but since he's been moved to this new facility, they are putting him on a COVID-19 isolation because of the previous jail he was at, there were cases," Passage told Andy Cohen in an interview on April 1. "I've yet to speak to him since he moved."
When Cohen asked Passage whether his husband is in individual quarantine, the 24-year-old replied: "From what I know, yes."
On April 1, the U.S. Bureau of Prisons announced that everyone currently held in federal facilities (approximately 146,000 people, including Exotic) will be put in quarantine for the next 14 days. That means they will be confined to their cells for two weeks, Vox reports, but will be allowed into communal areas on a limited basis.
It is not yet known how exactly Exotic's individual quarantine is being carried out but, as previously mentioned, he is currently in the Federal Medical Center Forth Worth in Texas, according to inmate records obtained on April 2 by The New York Post. The facility is a 60-minute drive from Exotic's former zoo, the Greater Wynnewood Exotic Animal Park, the Post reports.
The recent buzz around Exotic has come as a result of the new Netflix's documentary Tiger King. The hit show tells the story of big cat collectors and their ongoing battle with animal rights activists, focusing specifically on the rivalry between Exotic and Big Cat Rescue owner Carol Baskin.
Editor's note: This article is being continuously updated as new information becomes available about Joe Exotic's whereabouts and health.
This article was originally published on