Timothée Chalamet's New Haircut Has Twitter Freaking Out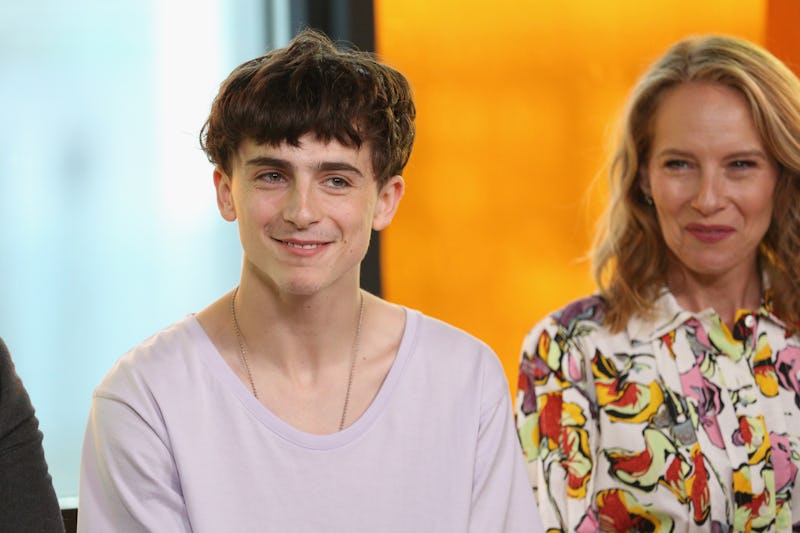 Rich Polk/Getty Images Entertainment/Getty Images
Timothée Chalamet captured hearts during the 2018 Oscar season with both his incredible acting and signature red carpet looks. On Friday, Timothée Chalamet revealed a new haircut, ditching his long curls for a short bowl-shaped style. The actor debuted the look while promoting his upcoming film Beautiful Boy, showing off his new hair for the first time during an interview with the IMDb Studio at TIFF. Chalamet and the rest of the cast didn't comment on the change, but it is a big departure from the floppy-haired look that he became known for when he first stepped into the spotlight. Since he debuted his new style, there's been speculation about the reason for the chop, but it is likely to prepare for a new role.
According to The Wrap, Chalamet might have gotten the haircut for his upcoming Netflix film The King, in which he plays King Henry V of England. The historical drama follows King Henry V's rule from 1413 to 1422, which means the whole cast will be sporting medieval looks. This includes the shorter, rounder hairstyles of the time period, so Chalamet's new hairdo is likely to get into character. The film reportedly began production in June, so it would make sense that Chalamet is still sporting the shorter style for the period piece.
Chalamet wouldn't be the first actor to make a dramatic change to his look for a role. In Hollywood, many award-winning actors undergo hair transformations to get in character. In 2012, Charlize Theron shaved her whole head to play Furiosa in Mad Max: Fury Road. More recently, Chris Evans was seen on the red carpet sporting a mustache in March that would make both Mario and Luigi jealous. The shocking facial hair turned out to be for his role in Lobby Hero on Broadway. Even Steve Carell, who is the Chalamet's Beautiful Boy co-star, has undergone his fair share of makeovers, and was nearly unrecognizable in the 2014 film Foxcatcher. If anything, it's a rite of passage for an actor to make a dramatic change to their hair to fit a role.
It makes sense that Chalamet needed to update his hair for the upcoming film, and the star was bound to switch things up eventually. The change seems more dramatic than usual, as most fans were first introduced to the actor crying into his shiny curls as Elio in Call Me By Your Name or as Christine's floppy-haired high school crush, Kyle, in Ladybird. In both of these roles, Chalamet's hair was essential to his characters, and for some fans, it will be a big adjustment to get used to his new shorter style.
The change was a major topic of discussion for fans on social media, and it seems the new look was tentatively embraced. On Twitter, the news of Chalamet's bowl cut was met with mixed reactions.
Not everyone was convinced though.
Given how his career has taken off in the past couple of years, Chalamet seems likely to take on a variety of roles in the future. His new haircut is certainly making an impression, but this likely won't be the last time he has to make a major change for a part. Even so, it's not easy to pull off a perfectly bowl-shaped haircut, and Chalamet is making it work.