Timothee Chalamet Addressed 'The Office' & 'Beautiful Boy' Connection In The Cutest Way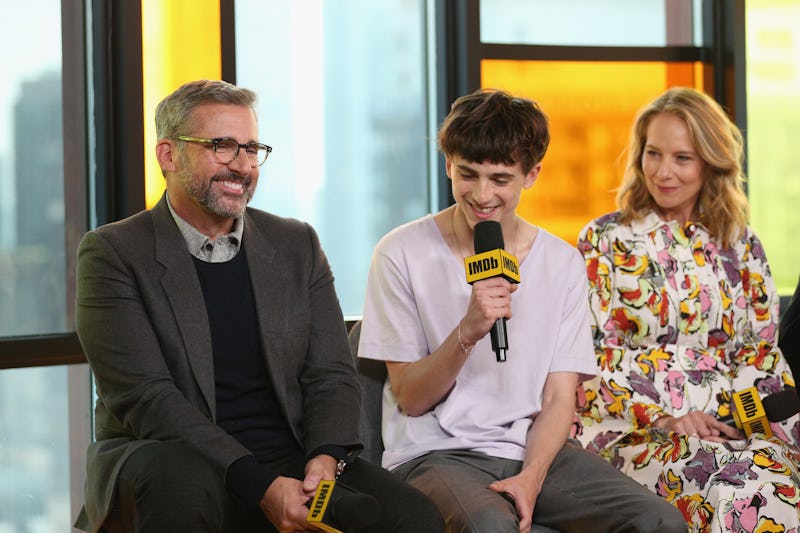 Rich Polk/Getty Images Entertainment/Getty Images
Go ahead and add "loves The Office" to the long list of reasons why Timothée Chalamet rules. When the cast of Beautiful Boy made the press rounds at TIFF 2018, Timothée Chalamet's The Office fandom took over for a hot minute. And yes, he had a reason (not that anyone needs a reason to talk about The Office, but whatever): Beautiful Boy brought Michael Scott and Holly Flax back together. Er, it brought Steve Carell and Amy Ryan back together. The two actors who played Dunder Mifflin power couple Michael Scott and Holly Flax many years ago play Chalamet's character's parents in the upcoming biographical drama.
For several seasons, Carell and Ryan were on a little TV program called The Office — maybe you've heard of it? Maybe you're obsessed with it? Maybe you've lost track of how many times you've re-watched the entire series start to finish? Understandably, The Call Me By Your Name star found making a movie with Michael and Holly to be a bit surreal.
When promoting Beautiful Boy at TIFF this week, Chalamet told The Hollywood Reporter,
"I gotta say, seeing [Carell and Ryan] interact on set was definitely like, what is going on? … Because I'm a huge fan of The Office."
Chalamet's The Office appreciation segment did not end there. He went on,
"I don't want to be awkward or anything or say anything, but obviously Steve, for people my age, is beloved. My favorite thing I've heard about the poster is that somebody told me, 'You look like you're just happy to be in a picture with Steve Carell.' And it's kind of true, if you look at it long enough."
Aww, Timmy.
As starstruck as he was, Chalamet said he immediately felt comfortable working with Carell. When speaking to Variety at TIFF, Chalamet recalled instantly sensing "a strong paternal protection vibe or something coming from Steve." He added,
"I was a huge fan prior, too, so I had to get over that. I'm still a fan."
Awwww, Timmy.
And yes, there's more. While speaking with The IMDb Studio at TIFF, Chalamet said,
"I feel like Steve's like a father figure in my life now in the best way possible. I've been talking about it today, it's just like I was a huge fan of The Office, I'm a huge fan of The Office — I mean, actually, I went back after we shot this movie to see like is this going to be weird to watch now and I was like, 'Those are my parents!' I would be on set and they would be discussing whatever and my head would be going off."
Awwwwwww, Timmy.
Chalamet wasn't the only one who was stoked to see Michael and Holly together again. Carell and Ryan were fired up for this The Office reunion, too. As Ryan told THR,
"Steve and I always talked about wanting to work together again, and to be honest, I never dreamed it would've been in this story. But this story came along first, and I was so eager to be a part of it. I remember our first take together I just started laughing, which is really wildly inappropriate for our movie. So it took a moment just for me to regroup to our story here."
When THR asked if he also struggled maintaining a straight face while filming scenes with Ryan, Carell deadpanned, "No, I was completely professional." He continued,
"It was actually interesting, the first take we did, we were too warm with each other. Because, you know, it was so nice to be back together again. So we had to kind of remind ourselves, because the relationship in this film is fractured. So we had to withdraw a little bit from each other."
Beautiful Boy is based on David Sheff's Beautiful Boy: A Father's Journey Through His Son's Addiction and Nic Sheff's Tweak: Growing Up on Methamphetamines. The Felix Van Groningen-directed film is slated to open in theaters on Oct. 12.