This New Tinder Feature Gives You Real-Time Updates From Your Matches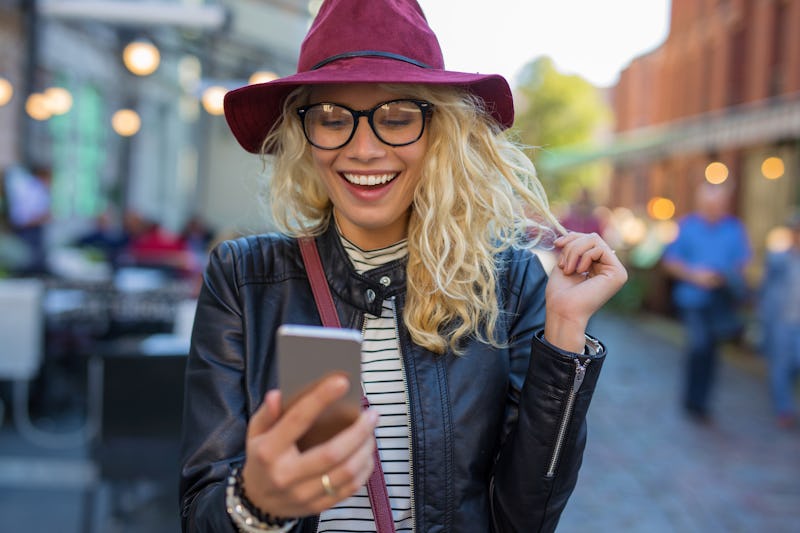 Kaspars Grinvalds/Fotolia
If Tinder is your favorite dating app, then I've got some great news for you. The app is trying out a new feature called Feed, which aims to help you learn more about your matches right in the app. It gives you updates on your matches in real time, so you can see if you've really got anything in common.
"Feed is a fun, new feature created to help spark conversation, form stronger connections, and bring your matches to life by showcasing their interests in a continuously updating format," Rosette Pambakian, Tinder's Head of Marketing and Communications, tells Bustle. "Our users are always looking for ways to get to know their matches, and Feed is the perfect way to do so while providing more reasons to message someone, or re-ignite conversation."
I'm all for this new feature. Anything that helps give you a more holistic view of the other person from the get-go is useful and could save you a ton of time. Sometimes people don't fill out their entire bio (or just don't say much) or just throw up a few random pictures, so you don't always get a good feel for who they actually are as a person. Even if someone gives out their Instagram handle in their profile, it can lead to some serious stalking for you — and also the potential horror of accidentally liking their Ice Bucket Challenge video from three years ago. Instead, Feed gives an idea of what someone is really like, without having to scroll for hours or stalk them outside Tinder.
More and more, we're seeing how dating apps can create meaningful connections. In fact, recent data from 500 dating users compiled by SimpleTexting, an SMS Marketing service, found that over 13 percent of respondents ended up married or engaged to someone they met on a dating app. Nearly 15 percent of people said they'd had relationships that started on an app last for over a year. So it can definitely be effective, and it seems like this new feature offers another way to make a deeper connection happen online.
Feed is currently being trailed in Australia, New Zealand and Canada, so if you're a user there then you may start seeing it. Here's what you need to know.
How It Works:
You know how you check your Instagram, Facebook or Twitter feed? It's just like that, but for your matches. All you have to do is click on "Feed" and you'll see any new Tinder pictures or information from linked accounts. A new Instagram post or a Spotify song you favorited will show up in your feed.
It means you can see information about all of your matches — whether you matched last night or three months ago — as long as they've agreed to have their information shared.
You Only Share What You Want:
You don't have to worry about the app pulling from your personal information — Feed lets you choose what will be shared. So if you've integrated your Instagram account into your profile, everyone you post new picture it'll pop up in your matches' feeds. If you've integrated your Spotify account into your profile, they'll be able to see any newcomers added to your Top Artists. New photos that you've added to your Tinder profile will also show up in your matches' feeds.
Feed could add a whole new dimension to how we use Tinder, giving us more well-rounded impressions to help us tell if we're really compatible with someone. Because let's be honest, not everyone's dating app profile tells us much beyond whether they've ever met a tiger. It also might help you keep your matches in your mind. Seeing that someone went hiking over the weekend, spent the day watching your favorite show, or listened to holiday music on repeat can tell you a lot about them and may make you want to strike up conversation again or meet up in real life.
We'll have to see how the trial phase goes, but it looks like Feed could make Tinder more interactive — and make it a more fertile ground for compatibility.