Tinder's New Feature Lets Women Decide Who Gets To Make The First Move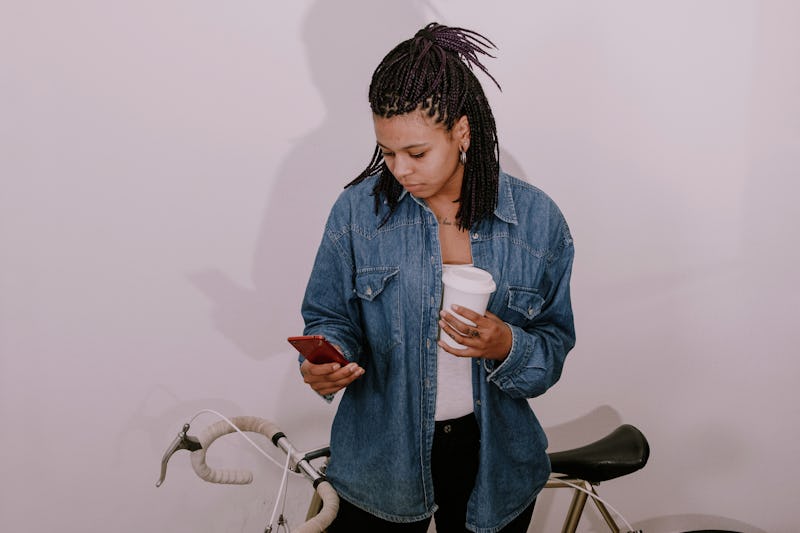 Fotolia
Some women are put off from online dating after being totally inundated with messages from their matches every time they open their inbox. It can be an overwhelming deluge of "hey", "Hey", and "HEY" — or it can be even more aggressive that that sometimes. And if you've ever had a lot of messages piled up in your inbox when you wake up on a Sunday morning, you'll know why some women may never log on again. There are just so many misspelled demands that a woman can take. But having women message first on dating apps has a lot of advantages. And now, Tinder will be giving their female users more options for using their app with a new women-talk-first feature, MarketWatch reports.
Tinder will soon allow women to change their settings so they have the option to message a match first, rather than receive messages from everyone they've matched with. If they change their mind and feel like being messaged first again, they can just turn the settings off. Only users who have mutually liked each other can send a message on Tinder. So while no one will ever get unsolicited messages on the app, it doesn't mean that the messages a match first sends are always appropriate or respectful. The rollout date for the new feature hasn't been announced, but it sounds like a big step forward for the popular dating app — especially for heterosexual women who report feeling harassed on dating apps.
"The feedback that we've heard is that women don't always want to be forced to make a move, so we want to give people the ability to choose," Mandy Ginsberg, Match Group CEO, told MarketWatch. "Giving people the choice versus telling people how to engage is the big difference."
Ginsberg also said that adding this option is "not a reaction to any competitor", which presumably is meant to address the obvious comparison to Bumble, a dating app where only women can message first. And, Tinder's option to turn the setting on or off does seem to be a departure from Bumble. In any case, anything that gives women the option to take control — and choose if they want to be messaged — is a good option.
How To Make The First Move
Even though messaging first means that you don't have to deal with an influx of messages, it does mean that you will have to reach out and, you know, send a message — which makes some people anxious. If you feel nervous about making the first move, you're not alone.
"One thing for women to keep in mind online is that men are often just as timid as they are at taking the first step," Dr. Wyatt Fisher, licensed psychologist tells Bustle. "Many men fear they'll be rejected or there will be no response so they wait and hope someone will contact them first instead. Therefore, ladies, take courage! Stick your toe in the water and try sending out several smiles and messages each week to increase your chances of making a successful connection."
The more you message though, the easier it'll become — it just may take practice. And if you're not sure what to say, looking at their bio or their photos is always a good place to start. "Whether you choose to initiate conversation on a dating app or face-to-face with someone you're interested in, it's always important to have a great conversation starter in your back pocket," Kate MacLean, resident dating expert at PlentyOfFish, tells Bustle. "A thoughtful question or reference to [someone's] hobbies and interests will likely result in an exchange of information that can tell you a lot about someone and, more importantly, whether you're compatible or not." You can usually find a conversation-starter buried somewhere in their profile, whether it's a question about where their third photo was taken or mentioning you're also a huge Yankees fan.
Sending the first message can be scary if you've never done it before, but it also can make online dating a much friendlier place, especially in a post- #MeToo world, where gender inequality in dating and sex feels incredibly relevant. The ability to turn this setting on and off seems like it would be a great way to make women feel safer dating online. There's no sign of when the initiative will start just yet, but it will definitely be exciting when it does.