How Gender Inequality Shows Up In The Bedroom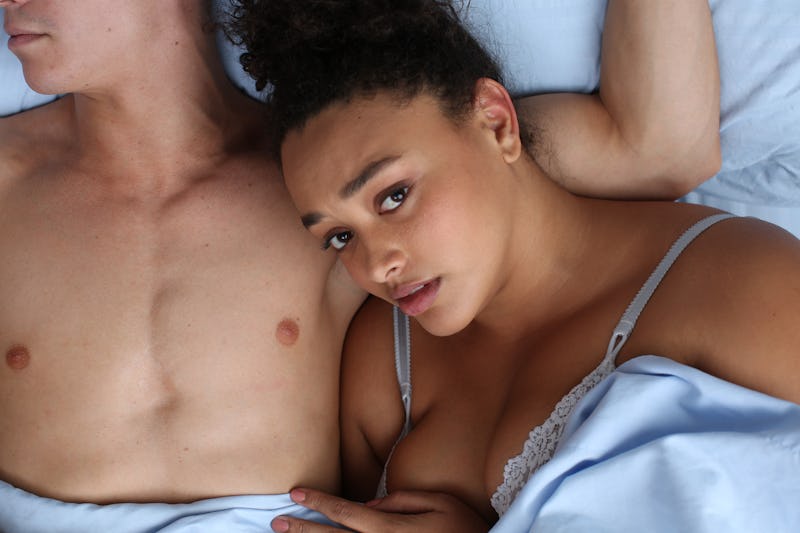 Ashley Batz for Bustle
If you want proof that gender inequality still exists, just look at the inequalities in people's sex lives. The way we're treated in bed reflects the way we're viewed and treated elsewhere — which means it reveals that right now, women are put below men. The numbers suggest that women are getting the short end of the stick in bed, just as they are in the workplace, political representation, and nearly every area of life.
Fortunately, though, things are changing. For example, the 2015 SKYN Condoms Millennial Sex Survey found that 89 percent of women usually orgasm with their partners, which means the "orgasm gap" — the difference in orgasm rate between men and women — is closing.
The fact that this number has increased in recent years (a 2013 study found that only 40 percent of women orgasmed during their last hookup) also suggests that the gender differences we're observing aren't biological or natural. They're rectifiable, and if we want healthy relationships where both partners are treated as equals, we should be rectifying them. Chalking problems up to "biology" is just another way to justify and maintain the status quo.
"We will not have true gender equality until we have pleasure equality," Alex Fine, Co-Founder and CEO of Dame Products, tells Bustle. "Everyone has the right to sexual pleasure."
Here are some ways gender inequality still shows up in our bedrooms that need fixing ASAP.