The 12 Best Conversation Starters To Use On Dating Apps In The New Year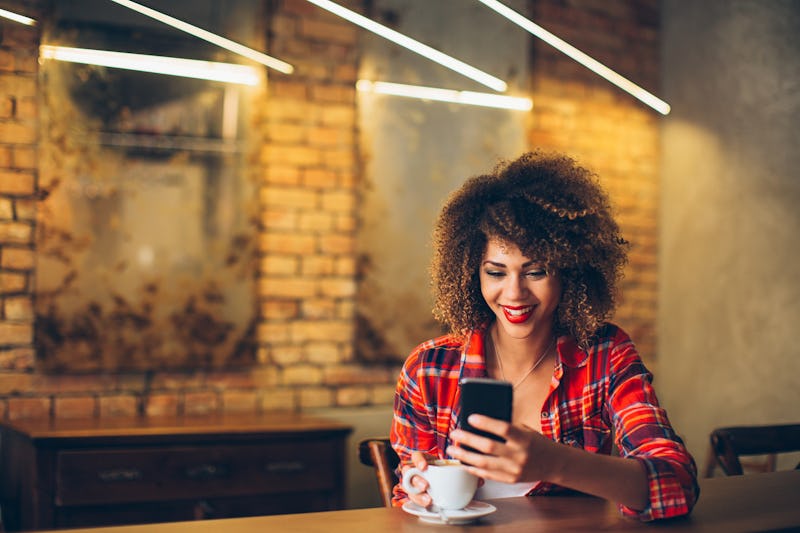 Astarot/Fotolia
If you've ever used a dating site or app, you know that someone's opening message online can make or break the conversation. Why just say "Hey, how's it going?" when there's so much more you can say? The new year is a great time to make new dating resolutions for yourself, update your online dating bios and pictures, and just be more focused when it comes to online dating and connecting with matches you truly want to connect with. And who knows? You could end 2018 with a new relationship.
Read more: 50 Example Sexting Ideas You Can Use Right Now
And online dating conversation starters is where it all begins. "Whether you choose to initiate conversation on a dating app or face-to-face with someone you're interested in, it's always important to have a great conversation starter in your back pocket," Kate MacLean, resident dating expert at PlentyOfFish, tells Bustle. "A thoughtful question or reference to your date's hobbies and interests will likely result in an exchange of information that can tell you a lot about someone and, more importantly, whether you're compatible or not. The holidays also provide plenty of material for singles to talk about, from what they did on their time off to what their upcoming plans are for New Year's Eve and beyond. A great conversation starter can lead to more meaningful conversations, better first dates, and new relationships."
To see what online daters' messages look like these days, PlentyOfFish surveyed more than 2,500 users 21 to 60 years old. They found that summer is the easiest time to ask someone out, with 32.7 percent of respondents saying so. Winter, on the other hand, is the hardest, with 14.7 percent — perhaps because of cuffing season and people's desire to stay in more because of the cold weather? As for people who don't ask potential dates out over the holidays, fear of rejection came in first place, with 58 percent of respondents stating that as the reason, with 21 percent saying there's too much pressure to do so.
So what can you say besides "hey"? POF and Celeste Headlee, conversation expert, came up with the top 12 things you can say, instead. Below are ones that they recommend, so get ready to start messaging your matches.