Why Melania Trump's Office Is Now Calling For A Boycott Of T.I.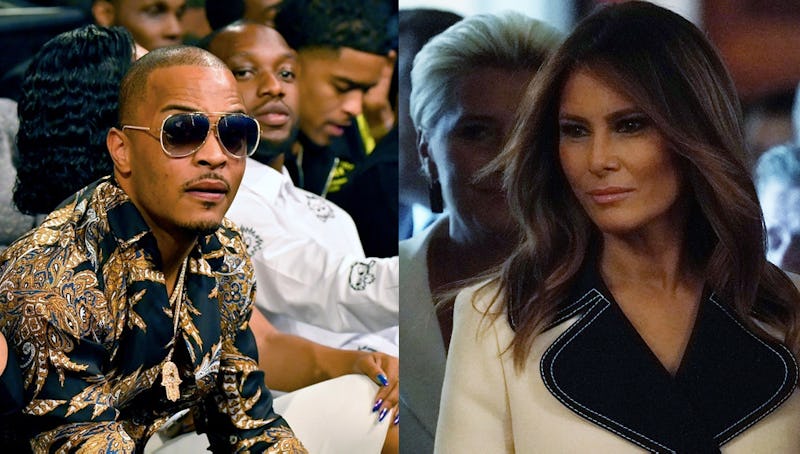 Paras Griffin/Getty Images Entertainment; Alex Wong/Getty Images News/Getty Images
Over the weekend, music artist T.I. released a controversial video promoting his new album 'Dime Trap.' The video features a dancer who bears a striking resemblance to the current first lady, and now, the T.I. Melania Trump lookalike video has FLOTUS' spokesperson calling for a boycott.
"How is this acceptable?" FLOTUS spokesperson Stephanie Grisham wrote on Twitter, describing the clip as "disgusting." In a statement sent to Bustle, she elaborated on her perspective.
"Like it or not, she is the First Lady and this is the White House," Grisham says. "It's disrespectful and disgusting to portray her this way simply because of politics. These kinds of vulgar attacks only further the divisiveness and bias in our country — it needs to stop."
The video clip shows President Donald Trump departing from the White House in a helicopter, before cutting to footage of T.I. lounging in the Oval Office, lighting a cigar with a match. A woman wearing a version of Melania's infamous "I really don't care do u?" jacket enters the office, and she proceeds to strip and dance on the president's desk. In the end, T.I. leads the woman out of the room.
T.I. shared the video to Twitter on the same day that he posted a lengthy Instagram post, criticizing Kanye West for meeting with the president last week, writing that he had "been extremely patient" about drawing conclusions related to "Ye'& his antics."
"From what I can gather... This is the most repulsive,disgraceful, Embarrassing act of desperation & auctioning off of one's soul to gain power I've ever seen," T.I. wrote." He continued, "I refuse to associate myself with something so vile,weak,& inconsiderate to the effect this has on the greater good of ALL OUR PEOPLE!!!!"
In the post, T.I. denounces Kanye, writing that he is "ashamed" to have ever been associated with the rapper. He encouraged others to do the same.
"Don't follow this puppet," he wrote. "Because as long as I've lived I've learned that it benefits a man nothing at all to gain the world, if to do so he must lose his soul. We just saw Mr. West's Soul on auction. If you listen closely you can hear the tears of our ancestors hit the floor."
Though the video clip T.I. posted does not have anything directly to do with Kanye — according to the public footage— he did mention him in the caption. "Dear 45," he wrote, "I ain't Kanye."
Kanye's ardent support for Trump, and his willingness to be associated with him, has sparked widespread criticism from other members of the entertainment industry. In the midst of sharing his political affinities, he has, at times, described slavery as "a choice" and advocated for abolishing the 13th Amendment. (He later clarified that he wanted to alter the amendment to prevent unfair wages for prison laborers, not eradicate it.) These remarks resulted in swift backlash, though they do not appear to have deterred Kanye from sharing his opinions.
It's not unusual for artists to use their work as a conduit for socio-political criticism, and T.I.'s video is not the first instance of a musical artist referring to or commenting on a first lady. As of Tuesday, it's unclear whether a boycott against T.I. is actually underway.