Video Proof That Tituss Burgess Needs To Play Ursula In 'The Little Mermaid'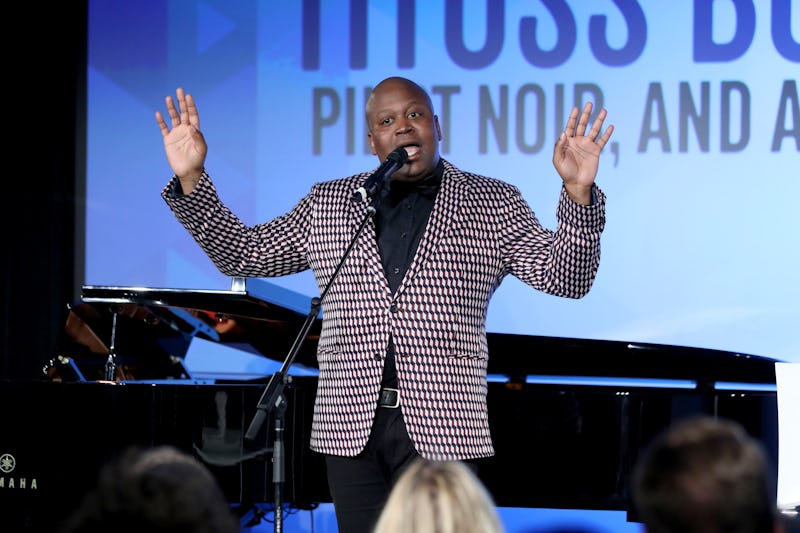 Cindy Ord/Getty Images Entertainment/Getty Images
Tituss Burgess is a TV star, a Broadway baby, and he needs to play Ursula the sea witch, like now, and I'm going to do my best to make that happen. Tituss Burgess performed "Poor Unfortunate Souls" from The Little Mermaid at Vulture Fest and if there's an internet campaign for this casting, sign me up.
During the event Burgess discussed his success, how (Grammys be damned) the whole knows that Lemonade was the real best album of the year, and promoted his Kimmy Schmidt—inspired Pinot Noir wine. "I crushed the grapes myself," he joked. However, the musical performance was the true highlight.
Before Burgess stole scenes as Titus Andromedon on Unbreakable Kimmy Schmidt, he was best known for playing the Heelys-clad (along with the rest of the cast) Sebastian the crab in The Little Mermaid on Broadway. The complex costume only resulted in him sliding uncontrollably across the stage one time during the show's out of town tryout in Denver — which he partially blamed on the altitude and assured the Vulture Fest crowd that he acted his way through flawlessly.
In addition to singing The Little Mermaid song (below), he also performed "King of the World" from Jason Robert Brown's popular song cycle Songs For A New World, "Some Other Time" from On The Town, and "Get Happy" with his Netflix costar Jane Krakowski.
During the Q&A with Vulture's E. Alex Yung, Burgess talked about finding his "creative family" with 30 Rock and Unbreakable Kimmy Schmidt. "Is the world outside of Tina Fey sh*tty?" he wondered. Possibly.
Burgess also told a story about firing an agent who said he was "too dark" for television — something we can clap about now, he noted, but wasn't so fun when he found himself both down and without an agent. It took sticking to his guns and finding people who believed in him to turn that into a happy ending.
"Show people who you are," he advised. "Make your own success." The performer went to school to be a music teacher, and quickly realized that that was not for him. He also worked as a music director during school — but was unimpressed by the "basic" (pronounced bah-sic) people on stage that he was conducting. "The most interesting thing is happening in this [orchestra] pit right now," he remembered thinking.
Before beginning his set with the Disney tune, Burgess said that he always felt he was in the wrong Little Mermaid role as Sebastian. He wanted to be Ursula, and even asked the producers if he could audition — but they turned him down.
"Maybe they'll get their act together," he said at the Vulture event, referring again to the big Mouse in charge, "and put me in that movie." With ABC resurrecting the Wonderful World of Disney with a Little Mermaid live event in addition to the announced live action remake, there are more than enough chances to make this dream come true.