TLC's 'Way Back' Is Just What Fans Needed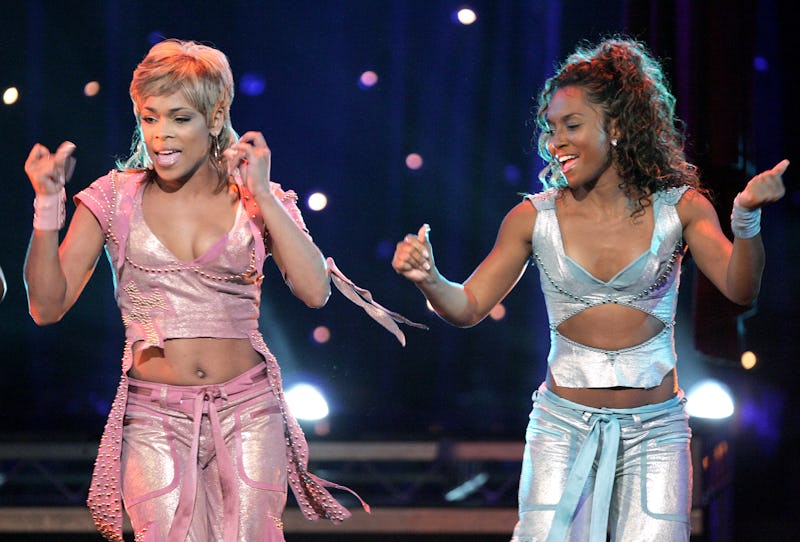 Vince Bucci/Getty Images Entertainment/Getty Images
Remember when T-Boz and Chilli from TLC launched a Kickstarter campaign to fund their next and final group project? Well, the fruits of said campaign have blossomed into an actual album. And TLC's new single "Way Back" will take you all the way back to the '90s. The group teased the new track on April 13 in collaboration with iHeartRadio. It's smooth and true to their early musical selection that TLC fans have come to know and love. Snoop Dogg is listed on the new single as a feature, but unfortunately isn't heard on this version. I'm guessing we'll have to wait closer to the album's release to hear the Long Beach legend's rhymes. But, in the meantime, I'm totally OK with listening to the current version over and over until the wheels fall off.
The three-minute track experiments with the same '90s melodic sound that Bruno Mars is currently bringing back to life, and I'm here for it. T-Boz and Chilli didn't waste anytime reminding us of all of the good ol' days we've shared with them over the years. And the hook sums up all of those feelings of nostalgia perfectly, saying:
'"Cause, we go way back.
Like Prince and Marvin Gaye.
Like south side on Sunday.
Something's don't ever change.
Yeah, you and me.
Cause we go way back.
James Brown and Michael J.
Like, them high school parties.
Something's don't ever change.
Yeah, you and me.
We go way back."
One listen, and you'll be rushing to purchase tickets for the I Love the '90s tour this summer, too.
The album, which has yet to be named, has a hard release date of June 30. And according to TLC's Kickstarter account, fans just may have the opportunity to christen it. The group's manager Bill Diggins wrote a post, updating fans on the upcoming album's progress, and asked for some input on what the crew should name their final work. I must say, there were a lot of great options to choose from in the comment section.
It may have taken over a decade since their last release and a little over $430,000 from crowdsourcing, but fans are finally closer to having TLC's fifth and final album at our disposal. And if the rest of the project is anything like "Way Back," it's going to be a banger.